President Donald Trump Says Melania and Ivanka Trump Did Not Advise Him to Denounce 'Send Her Back' Chant
President Donald Trump denied reports that first lady Melania Trump and daughter Ivanka Trump advised him to denounce the racist "Send her back" chants that erupted at a North Carolina campaign rally held last Wednesday, telling White House reporters the stories amounted to "fake news."
The New York Times, CBS News and CNN quoted anonymous insiders as saying both women had spoken to the president about the chants, which were directed at Somali-born Congresswoman Ilhan Omar. But, on Friday, Trump attempted to squash those stories when peppered with questions from a reporter.
"What did the first lady and Ivanka advise you about the chants?," a reporter asked during an afternoon gaggle on the White House lawn, which was captured on video.
"False information," Trump responded, cutting the reporter off mid-question. "It was fake news. Nope. We talked about it, but they didn't advise me. What you're saying, by the way, [is] fake news."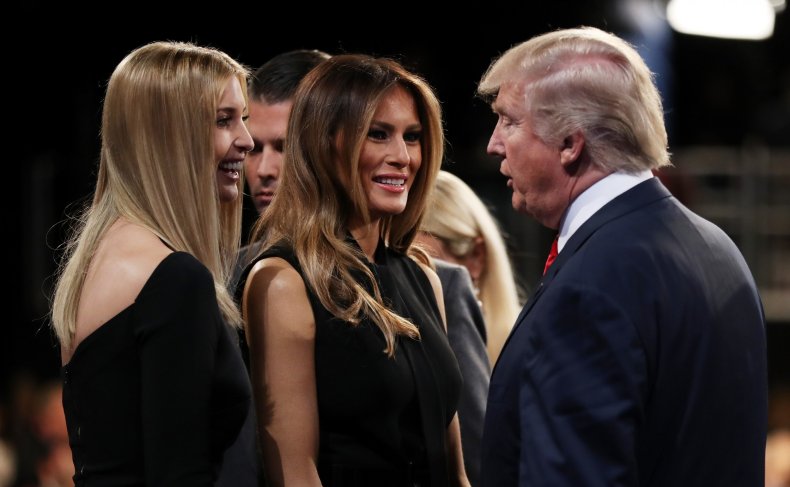 Although Trump denied the reports, critics have pointed to the leaks as a thinly veiled attempt to protect the public image of the two women from fallout related to Trump's more controversial moves. A similar set of leaks emerged following Trump's sexist remarks in the Access Hollywood tape and during the continuing separation of families at the U.S. southern border.
In addition to rumored fallout from those within his inner circle, Trump has faced an onslaught of criticism from Democrats and some Republicans, who accused him of inciting the chants and allowing them to go on unchallenged. Despite the president's claims that he tried to quell the chant by continuing to speak over the crowd, video footage from the rally shows Trump stand quietly as the attendees launch into a chorus of "Send her back"—a nearly 15-second period of silence from the president that allowed the cries to grow louder and more thunderous.
The campaign event came only days after Trump sent out a string of tweets—since officially denounced as racist by the U.S. House of Representatives—in which the president suggested the congresswomen leave the country. And, at other points in the rally, Trump delivered stinging (and misleading) criticism of four progressive congresswomen of color: Omar and U.S. representatives Ayanna Pressley, Alexandria Ocasio-Cortez and Rashida Tlaib.
The brunt of Trump's criticism landed on Omar, who is the only one of those four born outside the U.S.
"They are always telling us how to run it, how to do this," Trump said at one point during the rally. "You know what? If they don't love it, tell them to leave it."
Shortly after the event, the stories about Melania Trump and Ivanka Trump's disapproval emerged in the The New York Times and other outlets.