President Donald Trump Suggests Busing Is Just a Way "To Get People to Schools"
President Donald Trump on Saturday appeared to confuse a Civil Rights-era practice of school integration referred to as "busing" with the use of buses as a general mode of transportation for students.
The president took questions from the media on Saturday following this week's Group of 20 (G-20) Summit in Osaka, Japan. In response to a question from NBC News correspondent Kristen Welker about the use of court-ordered busing to integrate school districts in the 1960s, '70s and '80s, Trump did not comment on the policy but instead observed that "there aren't that many ways you're going to get people to schools."
Busing worked its way into the news this week, as leading Democratic presidential candidate Joe Biden has had to face questions about his previous opposition to the practice. In the second day of Democratic primary debates on Thursday, Senator Kamala Harris and the former vice president wrangled over Biden's efforts to curb federal support for busing as a senator in the 1970s, while Harris said she benefited from the practice as a schoolgirl in California the late 1960s.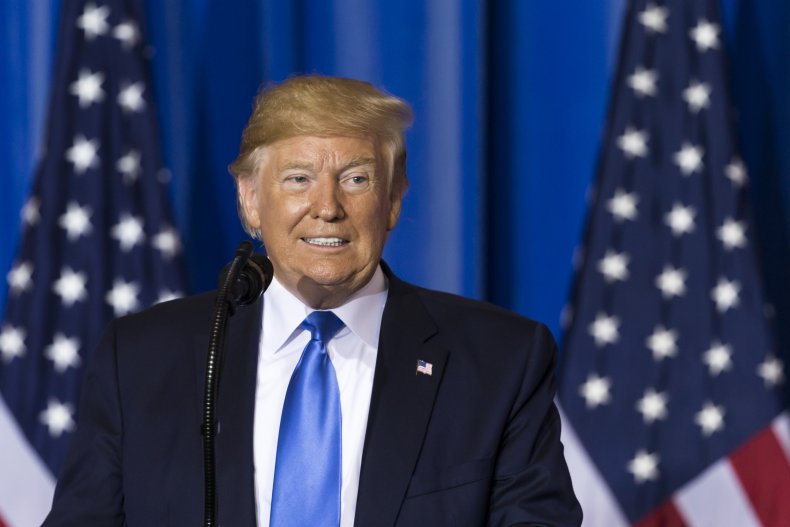 Biden said that while he supported busing to desegregate racially homogenous school districts, he opposed mandates from the federal government requiring the practice. Harris countered that federal intervention is often the only way to ensure recalcitrant local governments comply with civil rights law.
The president's remarks received near-instantaneous scorn, with some questioning whether he even understood what the practice of desegregation busing was.
Lawyer George Conway, husband to senior Trump advisor Kellyanne Conway, mocked the president: "everyone said Trump was so smart because he could tell the busing wasn't good enough and that no one was a better judge of busing than Trump."
Historian Kevin Kruse compared Trump's contribution to the busing discussion as tantamount to singing "The Wheels on the Bus Go Round and Round."
Atlantic writer Adam Serwer said that the comments suggested "Trump thinks busing refers to literally how children get to school, not to the school integration policy Biden and Harris were [arguing] about."
While busing has widely been phased out as a standard method of school reintegration, many school districts across America have remained largely homogenous in their students' racial makeup.
According to a 2017 survey from the Pew Research Center, nearly two-thirds of public school students in the United States attend schools where 50 percent or more of the student body is composed of the same race.
The survey found that since 1995, black students have become slightly less isolated from students of other racial groups, while Hispanic students grew more isolated.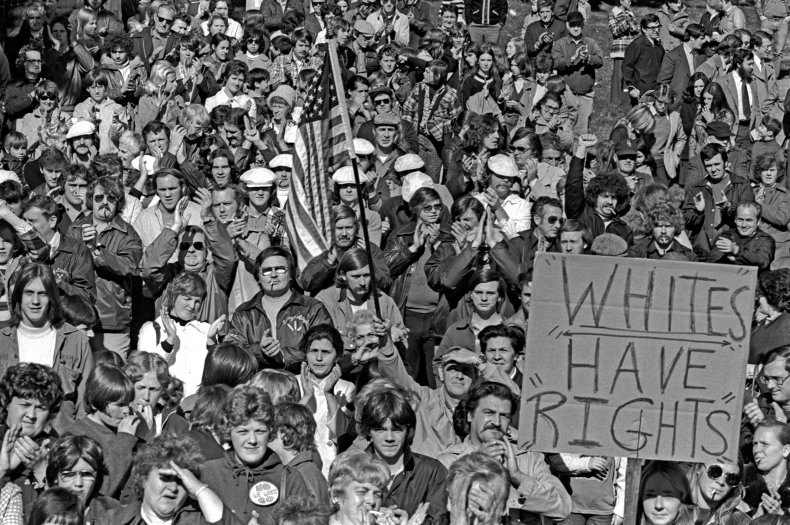 Whites comprise the largest share of public school students who attend racially homogenous schools. Nearly 82 percent of white students attend schools where more than half of the student body is also white, according to the survey.
Trump had evaded an earlier question from ABC News reporter Jonathan Karl about federally mandated busing, pivoting quickly to an attack on his 2020 Democratic opponents.
"Well, first of all, before I get into that, I thought that [Harris] was given too much credit," Trump assessed. "[Biden] didn't do well, certainly. And maybe the facts weren't necessarily on his side."
Alluding to the busing issue at the center of Karl's question, Trump said: "I will tell you in about four weeks."
"Because we're coming out with a certain policy that's going to be very interesting and very surprising, I think, to a lot of people," he claimed.
It is unclear what policy the president was referring to in his response.
The apparent busing gaffe came on the same day that Trump appeared to misunderstand the term "western liberalism." When asked about this topic — the predominant political philosophy in the West — the president's response seemed to be about the liberal leanings of politicians in America's western states like California.