Jimmy Fallon Mocks Joe Biden's Age—His 'Brain Derailed'
Jimmy Fallon poked fun at an awkward moment featuring U.S. President Joe Biden when he forgot the word for a Zoom online meeting.
"President Biden was asked if he intends to visit the site of the train derailment in Ohio, and he had a very interesting response. Take a look at this," Fallon started his opening monologue on Monday's The Tonight Show Starring Jimmy Fallon.
He then cut to a clip of the 80-year-old president chatting to a group of reporters before boarding Marine One, the presidential helicopter.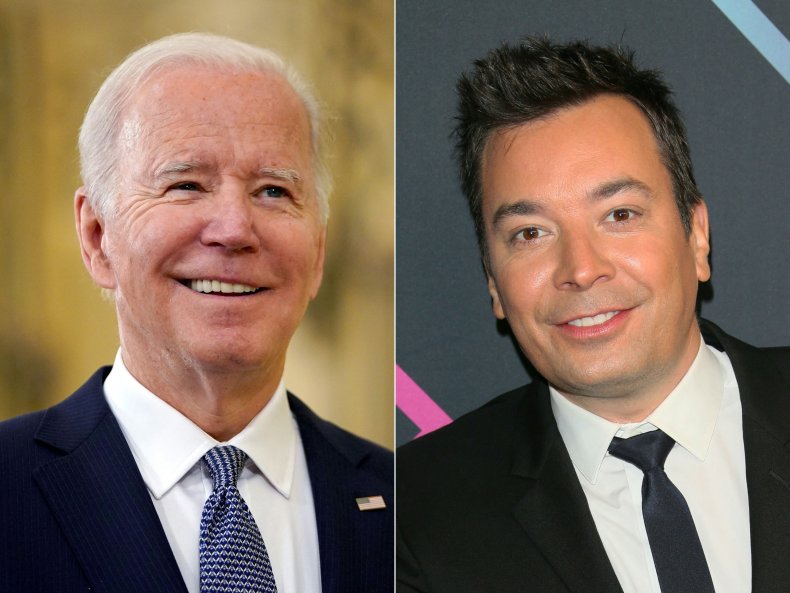 When asked if he would be traveling to East Palestine, Biden said: "At this time, I'm not. I did a whole video, I mean, what the hell... " He stumbled as he tried to think of the word 'Zoom.' This is the teleconferencing service that gained popularity during the COVID-19 pandemic.
After about 17 seconds of stumbling, a reporter yelled out, "Zoom?" The president agreed and added, "Every time I hear the word 'Zoom', I think of that song from my generation, "Who's Zoomin Who?" This is a 1985 song by Aretha Franklin.
The clip ended and cut back to Fallon hanging his head, and the jokes about the president's cognition started rolling in.
"Well, that ought to put those age questions to rest," the host said. "For 17 seconds, Biden's brain derailed.
"If that one guy didn't shout out 'Zoom', Biden would've stood there for six more hours," Fallon added. "Song from his generation? That song came out in 1985. Biden was 60, by the way."
Biden, who was born in November 1942, would have been coming up to 43 at the time Franklin released the hit song in August 1985.
Fallon's quip about Biden's 'brain derailing' was a play on words and referenced the train incident near the border between Ohio and Pennsylvania.
A Norfolk Southern train carrying toxic chemicals derailed on February 3, and caused a large fire. Emergency responders drained five cars of toxic vinyl chloride and carried out a controlled burn, which sent toxic gases phosgene and hydrogen chloride into the air.
The Environment Protection Agency said on February 26 that public drinking-water testing results confirmed that there was no indication of risk to East Palestine residents. The EPA added that "578 homes had been screened with no exceedances for residential air-quality standards."
Biden's age and cognitive ability have raised much conjecture since his presidential campaign in 2020.
He underwent a routine medical examination earlier this February, his second since taking office in January 2021.
A summary of Biden's condition was written by his physician, Dr. Kevin O'Connor. It described the president as "a healthy, vigorous, 80-year-old male, who is fit to successfully execute the duties of the Presidency, to include those as Chief Executive, Head of State and 'Commander in Chief."