Once Tipped for President, Joe Kennedy III's Future Is Now in Question After Markey Defeat
Congressman Joseph Kennedy III's political future is in doubt following his defeat in Tuesday's Massachusetts Senate primary. The Democrat and scion of the Kennedy clan failed to unseat Senator Ed Markey.
No Kennedy had ever lost an election in Massachusetts until last night when the four-term representative won 44.5 percent of the primary vote, well short of Markey's 55.5 percent, per an AP tally based on results from more than 86 percent of precincts.
Kennedy was once seen as a potential future president of the United States but now there are serious questions about his path forward. He will vacate his seat in Massachusetts' 4th congressional district in November's elections.
As Kennedy conceded defeat, speculation had already begun about his next steps. The Boston Globe's Deputy D.C. Bureau Chief Liz Goodwin suggested this wasn't the end for the young Democrat.
"This isn't necessarily a political endpoint for the Kennedys or JKIII, but it's nonetheless a big blow, as the family's hopes were tied to JKIII," Goodwin wrote on Twitter.
"Ethel Kennedy 'thought he was the closet thing the family had produced to her beloved Bobby.'"
Congressman Kennedy's grandfather, Robert F. Kennedy, ran for the Democratic presidential nomination in 1968 and was widely tipped to win before his assassination in Los Angeles during the primaries.
"It's clear that the family name doesn't mean as much as it used to in years past," Jim Manley, a former aide to Senator Ted Kennedy, told the Boston Globe. "There are no guarantees in life anymore, especially in politics."
However, there was no consensus among commentators and Kennedy's fellow politicians that this would be the end of the road for him.
Democratic Congresswoman Ayanna Pressley, a member of the progressive "Squad" and a fellow Massachusetts representative, suggested he still had a role to play.
"Your campaign energized and encouraged so many MA residents," Pressley said to Kennedy on social media. "[N]o doubt there are meaningful chapters ahead."
Though Kennedy enjoyed some words of encouragement like Pressley's, POLITICO's editor-at-large Peter Canellos offered a more terse overnight analysis.
"The irony on Tuesday was not that the Kennedys finally got the electoral slap in the face, the comeuppance, that they managed to evade after sex scandals and Chappaquiddick," Canellos wrote.
"It's that nice, earnest young Joe Kennedy somehow allowed himself to get tangled up in a tired mystique that was ripe for a backlash and offensive even to some of his closest relatives."
For his part, Congressman Kennedy appeared to acknowledge the issue of his own family, writing in a tweet on 17 August "Here's what my family taught me: A legacy is earned."
What the Kennedy legacy will become after this unprecedented defeat in what was once regarded as their home turf is not clear but the soon-to-be former congressman left the door open for a political comeback on Tuesday night.
"To everyone who fought with us. Everyone who stood with us. Everyone who believed in us and gave their sweat and tears and hearts and souls to this fight: Thank you. I am so proud of what we built together," Kennedy wrote. "I'd do it with you all again in a heartbeat."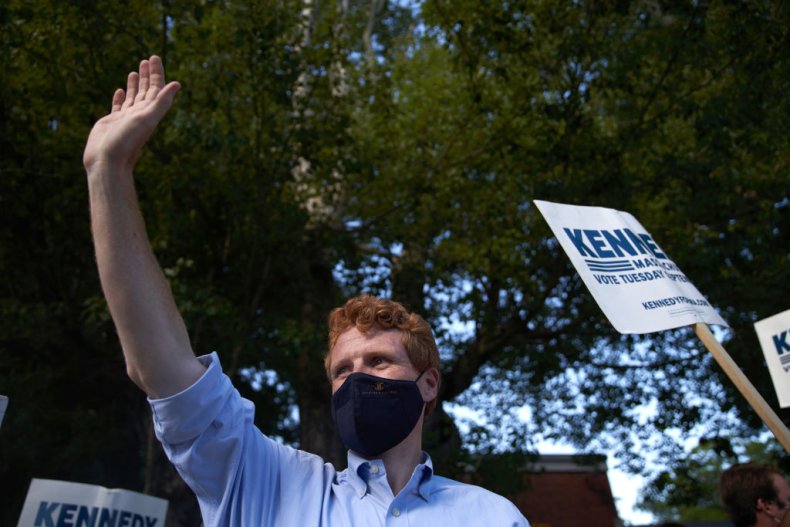 Correction 9/2/20, 6 a.m. ET: This article was updated to correctly state that Kennedy has served four terms in the House of Representatives.