After President Obama's Orders, What's Next for Solitary Confinement?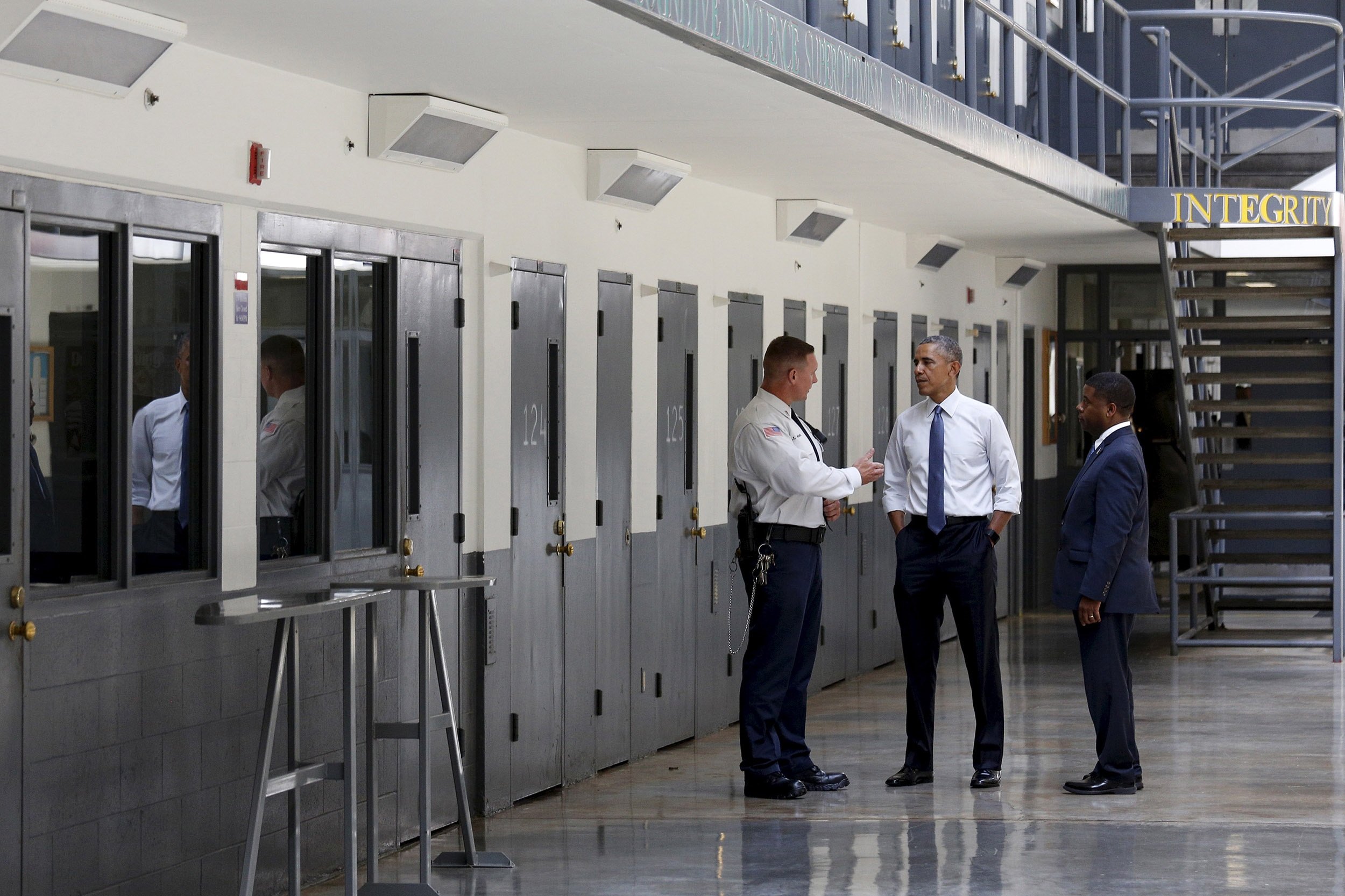 President Obama's historic executive action banning solitary confinement for juvenile offenders in federal prisons is just the latest skirmish in the battle over the age-old punishment technique, and it presages a likely battle in the Supreme Court.
In a Washington Post op-ed timed to his actions, Obama said the punishment mostly is "overused," and explained why he banned solitary confinement for low-level offenders and youths, and proposed expanding treatment for individuals with mental illnesses.
"The United States is a nation of second chances, but the experience of solitary confinement too often undercuts that second chance," Obama said. "In our criminal justice system, the punishment should fit the crime—and those who have served their time should leave prison ready to become productive members of society."
The president's decision comes as criminal justice reformers have increasingly argued that solitary confinement, far from being a necessary tool for managing prisoners, violates the Constitution's Eighth Amendment ban on cruel and unusual punishment. They have cited a growing body of scientific evidence that suggests prolonged periods of isolation can cause irreparable damage to a prisoner's mental health especially for teens with still developing brains. Corrections officers unions, prison wardens and many prosecutors have argued that it remains a necessary tool for maintaining order in prisons that are increasingly overcrowded and filled with violent offenders.
Last July, Obama became the first sitting president to visit a federal prison when he traveled to the El Reno Federal Correctional Institution in Oklahoma. And this week, he became the first president to speak out against prison conditions in an op-ed.
Obama's actions, part of his larger effort to reform the criminal justice system before he leaves office in less than a year, came after the Justice Department reviewed the politics and practices of solitary confinement across U.S. prisons and then provided the president with recommendations on reform. Obama's initiatives put forth guiding principles for all jurisdictions.
Amy Fettig, senior staff counsel for the the American Civil Liberties Union's National Prison Project, says the DOJ report and Obama's initiatives together are giving an extra push of momentum that already exists in some states, including Colorado and Washington.
"There's no question that the DOJ report and the president's adoption of the recommendations in it and his personal opinion…are key steps to seeing the end of solitary confinement as we know it in this country. It really is historic," she tells Newsweek.
Obama hopes to influence correctional facilities at the state and local levels to consider allowing inmates' release from prison on parole. He said the steps could affect as many as 10,000 federal inmates.
"What we found at those levels is frequently correctional facilities and staff are using solitary confinement to punish every form of misconduct," Fettig says. "Once you put people in these situations, they break down and get stuck in this cycle of minor infractions that keeps them in solitary confinement."
Some states, including Massachusetts, Nebraska and Texas, were ahead of the curve before Obama's announcement, while Florida and Nevada continue to lag behind in changes to the system. But what's important now, Fettig argues, is that Americans have a national leader who is recognizing solitary confinement as overused and abused.
Research indicates that solitary confinement carries with it the possibility of lasting psychological consequences. Obama has argued that individuals who spend much of their sentences alone in a tiny cell for months—even years—will struggle to adapt to society if and when they are released.
"Many criminals belong behind bars. But too many others, especially nonviolent drug offenders, are serving unnecessarily long sentences," Obama said in the op-ed. "If we can give them the hope of a better future, and a way to get back on their feet, then we will leave our children with a country that is safer, stronger and worthy of our highest ideals."
U.S. Supreme Court Justice Anthony Kennedy last year spoke out against the practice of solitary confinement suggesting to many that the court would be receptive to taking a case that would tests the constitutionality of the punishment. In a concurring opinion in June 2015 in Davis v. Ayala—a case not directly related to prison conditions—Kennedy seemed to invite a constitutional case challenging the punishment.
"Too often, discussion in the legal academy and among practitioners and policymakers concentrates simply on the adjudication of guilt or innocence. Too easily ignored is the question of what comes next. Prisoners are shut away—out of sight, out of mind," Kennedy wrote.
Fettig says that, since Obama has spoken out against the practice of solitary confinement and has taken concrete steps to curb the practice at both the federal and state levels, it is "unquestionable" the Supreme Court's justices will look at the president's actions in informing their decision about the issue, should it arise.
On Monday, the Supreme Court extended a previous decision by deciding that the more than 1,000 prisoners who years ago were sentenced to life as juveniles without the possibility of parole now can challenge the punishment.
The case from the Louisiana Supreme Court involved Henry Montgomery, 69, who has been in jail for murdering a deputy sheriff since he was 17. In June 2012, the high court decided that mandatory life sentences for juveniles without parole violated the Eighth Amendment's ban on cruel and unusual punishment and thus were unconstitutional. But the ruling only applied to future cases.
Montgomery argued the court's 2012 ruling should apply to him retroactively. Juvenile inmates are defined as those under 18 when they committed a crime.