President Trump Called For Open Impeachment Hearings. Now He Calls Public Hearings 'A Hoax'
Despite President Donald Trump's and his Republican allies' continued demands to bring the House's impeachment inquiry out from behind closed doors, the president Friday called next week's public hearings a "hoax" and said that they should not be held.
"They shouldn't be having public hearings. This is a hoax," Trump told reporters on the White House's South Lawn. "This is just like the Russian witch hunt. This is just a continuation."
The president's remarks represented a direct contradiction to those he and congressional Republicans have made about the inquiry that has so far played out privately in a secure room in the basement of the Capitol. For the first time next week, the inquiry will turn from a process shrouded in secrecy to one that will undoubtedly become a TV spectacle available for everyone to see.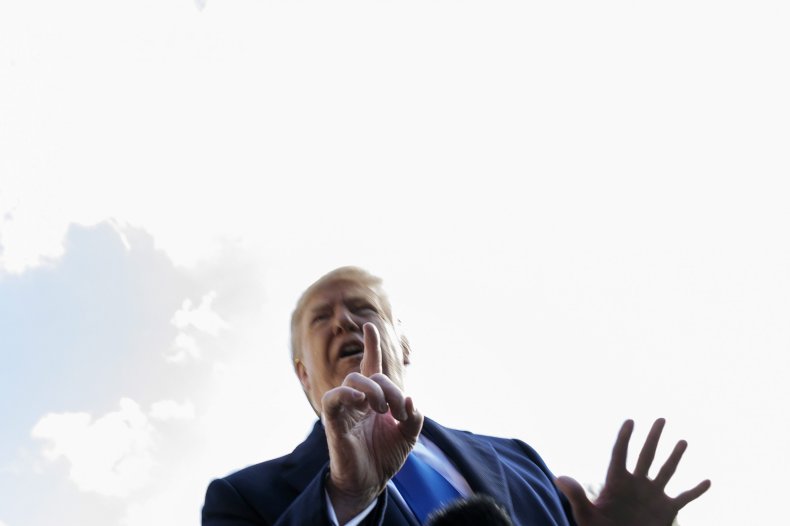 Trump and his White House legal team have repeatedly labeled the inquiry as an "illegitimate" proceeding that does not afford him due process, while Republicans, such as House Minority Whip Steve Scalise (R-LA), characterizing the closed-door investigation as "Soviet-style."
And Senate Republicans, who will act as jurors to determine whether Trump is guilty of any articles of impeachment voted on by the House, said they plan to tune out the public hearings, despite deriding the process so far. Senate Democrats, too, said they likely won't be watching next week's proceedings.
Three witnesses who gave private depositions to impeachment investigators— William Taylor, the top U.S. diplomat in Ukraine; George Kent, the State Department's deputy assistant secretary handling Ukraine policy; and Marie Yovanovitch, former U.S. ambassador to Ukraine—will testify next week. The current and former officials have tied Trump to a quid pro quo and detailed efforts by Rudy Giuliani, Trump's personal attorney, to influence U.S.-Ukraine policy, including an alleged "campaign of lies" to oust Yovanovitch.
"I'm not concerned about anything," Trump said. "The testimony has all been fine. I mean for the most part, I've never even heard of these people. There are some very fine people. You have some Never Trumpers. It seems that nobody has any first-hand knowledge."
Trump also contradicted himself when it came to witnesses testifying to impeachment investigators. Acting Chief of Staff Mick Mulvaney defied a congressional subpoena Friday morning by failing to appear for a closed-door deposition. Mulvaney's counsel advised them "one minute" prior to his deposition start time that the White House directed him not to appear, according to an official working on the inquiry.
The president said he would "love to have Mick go up, frankly." However, he added: "I don't want to give credibility to a corrupt witch hunt."
Democrats view Mulvaney as a key witness because he also serves as director of the Office of Management and Budget, the department that withheld from Ukraine $400 million in U.S. military assistance meant to counteract Russian aggression in the eastern European region. Mulvaney also conceded a quid pro quo occurred—which he tried to later walk back—regarding Trump's effort to have his Ukrainian counterpart investigate Democrats, among other things, and the withholding of aid.