Senators Say They'll Tune Out Next Week's Public Impeachment Hearings: 'This is a Bunch of Crap'
The House's impeachment inquiry will emerge from behind closed doors next week to be cast in the public spotlight for the first time. But senators said Thursday they have no plans to watch the public hearings that will feature testimony about the Ukraine scandal from current and formal officials.
Nearly a dozen members of the upper chamber—Republicans and Democrats—told Newsweek they will tune out the public proceedings for multiple reasons, most of whom cited a lack of time. Others said they've yet to make a final decision or that they wouldn't want to "prejudice" their view.
Senators will act as jurors and ultimately decide whether President Donald Trump is guilty or innocent of any articles of impeachment the House is likely to charge him with in the coming months. But based on their declination to watch the public proceedings, senators indicated they don't believe the witnesses' testimonies are pivotal in their role as impeachment jurors.
"I'm not gonna promise to sit in my office and watch these hearings," Sen. Lindsey Graham (R-SC) told Newsweek. "I think the whole thing's a joke. I made up my mind."
In particular, Republicans' plans not to watch is in direct contradiction to their gripes in recent weeks about the secretiveness in which the House's inquiry has been conducted via a secure room of the Capitol away from the public eye. They've demanded that the process play out in the public's view and have chastised the way House Intelligence Committee Chairman Adam Schiff (D-CA) has led the investigation.
"It is really hard to follow what's going on in the House because they're selectively leaking out different documents," said Sen. Joni Ernst (R-IA). "It's hard to follow what they're doing."
However, when prompted if she'll watch the public hearings next week, Ernst responded: "I have my own work to get done, too."
Three witnesses who gave private depositions to impeachment investigators are slated to testify in public next week over the course of two days: top U.S. diplomat in Ukraine William Taylor; George Kent, the State Department's deputy assistant secretary handling Ukraine policy; and former U.S. Ambassador to Ukraine Marie Yovanovitch. In their testimonies, Taylor tied Trump to a quid pro quo for withholding military aid while pressuring Ukraine to investigate the Bidens, Kent raised concerns about the role of Rudy Giuliani, Trump's personal attorney, in U.S.-Ukraine policy and Yovanovitch detailed how Giuliani and others around Trump sowed disinformation about her to the president, which allegedly caused her to be ousted as ambassador.
"I think the whole process is out of line from what we've done in the past. It's a sham. It's been driven by political people. The best way to deal with a president is at the ballot box," Graham said. "I think this is a bunch of crap in the house."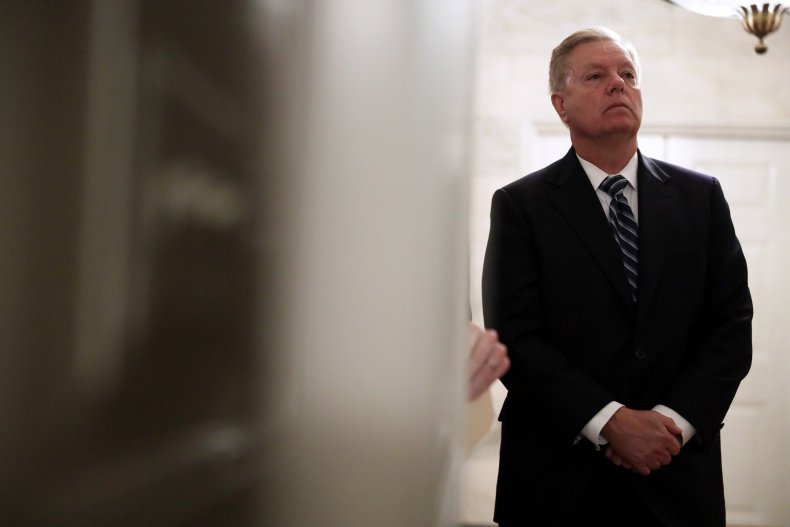 The Senate Judiciary Committee chairman said Taylor's testimony "has nothing of consequence to me," citing the portion of the diplomat's testimony in which he stated his "clear understanding" of Trump engaging in a quid pro quo was based on information derived from another person, U.S. Ambassador to the European Union Gordon Sondland.
GOP Senators Richard Burr of North Carolina, Lamar Alexander of Tennessee, Marco Rubio of Florida, John Barrasso of Wyoming, Marsha Blackburn of Tennessee, John Kennedy of Louisiana and Lisa Murkowski of Alaska all said that they would also likely be too busy to tune in.
"I'm probably going to be fairly busy," Blackburn said, while Burr replied that he has "a day job. Pretty tough to do both of them. If there's any value, we'll pick it out." Kennedy said his attention to the hearings "depends on my schedule. I'm going to try."
Barrasso, a member of Republican Senate leadership, said a staff member might watch for him.
Sen. Richard Shelby (R-AL), one of just 18 current senators who were also members of the chamber under the Clinton impeachment trial, said with a smile that viewing the public testimonies could "prejudice my view." Despite his ability to hear from witnesses in the public light for the first time, the Senate Appropriations Committee chairman said he "wouldn't want to see that, that wouldn't affect me at all."
"I waited to hear the evidence that came before the Senate," Shelby said of the Clinton impeachment trial. "I think it's a serious step. It shouldn't be a circus."
But it's not just Senate Republicans who said they won't watch next week's proceedings: It's Democrats, too.
"I don't know whether my schedule will permit it," said Sen. Bob Menendez (D-NJ). "We got a lot of action going on here, so obviously, at the end of the day, it will be the—whatever is the ultimate articles of impeachment, should there be any, and then the evidence that will be considered in support of them. That's the ultimate question for the trier of fact."
Menendez said he would be able to tune in "if I don't do any other work."
Sens. Tim Kaine (D-VA) and Michael Bennet (D-CO), who is also a 2020 presidential candidate, said they've yet to make a final decision because the question had not crossed their minds.
"I hadn't even thought about it. I got miles to go before next week," Kaine said, who elaborated that he'll "probably" have a staffer watch. He also emphasized that his indecision was not due to a belief the testimonies were unimportant for senators' roles as jurors. "The nice thing is, I read so fast I can usually absorb a lot more information a lot faster when I'm not sitting and watching."