President Trump Deletes COVID Tweet, But Not For Calling It 'Chinese Virus'
Republican President Donald Trump seems to have deleted a tweet posted Monday evening at 5:54 pm E.T. which called COVID-19 "the Chinese virus" and inadvertently included the email address of New York Post writer Miranda Devine.
The tweets, with Devine's email address removed, quoted something she wrote about Trump's reemergence on Monday from his weekend hospitalization due to COVID-19.
"You see it in enthusiasm for the President outside Walter Reed Hospital. You see it in Registrations, from Florida to Pennsylvania & West Virginia, where Republicans are outstripping Democrats by 2 to 1," the tweet began.
"If the President bounces back onto the campaign trail, he will be an invisible hero, who not only survived every dirty trick the Democrats threw at him, but the Chinese virus as well. He will show American we no longer have to be afraid... [email redacted] Thank you Miranda. Was over until the Plague came in from China. Will win anyway!" the tweet concluded.
Trump later reposted the tweet with Devine's email address removed.
Trump published the tweet less than an hour before walking out of the Walter Reed National Military Medical Center in Bethesda, Maryland, where he had received treatment for the coronavirus over the weekend.
After exiting the hospital shortly after 6:30 p.m., Trump waved to gathering supporters and entered a vehicle motorcade that transported him to the Marine One helicopter. He then reappeared at the White House where he stood on a balcony and removed his face mask.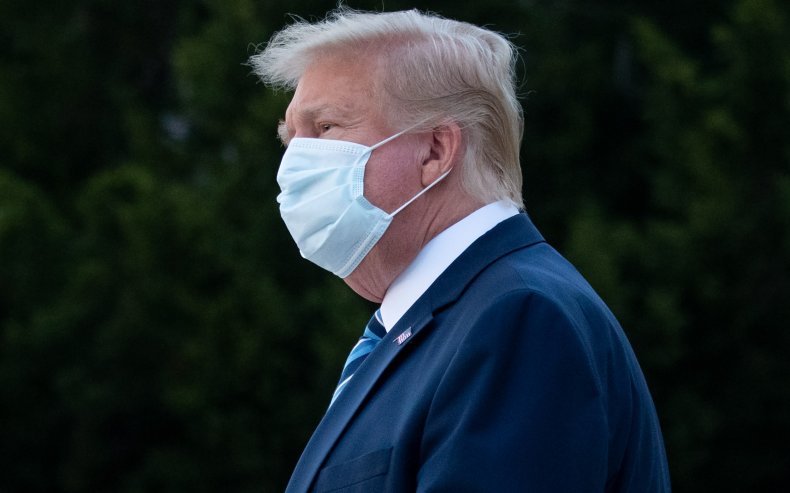 Throughout the ongoing COVID-19 pandemic, Trump has variously referred to COVID-19 as the "Chinese virus," the "China virus" and "kung flu" in attempts to emphasize the virus's point of origin in Wuhan, China during late 2019.
"Of course he called it 'Chinese Virus'," the Asian American Legal Defense and Education Fund wrote in a March 16 tweet about Trump's language. "Because he doesn't care that Asians and Asian Americans are subjected to hate violence because of this racist description of #coronavirus."
In another March 16 tweet directly addressing Trump, Democratic California Representative Ted Lieu wrote, "Asian Americans will likely encounter more discrimination because of your tweet below. Please stop your unnecessary rhetoric. #COVID19 is now an American virus, an Italian virus, a Spanish virus. We are all impacted & we all need to work together."
China's government-run national English language newspaper, The Global Times, accused Trump of using the racial rhetoric to "make American people blame China rather than his administration's horrible reaction to deal with the outbreak ... [and] resolve panic in the U.S. stock market."
However, Trump has continued to use the language.