Watch Video: Trump Denies Asking Comey to Close Investigation on Flynn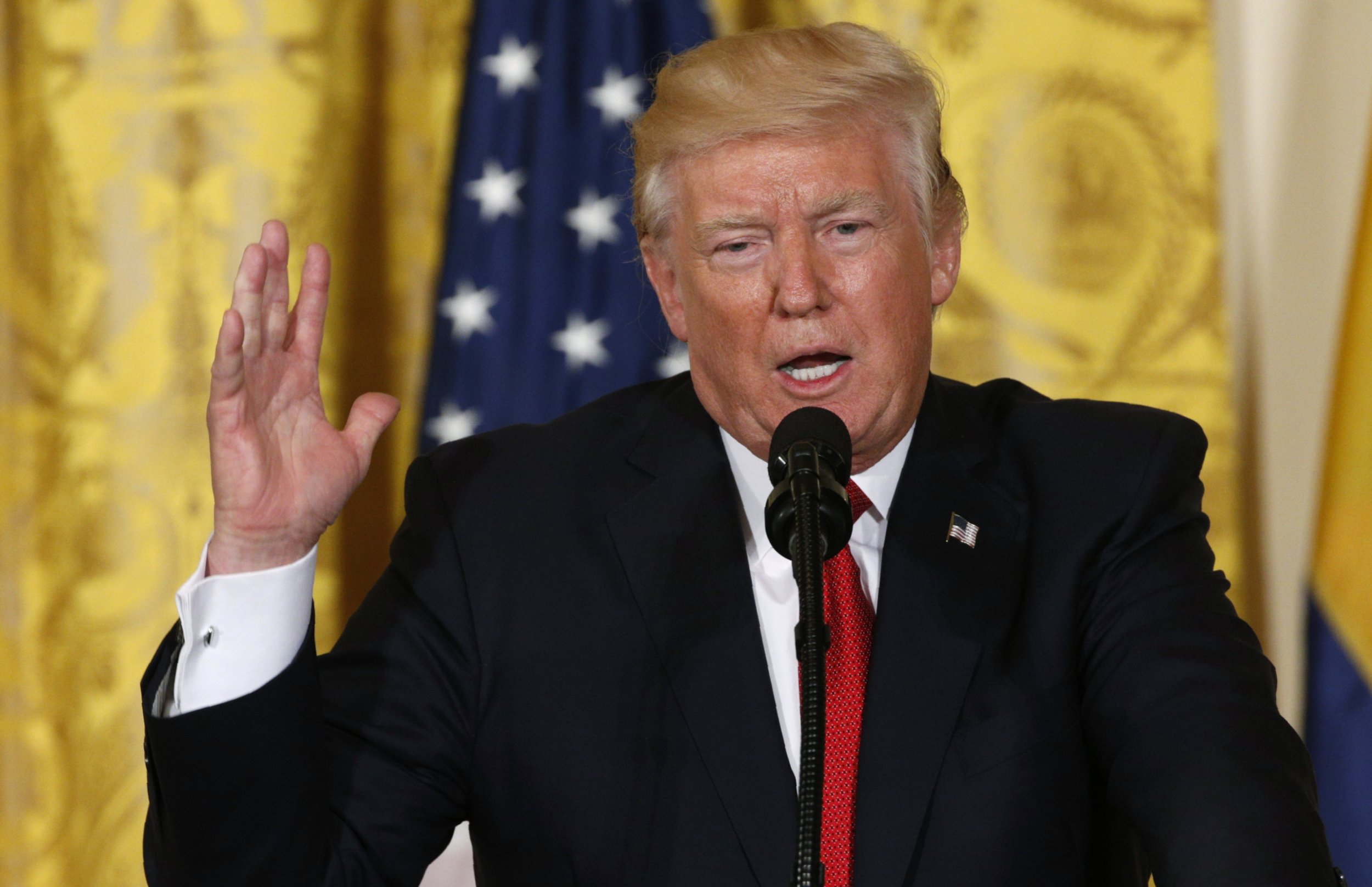 President Donald Trump at a press conference on Thursday afternoon denied that he urged former FBI Director James Comey to close or back down on the agency's investigation into Michael Flynn, his former national security adviser.
"No, no, next question," he said during the question-and-answer portion of a joint White House press conference with Colombian President Juan Manuel Santos. Earlier this week, a memo written by Comey and relayed to The New York Times accused Trump of urging his former FBI director to end the federal investigation. Last week he fired Comey, whom he described Thursday as an unpopular leader. Ahead of the news conference, some media reports wrongly speculated that Trump would announce his next FBI director alongside Santos.
The news conference was Trump's first since the Department of Justice on Wednesday appointed Robert Mueller as special counsel to oversee the agency's investigation into whether Trump's campaign colluded with Russia to interfere in the 2016 presidential election. "I respect the move, but the entire thing has been a witch hunt and there is no collusion," Trump told reporters. "Believe me, there's no collusion. Russia is fine. But whether it's Russia or anybody else, my total priority, believe me, is the United States of America."
It has been a busy and tumultuous news week for the White House, as Trump faces accusations, among others, that he shared sensitive national security information with Russian officials. A new round of attacks arose Wednesday after the Times published a report that said the Trump administration hired Flynn despite knowing he was under investigation. A handful of Democratic lawmakers have floated the idea around of impeaching Trump.
When asked whether he could recollect any actions from the past six months that might be worthy of criminal charges or impeachment, Trump said the government needs to "get back to working our country properly so that we can take care of the problems that we have." He repeatedly denied collusion with Russia, an idea he said even his enemies support.
Trump will begin his first multi-day overseas trip as president on Friday. Stops include Saudi Arabia, Israel and Rome.
Watch Video: Trump Denies Asking Comey to Close Investigation on Flynn | U.S.