Russia Investigation: Robert Mueller 'Fiercely Independent' and Aggressive on Getting Results, FBI Insiders Say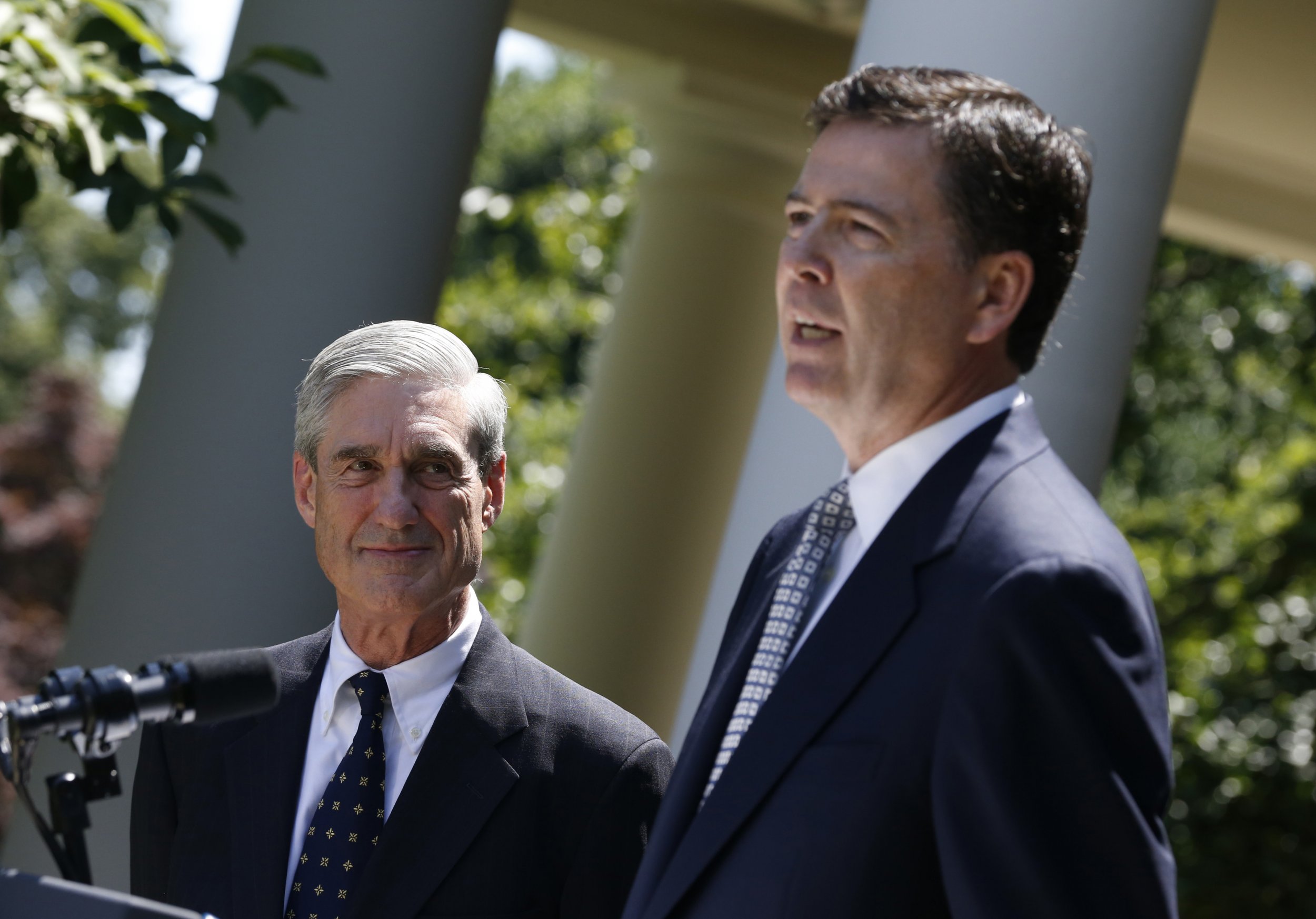 Updated | Robert Mueller's first test as FBI director came just one week after he took the job, on September 11, 2001. The attacks thrust the Marine Corps veteran, who had been a Department of Justice official and a United States attorney, into the new position and transformed his bureau's mission. The day after the attacks, Mueller told the heads of all 56 FBI field offices that the bureau would be embarking on the biggest investigation in its history. "FBI officials said they knew this probe was different from anything else they'd ever done," Newsweek reported at the time.
The event would shape Mueller's tenure as the nation's top law enforcement officer, a position he held longer than any other FBI director besides J. Edgar Hoover. President George W. Bush appointed him to the position in 2001 and he left in 2013, after President Barack Obama asked him to continue leading the bureau for two years beyond the 10-year term limit.
Now he will again serve under the Justice Department, as special counsel overseeing the FBI's investigation into Russia's meddling in the 2016 president election. Lawmakers had called for special counsel in the wake of President Donald Trump's firing of Mueller's successor at the FBI, James Comey.
Related: Can Comey untangle the Trump-Russia allegations?
In interviews with Newsweek, former FBI officials who served under both Mueller and Comey describe their leadership styles as night and day. Both men are generally respected within the broad FBI community, but for different reasons, according to the former officials.
David Johnson, who retired in December as the associate executive assistant director for the FBI's Criminal, Cyber, Response, and Services Branch, told Newsweek in March that Mueller likely honed his leadership skills as a Marine in Vietnam. "He is incredibly effective," Johnson said.
Mueller is also known for having shaken up the bureau following the September 11 attacks in order to respond to new kinds of crimes and threats, particularly terrorism. Those efforts did not sit well with every agent. "Some of that was well-accepted and a lot of it was a challenge because people don't like change," Frank Montoya, Jr., a former special agent in charge of the FBI's Seattle division and the former head of national counterintelligence for the bureau, told Newsweek in March. "[But] it was absolutely necessary."
Entering the job as the country was facing heightened threats seems to have affected the director's personality and leadership style, according to the former officials. "Mueller was direct, he could be profane, he was strong-willed," Montoya said. "He was in a difficult place…. The way we did business pre-9/11 was completely different from the way we were doing business post-9/11."
Comey, on the other hand, whom President Barack Obama appointed in 2013, was "every bit as dynamic in his leadership abilities, but his approach is much more benevolent, much kinder," Montoya said before Comey's dismissal. "It's not about the bull in the china shop, it's not about yelling at people. It's about providing them with vision, guidance to achieve that vision and then letting them achieve it."
While Comey was known for seeking feedback from colleagues and being transparent about his decision making (to the extent that it cost him his job), his predecessor "was very much interested in one thing, and that was getting results," Montoya said. "He wanted to make sure we were preempting or stopping or preventing acts of terror from occurring."
FBI insiders credit Mueller with not only advancing the bureau after the September 11 attacks, but also with keeping it intact. Around 2007, following concerns about how the bureua was operating, there was talk of Congress establishing a stand-alone agency to conduct domestic intelligence. "The FBI has become overgrown and unwieldy," said an article in the Los Angeles Times titled "Break up the FBI."
At least once, Mueller and Comey's courses of action aligned. In a 2004 incident that was first reported in Newsweek and has since become a ubiquitous anecdote in profiles of Comey, the two men threatened to resign over President George W. Bush's attempt to reauthorize a domestic eavesdropping program. At that time, U.S. Attorney General John Ashcroft was hospitalized, so Comey was acting attorney general and Mueller was head of the FBI. When Comey learned that Bush's aides planned to secretly visit Ashcroft in the hospital to get him to sign off on the program, Comey rushed to the hospital to stop their efforts. Faced with their imminent resignations, Bush agreed to alter aspects of the program.
In announcing that Mueller will serve as special counsel, Deputy Attorney General Rod Rosenstein said in a statement Wednesday: "Based upon the unique circumstances, the public interest requires me to place this investigation under the authority of a person who exercises a degree of independence from the normal chain of command."
Read more: Meet Robert Mueller, special counsel on the Russia probe
The announcement came after calls for special counsel by federal lawmakers and attorneys general in 19 states the District of Columbia. "Given the taint accompanying the president's decision, only this step will give the public any modicum of confidence that the investigation will be conducted fairly, rigorously and independent of political influence and interference," Representative Adam Schiff, ranking member of the House Permanent Select Committee on Intelligence, wrote in The Washington Post.
Federal regulation 28 CFR 600.1 permits the attorney general (or deputy attorney general, if the former has recused himself or herself from an investigation, as Jeff Sessions has done), to appoint special counsel when an entity overseeing an investigation "would present a conflict of interest for the Department or other extraordinary circumstances" and that it would be in the public interest to appoint an outside special counsel. The person serving must "be a lawyer with a reputation for integrity and impartial decisionmaking, and with appropriate experience to ensure both that the investigation will be conducted ably, expeditiously and thoroughly," the regulation states. The person must also be from outside the federal government. Despite some independence, the special counsel answers to the Justice Department—and the president.
Since leaving the FBI, Mueller has been a partner at the law firm WilmerHale, which confirmed that Mueller had resigned immediately from the firm to serve in his new role. As of early Thursday, his biography no longer appeared on the firm's website. He had specialized there in advising companies on privacy and cybersecurity.
It's possible that Rosenstein chose Mueller as special counsel in part to regain favor with the FBI community following Trump's dismissal of Comey, which the White House initially said Rosenstein had recommended. But following Wednesday's announcement, Montoya says FBI insiders remain too "shell-shocked" from the news of Comey's termination to applaud Mueller's appointment.
Montoya also says that just because Mueller left the bureau as recently as 2013 doesn't mean he knows everyone there. "There's going to be a little bit of an acquaintance process," he says. And the return of the former director could be more awkward high school reunion than Roman triumph. "I won't say that people were happy to see him go, but it was time to move on," Montoya says.
Montoya says he hopes Mueller will bring to the Russia investigation the same energy he did following the September 11 attacks. Others from the FBI world were also supportive of the news. "Mueller is disciplined; He allows staff to conduct their research and is meticulous in identifying gaps," Larry Barton, a longtime FBI Academy instructor and a professor at the University of Central Florida, says by email. "He kept confidences and was fiercely independent throughout his career; thus, he is a savvy choice as he has no political agenda, given his years away from the Beltway."
"He's going to be incredibly thorough, he's going to work incredibly hard," says Johnson, the former FBI official, who has known Mueller for around two decades. "He won't get pushed around. That's his personality. He will just do a thorough job on this investigation. He'll leave the proverbial no stone unturned."
"Best possible selection they could have made. Truly independent, nonpartisan and certainly knows how to investigate," Timothy Murphy, who was deputy director of the bureau under Mueller, told The New York Times. "No one stands as tall."
People who have worked with Mueller outside of the bureau had similar reactions to the news. "Mueller is experienced, knowledgeable, capable. He is utterly incorruptible. He cannot be intimidated," David Kris, who worked with Mueller at the Justice Department, wrote for the blog Lawfare. "At this stage in his career, he has nothing to prove, no reputation to burnish, no axe to grind."
"He's a man of extraordinary integrity," tweeted Jack Goldsmith, a professor at Harvard Law School and a former assistant attorney general. "He's not afraid to stand up to POTUS when the law demands." He added, "I also think it is a great choice for Trump if he is innocent. Mueller is one of few people who can reach that conclusion with credibility."
This article has been updated to include additional comments by David Johnson.