President Trump Pities Flynn For Lying To The FBI And Starts Blaming Hillary Clinton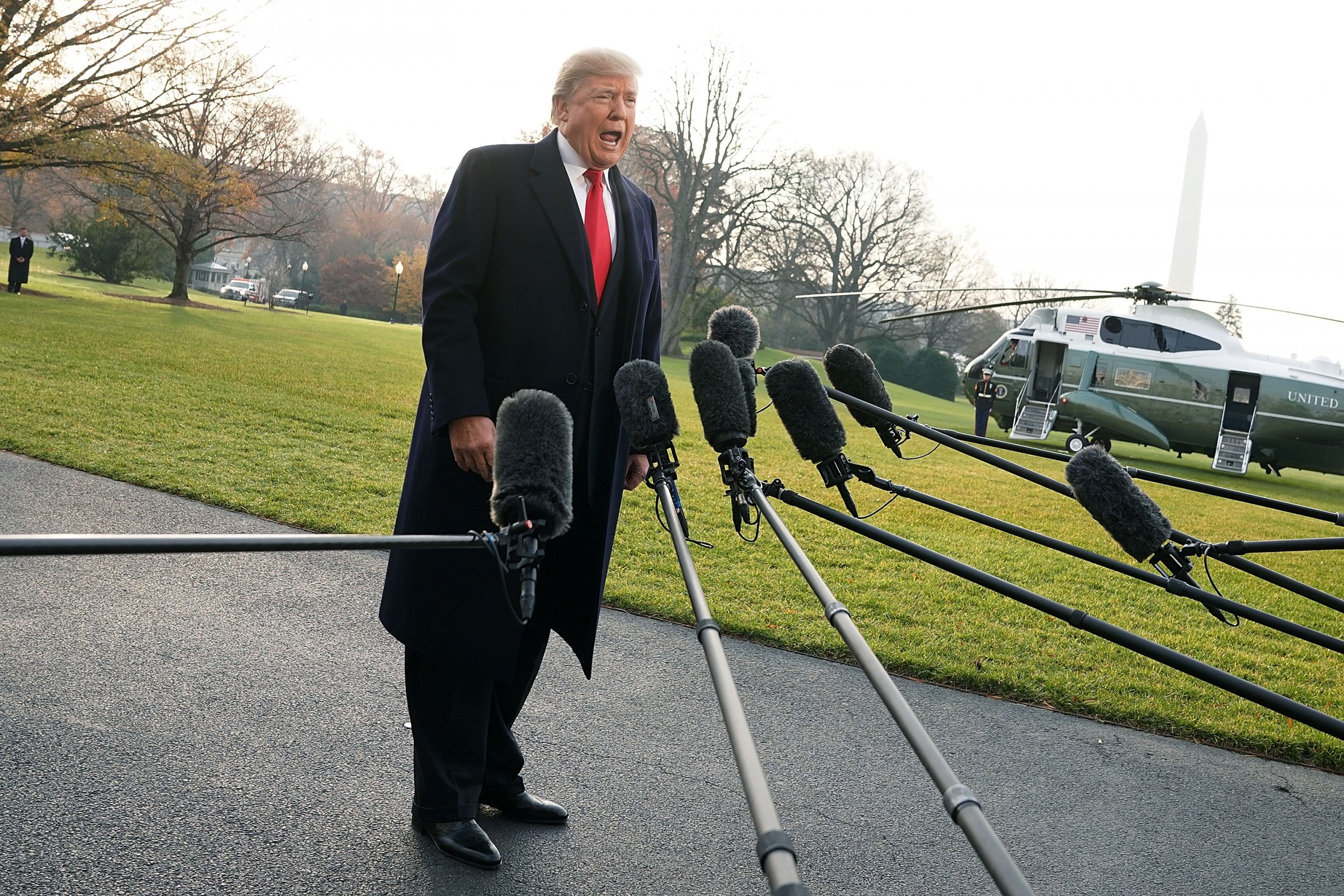 President Donald Trump defended his former national security adviser's admitted lie to the FBI Monday by falsely claiming Hillary Clinton is guilty of worse.
Trump said he "feels badly" that Michael Flynn has "destroyed his life" by the FBI while Clinton — who did not lie or break the law, according to former FBI Director James Comey's testimony — suffered no consequences.
"I feel badly for General Flynn. I feel very badly. He's led a very strong life, and I feel very badly," Trump told reporters on Monday morning. "I will say this, Hillary Clinton lied many times to the FBI. Nothing happened to her. Flynn lied and they destroyed his life. I think it's a shame."
The president continues to assert that his former 2016 rival lied to the FBI in July, a statement that was denied by Comey in a testimony to Congress after Trump fired him. The FBI has said Clinton did not break the law in her use of a private email server as Secretary of State, though the email system was "careless," Comey said.
Clinton also maintains that she did not lie to the FBI, whereas Flynn has pleaded guilty last week to lying to the FBI and is cooperating with the FBI in an investigation into whether Russia meddled in the 2016 presidential election.
"Hillary Clinton ... lied many times, nothing happened to her," the president said. "Flynn lied and it's like they ruined his life. It's very unfair."
The president habitually criticizes people who disagree with his narratives — Trump has also accused Comey of lying under oath to Congress in the statements that cleared Clinton. The statements come after a weekend rampage on Twitter, where the president indicates that he believes the FBI is "rigged" or has a "double standard" for Flynn and Clinton.
Flynn has promised "full cooperation" with Special Counsel Robert Mueller's team and is expected to testify that a top official of the Trump transition team was advised of his contact with Russia. The issue emerges from a long-standing law that private citizens cannot conduct U.S. foreign policy, implying that the administration could have acted inappropriately with its outreach to Russia before assuming the White House.
The president unleashed his thoughts as he stopped talked to reporters Monday morning ahead of his trip to Utah, where he will attend a ceremony to shrink a monument created by former President Obama.
He promised reporters "plenty of time to talk" during the trip.