President Trump Is Stealing From Military Families to Pay for His Border Wall Boondoggle | Opinion
As a young man, Donald Trump actively avoided military duty, seeking five draft deferments. But now, as commander in chief, he says that "I'm making up for it rapidly because we're rebuilding our military at a level that it's never seen before."
So why is this chicken hawk president stealing $3.6 billion from the U.S. military construction budget?
Trump is asking service members and their families to suffer so he can pay for a wall on our southwest border, a costly and wasteful project that is nothing more than a xenophobic vanity project.
Yet what will swiping military construction funding from our military, just to pay for Trump's high-priced fence folly, mean to our brave women and men who serve? Here are just a few examples of the 127 projects that will be put on hold.
In Virginia, two hazardous materials warehouses built in the World War II era will continue storing harmful materials in "structures that do not meet current life safety/fire safety requirements."
In Kentucky, children of military families will continue attending an overcrowded middle school at Fort Campbell because planned renovations no longer have funding. Shamefully, schools for service members' families take one of the biggest hits in Trump's plan.
In Florida, Tyndall Air Force Base—which only recently got supplemental disaster funds to recover from Hurricane Michael due to repeated Republican delays—will lose funding for a fire and crash rescue station.
From West Point to Pearl Harbor, soldiers in nearly two dozen states will sacrifice projects like fire houses, flight simulation facilities, roads, clinics and dining halls. Similar projects will be postponed at U.S. bases around the globe.
These are construction projects that military leaders asked Congress to fund. Each one was reviewed, prioritized and weighed carefully against fiscal restraints and operational necessity. I chair the Appropriations Military Construction and Veterans Affairs Subcommittee—just one of the panels in Congress that scrutinizes military construction projects.
Conversely, Trump's wall is a hastily considered response to a campaign applause line. Remember, Mexico, not our military and their families, was the one that was supposed to pay for this wall.
And make no mistake: This presidential theft of appropriated funds would violate Congress's power of the purse. It is, simply, unconstitutional.
Worse, these cuts put our service members in danger. They degrade the quality of life and morale for them and their families. Just last year, the Pentagon rated more than 30 percent of its infrastructure worldwide as poor or failing. Thanks to Trump, that number will surely climb.
Ultimately, these Trump cuts impede our military readiness and threaten our national security—and all for a project that has repeatedly been rejected by Congress on a bipartisan basis.
Many national security experts agree that such an edifice would be ineffective. Its construction price tag has been both elusive and massive, yet, some argue, it is sure to run over any current estimates.
There are also bound to be enormous unanticipated costs to this physical representation of bigotry and nativism—from forcibly and possibly illegally seizing land, to the environmental cost of disturbing protected land and threatening endangered species. It's possible the United States would have to cede land to Mexico.
Trump's border wall boondoggle would likely never pass the muster that Congress requires for military construction projects of lesser scope, and greater importance.
In my congressional role, I visit military bases across the country and the world. I meet with our military families who sacrifice so much for our country.
This president is not only exhibiting a horrific level of disrespect for our military; he is also asking them to make additional sacrifices—not for our country, but to satiate his own ego.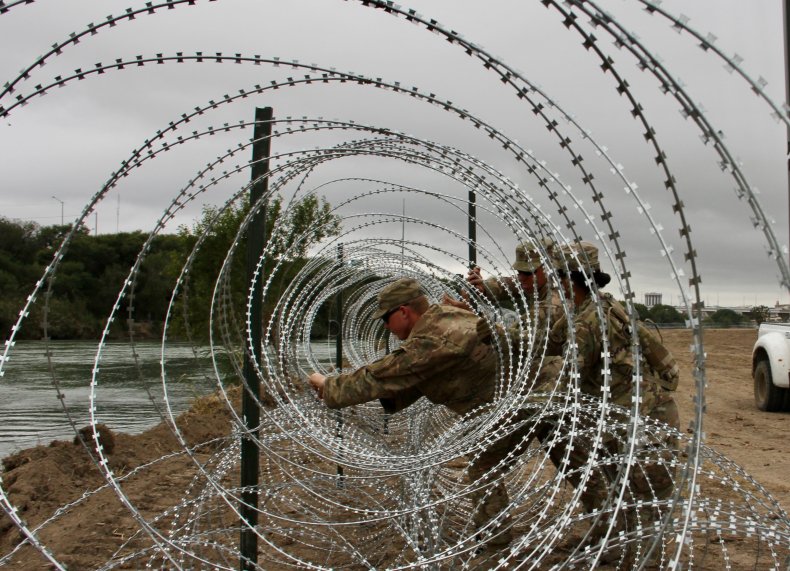 Donald Trump treats the presidency like a reality TV show. To him, stealing money from our military is just another ratings-generating plot line: like shutting down the government or caging children at the border. As our neighbors and communities suffer the consequences, Trump tweets, lies and moves on to the next harmful policy decision that keeps him in the spotlight.
Public service is not an entertainment gig. It's a duty and commitment to advance the welfare, safety and opportunity of all Americans.
The president would do well to remember that Americans are not characters. Americans are real people. Real people who experience the real impacts of his impetuous decisions. Real service members who will work in unsafe conditions, or keep their kids in overcrowded schools or worry about the failure of mission-critical equipment.
Our military deserves better. And our country deserves better.
Congresswoman Debbie Wasserman Schultz is a U.S. representative from Florida's 23rd congressional district and chair of the House Appropriations Military Construction and Veterans Affairs Subcommittee.
The views expressed in this article are the writer's own.