Presidential Election Is a Toss-Up in Pennsylvania, a Battleground State
A new Muhlenberg College/Morning Call poll showed Democratic Presidential nominee Joe Biden with a four-point lead over Republican President Donald Trump in the battleground state of Pennsylvania, a state that Trump won by just 1.4 percent (roughly 44,292 votes) over then-Democratic presidential nominee Hillary Clinton during the 2016 presidential election.
The telephone survey of 416 likely state voters resulted in Biden leading Trump 49 percent to 45 percent, but Biden's four-point lead seems less sure considering the survey has a +/- 5.5 percent margin of error at a 95 percent level of confidence. The state is worth 20 electoral votes of the minimum 270 needed to win the presidency.
This means that while the pollsters are confident that their findings represent a true average of Pennsylvanian voters, the results could be 5.5 percentage points off in either direction, either giving Biden up to a nearly 10-point lead or putting Trump just 0.5-points ahead.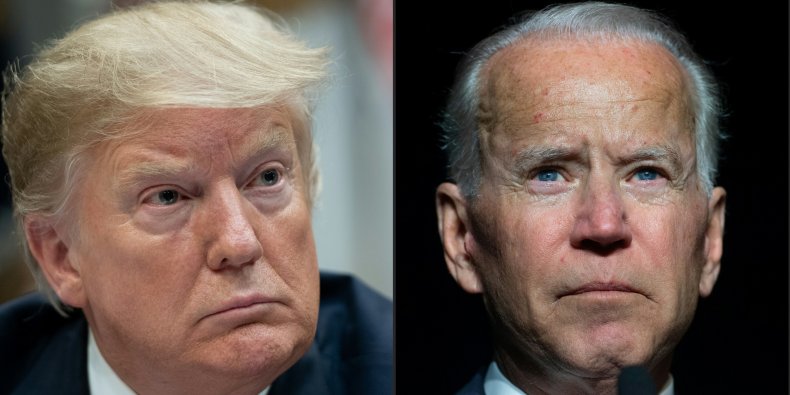 The same survey found that 51 percent of state voters disapprove of Trump's handling of the presidency while 43 percent approve and 6 percent remain unsure. His highest disapproval came for his handling of the ongoing COVID-19 epidemic with 51 percent rating his handling as "poor" and 17 percent saying he had done "excellent."
However, Biden possibly suffers from an enthusiasm gap in the state with only 39 percent of voter viewing him favorably compared to 46 percent viewing him unfavorably.
Newsweek contacted the Biden campaign for comment.
In terms of congressional elections, 45 percent of state voters said they planned to vote for their district's Democratic candidate and 38 percent said they planned on voting for the Republican candidate.
Despite the large number of voters nationwide who are expected to not use in-person polling places to avoid the possible coronavirus epidemic, roughly 64 percent of state voters said that they planned on voting in person, 26 percent they would vote by mail and about 10 percent said they were unsure which about method they would use to vote.
In an August 10 University of Wisconsin/YouGov poll, 50 percent of Pennsylvanian voters said they'd vote for Biden if the election were held today. Only 41 percent said that they'd vote for Trump.
At an August 20 campaign event, Trump told a crowd of his supporters outside of a building products factory in Biden's hometown of Scranton, Pennsylvania,, "Joe Biden is no friend to Pennsylvania. He's your worst nightmare."
"He keeps talking about 'I was born in Scranton,'" Trump continued. "He left a long time ago. He abandoned Pennsylvania. He abandoned Scranton."
Biden's family moved to Delaware from Pennsylvania in 1953 to avoid an economic downturn in the state.