What is Barack Obama Doing Now? Not Talking to Donald Trump, Apparently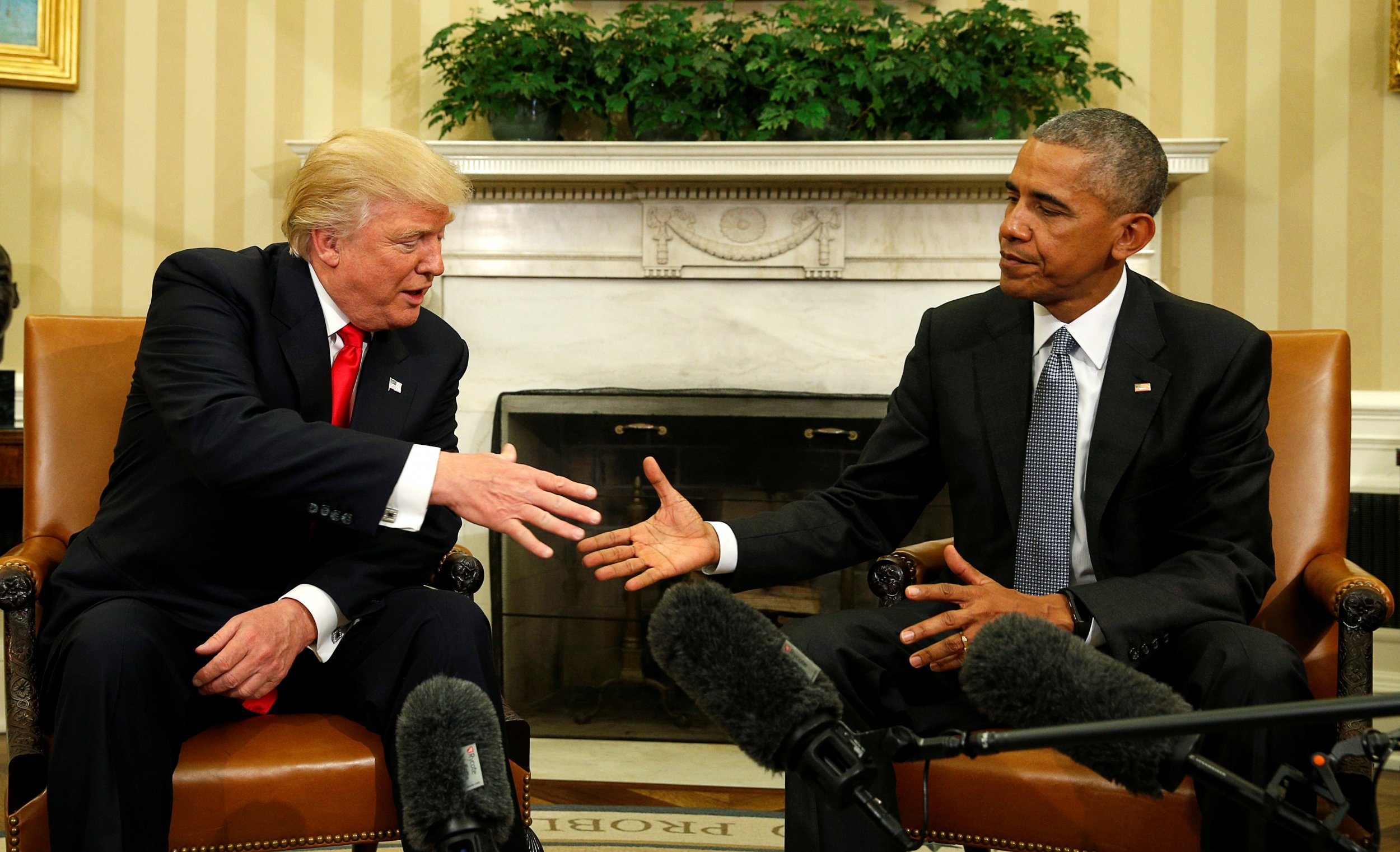 President Donald Trump and his predecessor, Barack Obama, apparently are no longer on speaking terms.
In an interview with the Washington Times published Sunday, the current commander-in-chief revealed that he and his predecessor haven't spoken since the inauguration. In the process, they are upending a recent tradition of presidential goodwill, one that had George W. Bush once calling Bill Clinton his "brother from another mother." Trump declared the Obama rift just politics, acknowledging: "I wouldn't say I've been exactly great to him, either."
"It's too bad, but I'm not totally surprised," Trump told the Times.
The interview is just the latest evidence of Trump and Obama's rocky relationship. As recently ago as 2009 the real-estate tycoon was praising the then-president, but by 2012 Trump was claiming Obama's birth certificate was a fraud. In 2016, Trump went so far as to say Obama was a founder the Islamic State militant group (ISIS). Obama shot back while campaigning for Trump's rival, Democrat Hillary Clinton, and criticized his use of Twitter.
The duo met publicly just after Trump's election victory, and they put up a united front. They shook hands and sat together at the White House for more than an hour on November 10 and "could have gone on for a lot longer," as Trump said at the time.
"We now are going to want to do everything we can to help you succeed because if you succeed, then the country succeeds," Obama added.
Since then, their relations have turned sour. In a recent speech, Obama mentioned that his landmark health care law, the Affordable Care Act, was getting better poll numbers than Trump, according to CNN.
In March, Trump accused "bad (or sick)" Obama of tapping the phones in Trump Tower—an allegation former Obama officials vehemently denied. The president then broadened his claim to say it was various types of surveillance.
Trump brought up the wiretapping claim again on Monday, when questioned about his dealings with Obama.
"[Obama] was very nice to me. But after that, we've had some difficulties. So it doesn't matter. You know, words are less important to me than deeds. And you—you saw what happened with surveillance," he said on Face the Nation. "I think our side's been proven very strongly. And everybody's talking about it."
When host John Dickerson pressed him on the wiretapping allegations, asking whether he stood by the claims, Trump ended the interview.