A priest has killed himself inside his church in northern France after facing accusations of sexually assaulting a young woman, according to multiple news reports.
Catholic clergyman Jean-Baptiste Sèbe, 38, took his own life inside the Saint-Jean XXIII parish in the city of Rouen on Tuesday, prosecutors confirmed, amid reports that a young, adult woman, whose name has not been made public, accused him of "indecent behaviour and sexual assault," an anonymous police source told public broadcaster RFI.
"We are stunned by such an act, even though I knew that he was in a difficult moment," Dominique Lebrun, Archbishop of Rouen said, after confirming Sèbe had killed himself, the Europe 1 broadcaster reported.
Speaking at a press conference on Thursday, Lebrun revealed that he called on Sèbe to confess any wrongdoing on Monday, after hearing about the allegations. The archbishop said that Sèbe confessed he felt he was guilty of "inappropriate conduct" towards a woman and the two agreed his desires were "imprudent" but did not elaborate on what the priest's behavior involved.
The incident reportedly took place two or three years ago but the woman's mother only recently came to Lebrun and told him about the priest's "inappropriate gestures," the archbishop said.
Authorities have launched a "preliminary investigation" into alleged sexual assault, deputy prosecutor Etienne Thieffry, told AFP, however authorities stressed that they did not receive a report about the allegations against the priest beforehand. Instead, the young woman and her mother went directly to the archbishop.
"The mother, who has come to the archdiocese, and her daughter, have just been identified, they will give their testimonies shortly," Thieffry added. An investigation into "the exact reasons for the suicide" is also underway, the deputy prosecutor confirmed.
Read More: India bans instant divorce for Muslim men, claiming it could harm women's rights
Sèbe's body is with his family and will be allowed to be buried with a church ceremony, should they wish that. "The Church is no longer opposed to funerals of people who die by suicide," Lebrun said when asked if priests will be barred from participating in Sèbe's burial.
Lebrun also stressed than no other alleged victims have come forward to report other incidents to him and that Sèbe, not the Rouen archdiocese is the focus of the police investigation.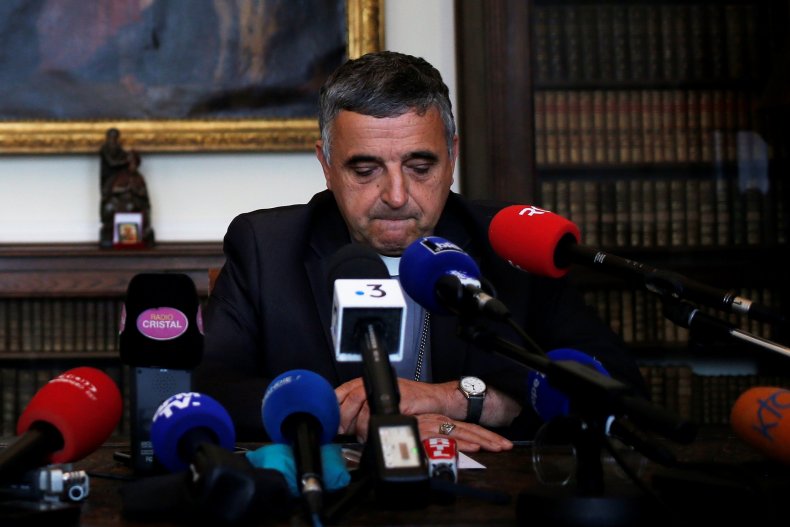 The story comes after a series of disturbing allegations of child abuse against Catholic clergy. French Cardinal Philippe Barbarin will stand trial in January, facing allegations of covering up for a Lyonnais priest who was accused of abusing multiple boy scouts during the 1980s.
If you have thoughts of suicide, confidential help is available for free at the National Suicide Prevention Lifeline. Call 1-800-273-8255. The line is available 24 hours every day. If someone you know appears to be contemplating suicide, visit Bethe1To.com for assistance.