Primary Challenger Says He's Running to Counter Boebert's 'Juvenile Antics'
Colorado Representative Lauren Boebert, who has been linked to the QAnon conspiracy movement, will face a Republican primary challenge from a state lawmaker who has called her "juvenile antics" an embarrassment.
Don Coram, a GOP state senator from Colorado's western slope, will appear on the June primary ballot after election officials announced Tuesday he had gathered enough valid signatures. His qualification sets up a heated primary race that Coram says he'll use to highlight controversies that have surrounded Boebert and what he calls the first-term representative's lack of results.
Coram's campaign told Newsweek in a statement Tuesday that Boebert is more interested in being "a right-wing celebrity pundit rather than a representative of the people she is paid to represent." The statement said Coram is known for "building bipartisan coalitions, finding solutions for real issues" while serving in the Legislature since 2011.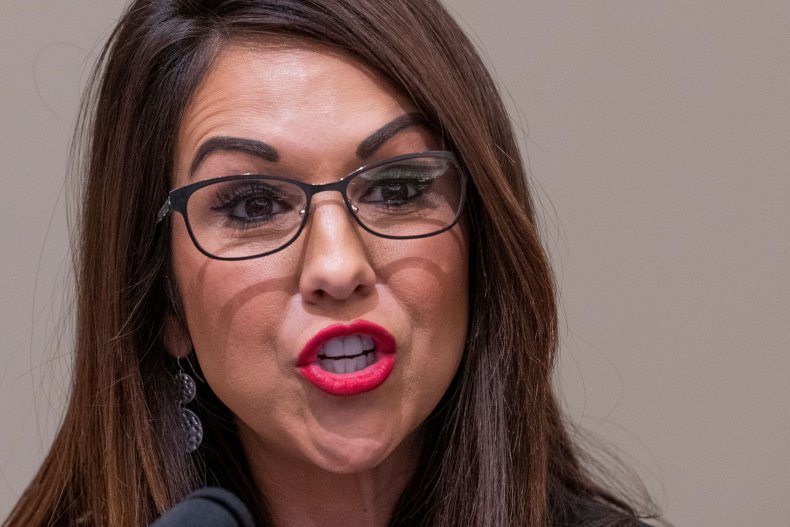 "I will make the case to primary voters as to why I am the most qualified candidate to represent them and their families," Coram said in the statement. "Enough is enough! Let's make Lauren's first term in Congress her last."
A representative of Boebert's campaign told Newsweek in an email that Coram was not sufficiently conservative.
"Don Coram is a corrupt liberal who buddies up to Democrats every chance he gets," Boebert's campaign said. "Corrupt Coram will be soundly defeated in the Republican primary because Congresswoman Lauren Boebert is the only conservative in this race."
First elected to Congress in 2020, Boebert quickly became a controversial political figure for trafficking in far-right conspiracy theories and making inflammatory remarks.
While running for election, Boebert spoke glowingly of the QAnon conspiracy theory, saying it "could be really great for our country." The theory is centered on "Q," a shadowy high-ranking government official whose anonymous posts have described how former President Donald Trump has secretly fought against a cabal of Satan-worshipping pedophiles.
Boebert has suggested the "Clinton Crime Family" was responsible for the death of a local news reporter in Alabama. She was also criticized for making Islamophobic comments to Minnesota Representative Ilhan Omar, suggesting the Muslim lawmaker could be a terrorist.
Boebert has over $2 million in cash on hand, according to the most recent figures from the Federal Election Commission. Coram has not raised any money.
Both Coram and Boebert have already traded barbs as they square off for the House seat representing much of western Colorado.
Shortly after Coram announced he would seek the seat, Boebert's campaign attacked Coram accusing him of his using the seat to make millions off of hemp farming, which he has called "lies, lies and damn lies," reports Colorado Politics. Coram has accused Boebert of improperly profiting from oil and gas payments made to her husband.
Updated 04/13/2022, 6:08 p.m. ET: This story has been updated with comments from a representative of Boebert's campaign and additional background.