Voters cast ballots Tuesday in Alabama, Arkansas, Georgia, Virginia and Washington, D.C., further setting the stage for this fall's midterm elections.
In Georgia, voters again rebuffed former President Donald Trump after his primary picks for two House seats lost their runoffs. Earlier, two Trump-backed candidates failed to topple the state's current Republican governor and secretary of state.
In Alabama, Katie Britt won the Republican runoff for Senate against Representative Mo Brooks. Trump had endorsed Brooks earlier but the former president later rescinded his endorsement and bestowed his blessing to Britt, a former Senate staffer and attorney.
In Virginia, Jen Kiggans and Yesli Vega won Republican primaries in House seats where incumbent Democrats could be vulnerable this fall.
Elsewhere, Muriel Bowser won the Democratic primary for mayor of Washington D.C. putting her on track for a third term leading the nation's capital city. Bee Nguyen also won the Georgia Democratic primary for secretary of state. If she prevails, she would become the state's first Asian woman elected to statewide office.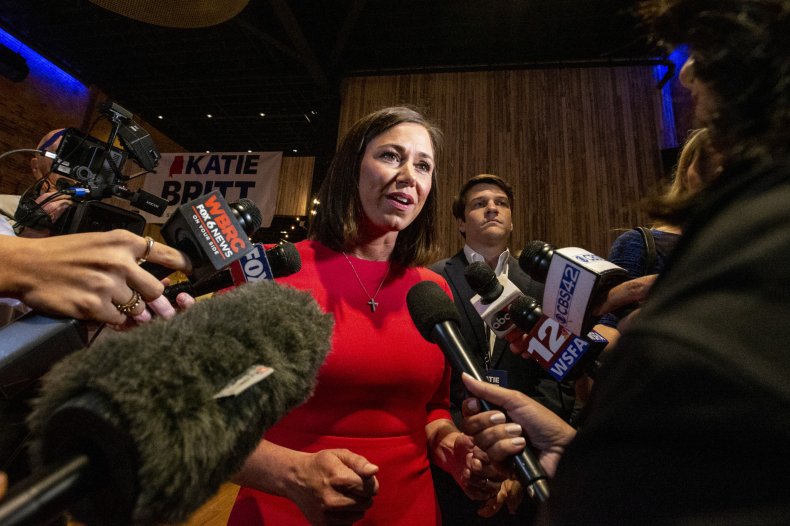 Alabama Headed for All Female Governor's Race
The winner of Alabama's Democratic runoff for governor has yet to be called, but regardless of the outcome two women will face each other for the office for the first time.
Votes were still being counted Tuesday night in the Democratic primary runoff between state Senator Malika Sanders Fortier and Yolanda Flowers. This fall, the winner will face incumbent Republican Governor Kay Ivey who easily won her primary.
Ivey, who has a high approval rating in the Republican-leaning state, is favored to win. But AL.com reports that the race will be the first all-woman gubernatorial election in state history. Ivey is only the second woman to hold the governor's mansion in Alabama, according to the news outlet.
Elsewhere on the ballot, Katie Britt won the GOP nomination for Senate, putting her on track to become the first woman elected to the chamber from Alabama (other female senators from Alabama were appointed).
GOP Picks Vega for Virginia Swing Seat
Yesli Vega, a county official and law enforcement officer, has won Virginia's Republican primary in a swing House seat.
The Associated Press on Tuesday evening called the race for Vega, who edged out five other candidates. The current vote count had Vega with just under 30 percent of the vote.
In the fall, Vega will face Democratic incumbent Abigail Spanberger, who in 2018 won her seat in the GOP stronghold. The race could be a pickup for Republicans who last year ended a decade of Democrats' lock on Virginia's governor's mansion.
Vega's endorsements include Texas Senator Ted Cruz and David Brat, who was ousted by Spanberger. However, it's notable who hasn't endorsed her. Former President Donald Trump hasn't formally endorsed any candidates in any Virginia House races, reports the Virginia Mercury.
Trump-Backed Britt Wins Alabama GOP Senate Runoff
Katie Britt is on track to win Alabama's Republican primary race for Senate, chalking up a win for Donald Trump who earlier endorsed her.
CNN projects Britt will win her primary runoff against Representative Mo Brooks. The most-recent vote tally had Britt with two-thirds of the vote.
A lawyer and former Senate staffer, Britt won Trump's coveted endorsement after the former president withdrew his backing of Brooks.
She will face Democrat Will Boyd, an engineer and pastor, in the general election, for the Senate seat left open by the retiring Richard Shelby.
Nguyen Wins Democratic Primary for Georgia Secretary of State
Georgia Democrats picked state lawmaker Bee Nguyen as their candidate for secretary of state Tuesday night.
The Associated Press called the runoff election for Nguyen after polls closed earlier in Georgia. The most-recent vote tally had Nguyen with a commanding three-quarters of ballots counted over former state legislator Dee Dawkins-Haigler.
Nguyen now seeks to topple Republican incumbent Secretary of State Brad Raffensperger in the general election.
"Join me in making history by defeating Brad Raffensperger and helping me become the first Asian woman elected to political statewide office in Georgia!" Nguyen said in a tweet after her win.
The race for Georgia's chief election officer has taken on new importance amid concerns about voting rights. Georgia will be seen as a test for Democrats who pulled off narrow wins in the state in 2020.
Bowser Wins Democratic Primary for D.C. Mayor
Muriel Bowser has won Washington D.C.'s Democratic primary for mayor, putting her on track to coast to a third term.
The Associated Press called the race Tuesday evening after polls closed earlier. The most-recent vote tally had Bowser leading her three primary challengers with more than half of the vote. Bowser's primary victory means she'll likely be reelected in the fall in the overwhelmingly Democratic city.
On the Republican side, small business owner Stacia R. Hall is the only candidate running for mayor.
Second Trump-Backed Candidate Loses in Georgia
Rich McCormick has won the Republican primary for a Georgia House seat over a candidate backed by Donald Trump, the second high-profile loss in Tuesday's runoff elections.
The Associated Press has called the race for physician McCormick over attorney Jake Evans. Initial counts put McCormick with over 70 percent of the vote Tuesday evening.
Earlier Tuesday night, Mike Collins won his runoff election against a Trump-backed candidate for another Georgia House seat. Trump, who lost the state in 2020, faced a significant defeat earlier this month when GOP voters rejected his picks over Georgia's current governor and secretary of state.
Collins Wins Over Trump-Backed Candidate in Georgia House Race
Businessman Mike Collins has won Republican primary runoff against a Donald Trump-endorsed candidate for a Georgia House seat.
The Associated Press called the race for Collins Tuesday night over former state legislator Vernon Jones. Initial returns put Collins with over three-quarters of the vote Tuesday night.
The race is another test of the former president's sway over the Republican Party. Earlier this month, Trump suffered a significant defeat when his hand-picked challengers to Georgia's governor and secretary of state were defeated in the state's Republican primary.
However, Collins has cast himself as an ally of Trump, despite not getting his endorsement, and has backed the former president's repeatedly debunked claims of widespread voter fraud.
Kiggans Wins Republican Primary in Virginia Swing District
Jen Kiggans, a state lawmaker and former Navy pilot, has won her Republican House primary and will take on a potentially vulnerable Democrat this fall.
The Associated Press called the race for Kiggans after she took a lead shortly after polls closed in Virginia on Tuesday. The most-recent vote count has Kiggans with over half votes counted so far, ahead of her three Republican challengers.
Kiggans will compete against this fall against Democrat Elaine Luria, who is hoping to keep the seat after two competitive elections.
"This is our chance to retake control of our country," Kiggans tweeted following her victory. "It's time to restore American strength in our economy, at our borders, and on the world stage. Now let's get to work!!!"
Nguyen Takes Initial Lead in Georgia SOS Race
State lawmaker Bee Nguyen has an early lead in Georgia's Democratic secretary of state primary runoff over opponent Dee Dawkins-Haigler.
Early returns show Nguyen had over three-quarters of ballots counted so far over Dawkins-Haigler, a former state legislator. But just a handful of Georgia's 159 counties had completed their counts.
Earlier this month, Nguyen emerged from the primary with 44 percent, which wasn't enough to avoid a runoff with with Dawkins-Haigler.
The winner of Tuesday's runoff will square off with Republican incumbent Brad Raffensperger, who won his primary outright.
Virginia Primary Will Pick Republican Challengers in Two Swing Seats
A pair of Virginia Democrats representing swing House districts will see who emerges as their Republican general election challengers after votes are counted in Tuesday's primary.
Six Republicans are running in Virginia's primary race in hopes of toppling Representative Abigail Spanberger in the general election. Spanberger, a former CIA officer, beat a Republican incumbent in 2018 for a seat representing an area north of Richmond. She narrowly won re-election in 2020.
Elsewhere, four Republicans are vying to take on Democratic Representative Elaine Luria in Virginia's 2nd House District, which includes the cities of Virginia Beach and Williamsburg areas.
A former Navy commander, Luria won the seat in 2018 by narrowly beating a Republican incumbent. She won re-election to the seat in 2020 with a larger margin.
Republicans are hoping to reclaim both seats in what's expected to be a difficult year for Democrats.
But Luria's participation in the House January 6 committee has made her a bigger target for Republicans, who've called the inquiry politically motivated.
Luria has shrugged off Republican criticisms of her work on the committee. A tweet pinned to the top of her campaign Twitter account stating, "This investigation has never been about politics, it's about doing what's right."
Polls Closing Soon in Virginia With Other States to Follow
Voters in four states and Washington D.C. are running out of time to cast ballots in elections that'll settle primary races.
Virginia, which has statewide and congressional races on the ballot, will be the first to close its polls at 7 p.m. Eastern time after opening at 6 a.m. In Georgia, where voters will pick a challenger to the current Republican secretary of state, polls will close the same time after opening at 7 a.m.
In Washington D.C., where Mayor Muriel Bowser faces a tough primary battle, voters have until 8 p.m. to cast their ballots after polls opened at 7 a.m.
One time zone over, polls in Alabama, where a Republican Senate primary is on the ballot, will close at 7 p.m. Central time after opening at 7 a.m. Voters in Arkansas, also in the Central time zone, have a bit more time with polls closing at 7:30 p.m. after opening at 7:30 a.m.
D.C. Mayor Faces Tough Primary Challenge
Washington, D.C. Mayor Muriel Bowser is facing multiple Democratic challengers in the city's primary election on Tuesday.
Bowser was first elected mayor in 2014. She is running now in the hope of winning a third term in office.
While The Associated Press reported that Bowser secured her second term as mayor fairly easily, the debate among progressives about policing has emerged as a top issue facing Bowser and her Democratic challengers.
Trayon White and Robert White, both members of the Washington D.C. City Council, are both running against Bowser in the Democratic primary. Also on the ballot is James Butler, a former commissioner with the Advisory Neighborhood Commission.
Stacia Hall is the only candidate running in Tuesday's Republican primary election.
Alabama Race Fueled By Trump Endorsement Flip
A series of endorsements by former President Donald Trump has brought controversy to Alabama's Senate runoff election on Tuesday.
Republicans Mo Brooks and Katie Britt both advanced to the runoff following their state's Republican primary on May 24. Brooks is currently representing Alabama in the U.S. House of Representatives, and Britt used to work for Alabama Senator Richard Shelby, who will soon be retiring and thus leaving behind an open seat.
Trump first endorsed Brooks in the congressman's bid to move to the Senate in March 2021. Trump praised Brooks at the time, writing that Brooks "will never let you down."
But Trump revoked his endorsement earlier this month after Brooks appeared at a rally and made comments about the 2020 election that the former president disputes. In a statement released on June 10, Trump said Brooks' lead in the race "evaporated overnight" as a result of those comments.
"Likewise, his words caused me to withdraw my Endorsement, and Mo has been wanting it back ever since—but I cannot give it to him," Trump said.
Instead, Trump said he was backing Britt. His endorsement described her as an "Incredible Fighter" and a "fearless America First Warrior."
"Above all, Katie Britt will never let you down," Trump said. "So Get Out and Vote for Katie Britt on June 21st in the Alabama Senate Runoff—she has my Complete and Total Endorsement!"
Voters to Pick Raffensperger Challenger
Voters are going to the polls again in Georgia after the state's primary election last month concluded with no clear winner among Democrat secretary of state candidates.
During Georgia's May 24 primary election, Secretary of State Brad Raffensperger defeated a primary challenge from Republican Jody Hice, whom former President Donald Trump endorsed last year.
Raffensperger will face whichever Democrat wins a majority of the votes cast on Tuesday. On the ballot is Bee Nguyen, a member of the Georgia House of Representatives, and Dee Dawkins-Haigler, a former state legislator.
As Georgia voters headed to the polls for Tuesday's runoff election, Raffensperger spent his day in Washington, D.C. He was called to testify before the House Jan. 6 Committee, which is investigating the events that led up to the riot at the U.S. Capitol Building on January 6, 2021.
Raffensperger has been vocal about the importance of election integrity and security since the 2020 Presidential election. During his testimony before the select committee on Tuesday, Raffensperger disputed and debunked several claims Trump has made in the past about voter fraud in Georgia and said his office looked into every concern Trump and his team raised about votes cast in 2020.