Prince Andrew's Accuser Hoping to See 'Justice Done' at Ghislaine Maxwell Trial
Virginia Giuffre, a woman who says she was trafficked to Britain's Prince Andrew as a teenager, is hoping to see "justice done" from afar as Ghislaine Maxwell goes on trial, her lawyer has said.
The British socialite's trial begins Monday in the U.S. District Court in Manhattan.
Prosecutors allege Maxwell, 59, groomed girls as young as 14 to have sex with Jeffrey Epstein and lied about her knowledge of his crimes when she testified in an earlier case. She has pleaded not guilty on all counts.
Prosecutors in the U.S. chose not to bring charges in connection with Giuffre and will focus on four other women who say they were recruited by Maxwell as teenagers to be abused by Epstein. Epstein killed himself in jail in 2019 while awaiting trial on sex trafficking charges.
Giuffre's lawyer, David Boies, said Giuffre won't be giving evidence in Maxwell's trial or attending court to watch the proceedings—but said she is hoping to see "justice done" from afar.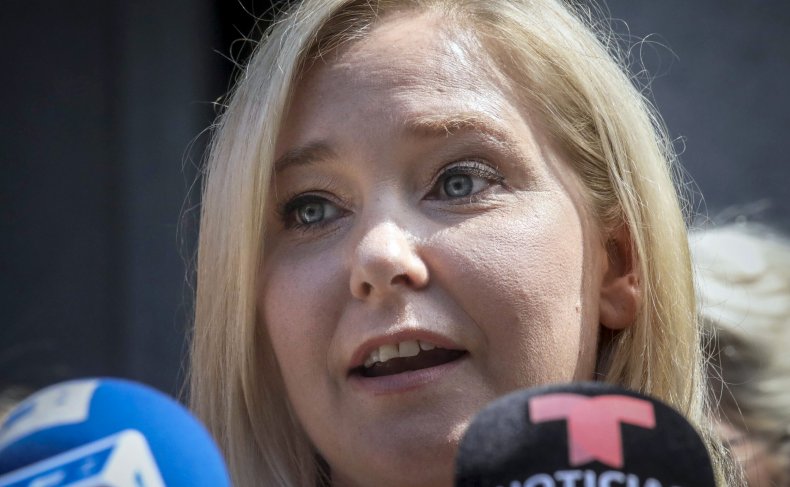 "The one thing we don't want to do, is do something that throws this trial off track—or give Maxwell's attorneys any excuse to do anything," Boies told The Sun on Sunday.
"If you're there in court, it's so much harder not to say something. We'll just have to sit back, light a candle and send positive messages."
Boies has been contacted for additional comment.
Giuffre has claimed that Epstein and Maxwell flew her around the world when she was 17 and 18 for sexual encounters with billionaires, politicians, royals and heads of state.
In a lawsuit filed this year, Giuffre accused Andrew of rape and intentionally inflicting emotional distress. She says she was forced to have sex with him by Maxwell and Epstein in London, New York and the U.S. Virgin Islands in the early 2000s and feared for her life if she refused.
Andrew has repeatedly denied Giuffre's allegations, and his lawyer attacked her credibility in a formal response to the suit.
"For over a decade, Giuffre has profited from her allegations against Epstein and others by selling stories and photographs to the press and entering into secret agreements to resolve her claims against her alleged abusers, including Epstein and his ex-girlfriend, Ghislaine Maxwell," Andrew's lawyer wrote in a court filing. "Most people could only dream of obtaining the sums of money that Giuffre has secured for herself over the years."
In an interview with BBC Newsnight in 2019, Andrew said he has "no recollection" of ever meeting her and denied having sex with her. "I can absolutely categorically tell you it never happened," he said.