Prince Andrew's Attendance at Key Ceremony 'Tarnishes the Monarchy'
Prince Andrew's attendance at a key ceremony for knighted Britons "tarnishes the monarchy," a royal biographer has said.
Nigel Cawthorne, author of Prince Andrew: Epstein, Maxwell and the Palace, said the prince's attendance at a major ceremony where other royals are likely to be present will rake up the reputational damage of the Jeffrey Epstein saga.
He told Newsweek: "It tarnishes the monarchy generally with this going on."
Prince Andrew, the Duke of York, will appear alongside other knights of the Order of the Garter on June 13, according to a source close to the royal.
Prince Andrew's return to the spotlight, after settling a sexual abuse lawsuit with Jeffrey Epstein victim Virginia Giuffre, will come just eight days after the pageant that ends the official celebrations of the monarch's Platinum Jubilee.
There are just 24 members of the order of chivalry, including Prince Charles and Prince William, who may well be at the event; Queen Elizabeth II is not expected to attend this year due to recent mobility problems.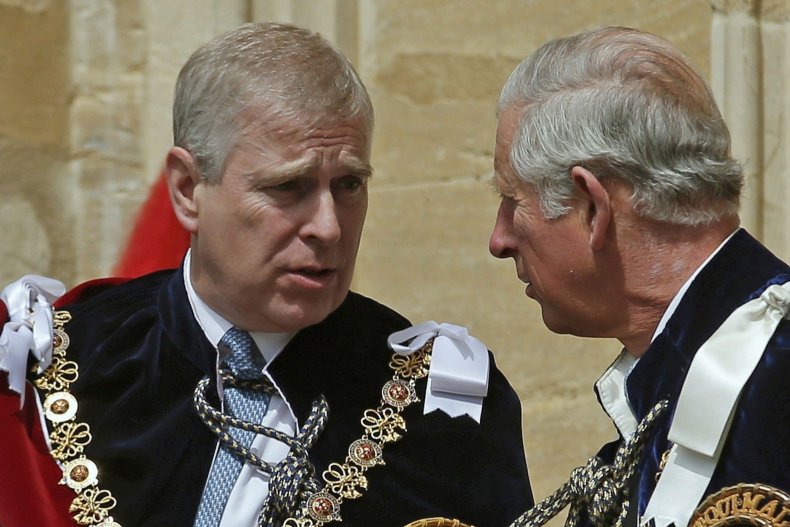 Cawthorne pointed to the backlash against the Monarchy after Prince Andrew appeared at a memorial to Prince Philip at Westminster Abbey in March, walking Elizabeth to her seat during the event broadcast live by the BBC.
Several British newspapers were heavily critical of the move, which came two months after the queen stripped her second eldest son of his honorary military titles and patronages.
On Andrew's appearance at Garter Day, Cawthorne said: "It seems to me a rather odd thing to do given how the memorial service at Westminster Abbey went.
"There wasn't a very good reaction to that. It's June 28 when the Maxwell sentencing hearing is due.
"It's all going to come up again. Virginia Giuffre said she was going to make a victim impact statement at the hearing."
The furore comes after Buckingham Palace said in a January statement: "The Duke of York will continue not to undertake any public duties and is defending this case as a private citizen."
Peter Hunt, a former BBC royal correspondent, suggested Andrew's bid for a return to the spotlight could strain relations between the palace and the BBC, which is helping put on a concert at the palace as part of the Platinum Jubilee, on Saturday, June 4.
He wrote on Twitter: "Buckingham Palace is reliant on the BBC to help make the Jubilee a success, just like 2002 and 2012. The BBC is paying for the concert.
"As it strives not to sink into sycophancy, one editorial issue will be the presence of Prince Andrew and any attempt he makes at rehabilitation."
For more royal news and commentary check out Newsweek's The Royal Report podcast: