Prince Andrew Teams Up With Banker Accused of Sexual Harassment For New Business Venture
Prince Andrew set up a business with a friend who quit Queen Elizabeth II's bank over sexual harassment allegations—months after the Duke quit royal duties over his affiliation with Jeffrey Epstein.
While working at Coutts, Harry Keogh, 60, was accused of touching a young female banker's groin to indicate the location of an injury he had, according to the Wall Street Journal.
At another meeting, the woman, in her 20s, who had been a graduate trainee months earlier, asked him if it was feeling better and he asked her to touch his own groin, the newspaper reported.
An investigation by Coutts, one of the oldest banks in the world and where the queen keeps her money, led to a final written warning. However, he was not fired and quit in 2018 after the allegations came to light in the Wall Street Journal.
Now he is in business with Prince Andrew through a company, Lincelles, set up in June 2020.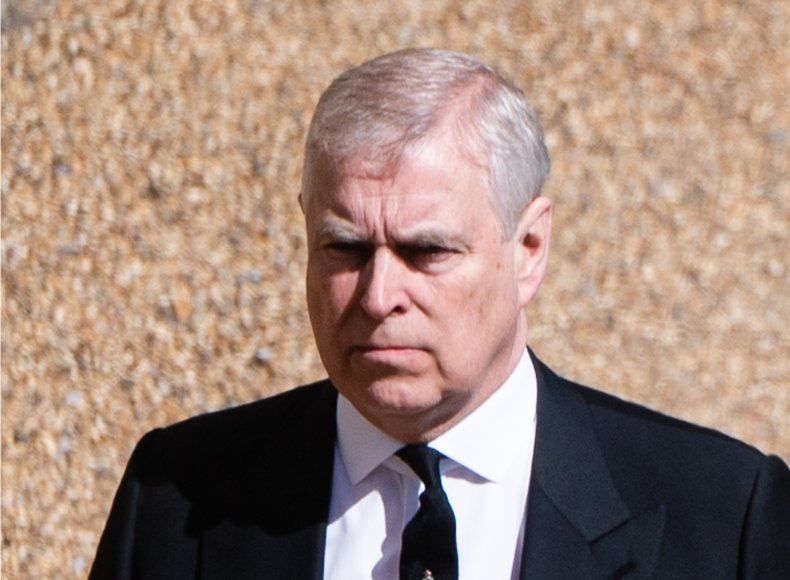 During the 18th century Battle of Lincelles, the Duke of York led British forces against the French.
The formation of the company came just seven months after Prince Andrew's car crash BBC interview in which he claimed the allegations he had sex with a Jeffrey Epstein trafficking victim could not be true because he was medically unable to sweat.
He would not say he regretted his friendship with the convicted pedophile and did not express sympathy for the victims.
Andrew told the BBC's Emily Maitlis the allegations against him were false but the backlash after the interview was broadcast saw him step back from public life.
U.K. newspaper The Times reported Lincelles is an unlimited company, meaning it will not have to file accounts.
It is owned by the Urramoor Trust, set up by the Duke of York's private office, and British companies register Companies House lists Prince Andrew and Keogh as people with "significant control."
A spokesperson for the Duke of York told Newsweek: "The Duke of York's private office established the Urramoor Trust, which owns both Lincelles Unlimited and Urramoor Ltd, a private limited company, which files public accounts.
"The trust, of which The Duke of York is settlor but not a beneficiary, has independent trustees. The Duke is not an owner of either Lincelles or Urramoor Limited as a matter of fact and law.
"Lincelles Unlimited has never been operational, has not received any funds or paid any monies out. There is nothing improper in establishing a company in this form which permits entirely legitimate business transactions."
Harry Keogh was unable to comment.
Companies House documents describe how Andrew "has the right to exercise or actually exercises, significant influence or control over the activities of a trust, and the trustees of that trust (in their capacity as such) hold, directly or indirectly, 75 percent or more of the shares in the company."
The Times reported the trust was set up to support Prince Andrew's family.
However, a source close to The Duke of York defended Keogh, telling Newsweek there was no police involvement in the allegations.
The source said: "Harry Keogh has acted as The Duke's private banker for some 20 years, including during his tenure at Coutts Bank.
"The allegations against him don't appear to have been subject to any investigation by law enforcement or independent third parties and nor have they been tested by due process in a court of law.
"Keogh is a senior banker with considerable experience and knowledge and continues in his function as banker, advisor and friend to The Duke of York."
The Wall Street Journal reported Keogh accepted the disciplinary action without admitting the allegations against him.
The 2015 internal investigation was conducted by senior banker Gayle Schumacher, the newspaper reported.
At the time of their exposé in March 2018, a Coutts spokesperson told the BBC: "When allegations of inappropriate behaviour were made in relation to a particular team within the bank in 2015, an investigation was conducted into those concerns.
"The investigation found that within that team, standards had fallen below what we regarded as acceptable. Decisive disciplinary action was taken as a result."
Keogh quit later that month, in March 2018, with an internal memo attributing the decision to "recent media attention and the consequent strain placed on him and his family," City Wire reported.
The Times reported Keogh has sued for unfair dismissal.