Prince Andrew's Ex-Wife Would Still Marry Him If She Got to Live Life Again
Prince Andrew's ex-wife said "I've been very lucky" and would still marry Prince Andrew if given the chance to live life again.
Sarah Ferguson said she had an "amazing life" and that her former husband, who she is still close to, is a "very good and kind man."
Her comments to Times Radio come after Andrew was forced to pull out of a public appearance in his capacity as a knight of the Order of the Garter on Monday, June 13, following what the palace described as a "family decision."
Asked whether she would marry Andrew if living her life again, the Duchess of York said: "Oh, yes. He's a very good and kind man."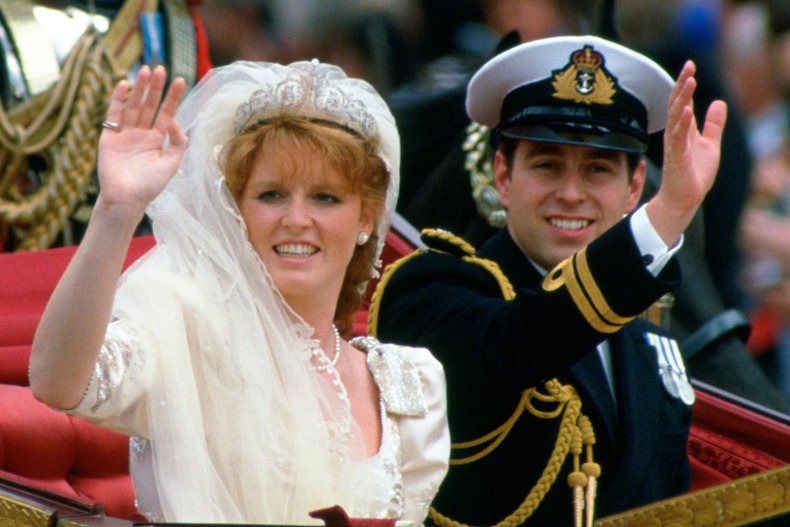 Andrew was accused of rape by Virginia Giuffre in a civil lawsuit in New York, but settled out of court in March, 2022, without admitting liability. He has consistently denied the allegations.
He quit public duties after a car crash interview in November 2019.
Prince Andrew and Ferguson married on July 23, 1986, at Westminster Abbey and separated in 1992 before divorcing in 1996, the same years as Prince Charles and Princess Diana.
Ferguson, who lives with Andrew at Royal Lodge, Windsor, said: "And it was an exceptional day, July 23, 1986. And it was just extraordinary.
"I think my life is an amazing life. I think I've been very lucky. And I am now just beginning my life again. And I think it's pretty cool to be able to say that."
The pair stayed close and still holiday as a family with daughters Princess Beatrice and Princess Eugenie.
Giuffre said in court filings that she was forced to have sex with Andrew in London, New York and the British Virgin Islands in the early 2000s, and feared for her life if she refused.
The prince has never been arrested or charged but his accuser brought a civil lawsuit in New York alleging battery and that he intentionally inflicted emotional distress.
Andrew's asked for the case to be thrown out citing multiple grounds but ultimately all were dismissed by the judge, who in January 2022 ordered a trial that was set for the summer.
Then in February, Andrew and Giuffre delivered the bombshell announcement they had reached a settlement agreement out of court which would bring the high-profile case to a close as soon as the prince transferred an undisclosed sum.
At the time, a statement released through the court read: "Prince Andrew has never intended to malign Ms Giuffre's character, and he accepts that she has suffered both as an established victim of abuse and as a result of unfair public attacks.
"It is known that Jeffrey Epstein trafficked countless young girls over many years. Prince Andrew regrets his association with Epstein, and commends the bravery of Ms Giuffre and other survivors in standing up for themselves and others."
The case was formally wrapped up in March 2022 after Andrew transferred the settlement money.
For more royal news and commentary check out Newsweek's The Royal Report podcast: