Prince Andrew's Former Girlfriend Claims Famous Photo of Him Is Fake
Prince Andrew's former girlfriend says a crucial photo of him in Ghislaine Maxwell's house with his accuser is a fake.
Lady Victoria Hervey, who briefly dated the Duke of York in 1999, used her Instagram to try to pull apart a key piece of evidence in Virginia Giuffre's sexual abuse allegations.
Giuffre included in her complaint a photograph of Prince Andrew with his arm around her in Maxwell's London townhouse on what she says was the night she was first forced to have sex with him as a 17-year-old trafficking victim.
In a confusing series of posts on her Instagram stories, Hervey wrote: "The original photo was painted so what you see is one of the other girls painting.
"The guy they used is in fact a body double that they photoshopped Andrews head onto."
She added: "Other survivor girls have been giving us clues but no one's connected it."
The conspiracy theory appears to revolve around the fact that Giuffre was photographed in the same outfit on a separate occasion in the south of France.
Giuffre says the photo of her with Andrew is authentic and she gave the original to the FBI in 2011, Sky News reported.
Epstein victim Carolyn Andriano, who testified against Maxwell at her trial, has said she saw the original image after Giuffre returned home from Britain
She told the Daily Mail how Giuffre texted her from London saying she was with the prince, Epstein and Maxwell.
Andriano told the newspaper: "I said, 'bulls***.' I was calling her out on it, but she swore [it was true]. She said she was going to see if she could get a picture."
On Giuffre's return, she asked: "So where's your picture, Miss Princess?"
She said Giuffre then produced the photo.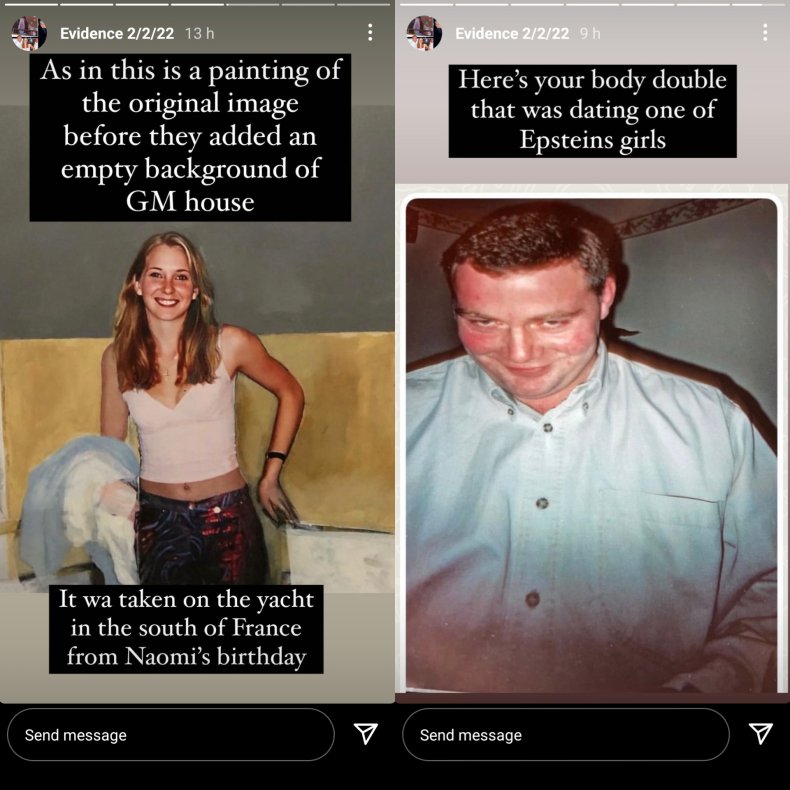 Hervey, who has 114,000 Instagram followers, posted a picture of a man she said was used as the body double for Prince Andrew, though his shirt did not match the one the duke is wearing in the Giuffre photo.
The socialite wrote: "Here's your body double that was dating one of Epsteins girls."
Prince Andrew told the BBC in November 2019: "From the investigations that we've done, you can't prove whether or not that photograph is faked or not because it is a photograph of a photograph of a photograph.
"So it's very difficult to be able to prove it but I don't remember that photograph ever being taken."
In another Instagram post, Hervey suggested the Epstein story had been "blown out of proportion."
She wrote: "This story has been so blown out of proportion. Or has it. Nobody knows.
"People are literally murdering people in LA and getting out of jail. It's a real life gotham city blood bath.
"I know Ghislaine is obviously not a saint and should pay back the trauma caused to her 'victims' but lifetime in jail for touching a girls tit 20 years ago and taking them on yacht, private jet and shopping trips.
"Come on. This has become a witch hunt."
Maxwell was found guilty in December 2021 but has yet to be sentenced and has requested a retrial.
The sex trafficking charges against Maxwell involved allegations she groomed young girls by normalizing nudity before Epstein then abused them.
One victim, Annie Farmer, told the court she was 16 when Maxwell massaged her breasts.
Quoted by The Guardian, she told jurors: "She said to get undressed and get [under] the sheet on the massage table.
"She pulled the sheet down and exposed my breasts, and started rubbing on my chest and on my upper breast."
She said: "When she pulled down the sheet I felt frozen because it didn't make sense to me. I was surprised and I wanted so badly to get off of the table and have that massage be done."