Prince Andrew Heckler Charged With Breach of the Peace
A man who was arrested for heckling Prince Andrew as he walked behind the coffin of his mother Queen Elizabeth II in Scotland has been charged.
In a statement, Police Scotland said the 22-year-old, who has not been named, was charged with breach of the peace following the incident which occurred as the Queen's cortege passed through Edinburgh's Royal Mile on Monday.
The suspect is alleged to have yelled "Andrew! You're a sick old man!" at the prince in an apparent reference to the allegations surrounding the royal and his relationship with child sex offender Jeffrey Epstein.
"A 22-year old man was arrested and charged in connection with a breach of the peace on the Royal Mile around 2.50 pm on Monday," Police Scotland said.
"He was released on an undertaking to appear at Edinburgh Sheriff Court at a later date and a report will be sent to the Procurator Fiscal."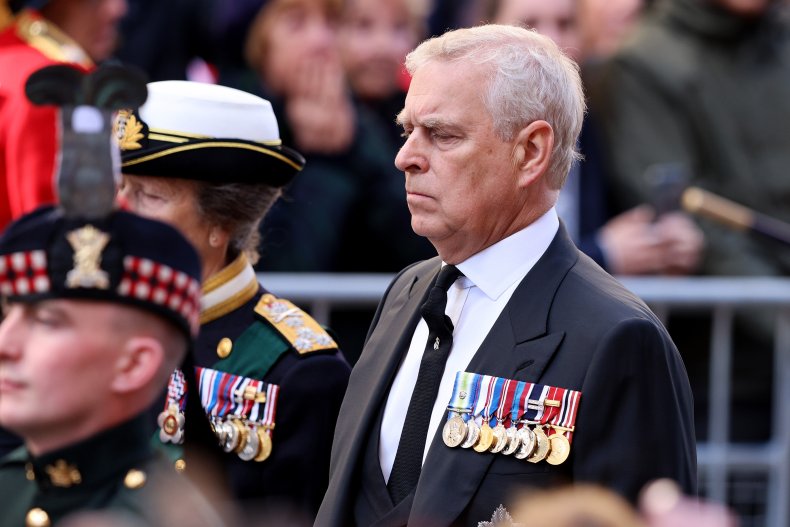 Police Scotland arrested one other woman on Sunday on suspicion of breaching the peace after allegedly holding a "f*** imperialism, abolish monarchy" sign during an accession proclamation for the King outside St Giles' Cathedral in Edinburgh.
The same day, a 45-year-old man was arrested, and then de-arrested, by Thames Valley Police in connection to a "disturbance that was caused" at another accession proclamation ceremony in Oxford, South England, after he shouted "who elected him?"
Speaking to The Guardian, protester Symon Hill said the outburst was not intended to disrupt the ceremony, but he wanted to note how a "head of state has been imposed on us without our consent."
Discussing the incident on Twitter, Hill wrote: "I was arrested today in Oxford after I voiced my opposition to the proclamation of 'Charles III'. Can we be arrested simply for expressing an opinion in public? I was arrested under the Police Bill passed earlier this year. This is an outrageous assault on democracy."
Prince Andrew was accused of sexually assaulting a 17-year-old girl who was allegedly trafficked into the country by Epstein, who died by suicide in August 2019.
Prince Andrew denied the allegations, but paid his accuser Virginia Giuffre a reported £12 million ($14 million) in an out-of-court settlement in February.
Prior to the settlement, Buckingham Palace stripped Prince Andrew of his honorary military titles and announced he would not "undertake any public duties" while defending the case as a public citizen.
Unlike his siblings—King Charles III, Princess Anne and Prince Edward—Prince Andrew wore a dark suit instead of a military uniform while walking in the procession through Edinburgh on Monday.