Prince Andrew Saga 'So Mishandled' After Appearance Scrapped at Last Minute
Prince Andrew's planned attendance at a key service was scrapped at the last minute in a sign his fall from grace has been "so mishandled all the way along," a biographer told Newsweek.
The Duke of York was due to attend a service and procession for knights of the Order of the Garter on Monday but cancelled at the last minute, too late for organizers to remove his name from the order of service.
Had his planned appearance gone ahead, he would have been given pride of place in the seat next to future-queen Camilla, the Duchess of Cornwall, who was to be installed as a lady of the order.
And the disgraced duke would have been photographed during a proud moment for former Prime Minister Tony Blair, who also joined the 700-year-old order of chivalry.
Nigel Cawthorne, author of Prince Andrew: Epstein, Maxwell and the Palace, told Newsweek: "This whole Andrew saga has been so mishandled all the way along on the PR front."
Even his 11th hour retreat from the limelight was steeped in chaos as palace insiders and sources close to Andrew appeared to brief contradictory lines to the media.
A source close to the prince told Newsweek it "was a personal decision by the Duke" while the palace told Newsweek it was a "family decision."
The confusion followed reports in The Sun that Prince Charles and Prince William stepped in and persuaded the queen Andrew should not be included in public aspects of Garter Day.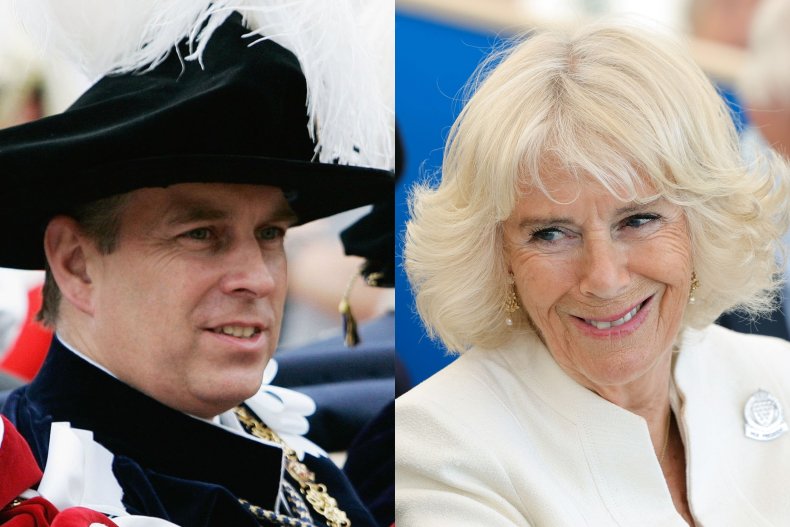 Andrew was accused of rape by Virginia Giuffre who filed a civil lawsuit in New York in 2021 in which she said she was forced to have sex with him while a 17-year-old sex trafficking victim.
The duke settled out of court but did not admit liability and has denied ever meeting Giuffre—though he did eventually concede she was a Jeffrey Epstein victim.
His last high-profile public appearance was at a memorial service for Prince Philip in March, when he surprised royal watchers by walking Queen Elizabeth II to her seat at Westminster Abbey.
The event was broadcast live on the BBC and the pictures made the front pages of British newspapers.
Cawthorne told Newsweek: "This [Garter Day] would have gone down about as well as him going to Westminster Abbey with the queen. He would have been trashed again in the press.
"Why are they trying to resurrect him? If he wanted to clear his name he could have gone to court with Virginia and tried to prove his innocence."
It also follows a story in U.K. newspaper The Daily Telegraph suggesting Prince Andrew wants to reinstate his use of the title "His Royal Highness" and a role as Colonel of the Grenadier Guards.
Cawthorne added: "He's asking to become colonel of the Grenadier Guards again. I don't think the Grenadier Guards want him do they?"
Ingrid Seward, author of Prince Philip Revealed, told Good Morning Britain: "The feeling among the royal household was the Monarchy actually have no power. The only power they have is by their popularity. They have no influence but they can influence by what people feel about them.
"So, if people feel very, very anti about Prince Andrew, having him appear publicly is not a good idea at all.
After the upsurge of good feeling after the jubilee they probably felt that this could destroy everything."
For more royal news and commentary check out Newsweek's The Royal Report podcast: