Prince Charles Says 'Time Has Come' for Commonwealth Slavery Conversations
Prince Charles gave an opening address at the Commonwealth Heads of Government meeting in Rwanda on Friday, during which he called on member states to "acknowledge the wrongs that have shaped our past" and said the "time has come" for conversations about historic slavery.
Charles' comments follow a speech given by Prince William on Wednesday in which he acknowledged the racism and discrimination, both historic and current, experienced by black men and women in Britain today.
The address also follows a number of protests that were staged in the Caribbean during royal tours undertaken by William and Kate Middleton as well as Prince Edward and wife Sophie, Countess of Wessex earlier this year calling for an apology for the monarchy's role in the transatlantic slave trade.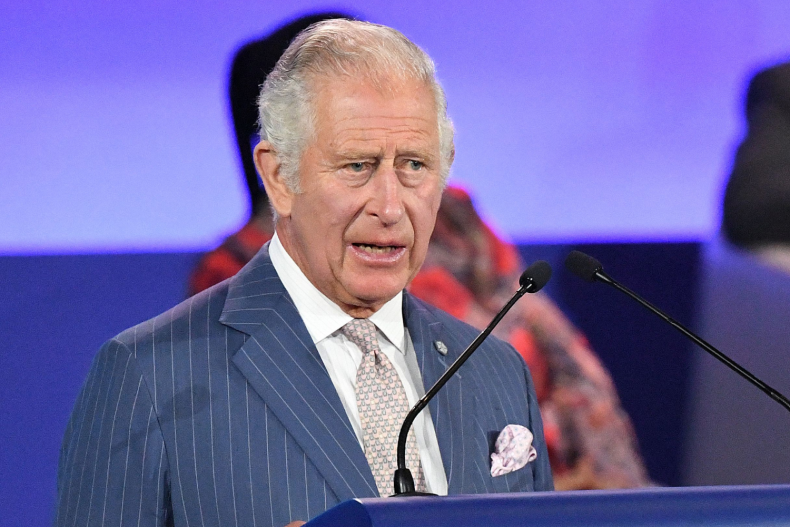 On Friday, Charles spoke to representatives from 54 member states across Africa, Asia, Europe, the Americas and the Pacific.
He opened his remarks by discussing the importance of working as a collective to repair the damage sustained over the course of the COVID-19 pandemic and also the unique position that the Commonwealth occupies in being able to achieve potential good.
In order to achieve this good and "unlock the power" of the group's common future, Charles expressed his belief that: "We must also acknowledge the wrongs that have shaped our past. Many of those wrongs belong to an earlier age with different and somewhat lesser values. By working together we are building a new and enduring friendship."
To illustrate this weighty point the prince referenced his recent visit to Canada, a Commonwealth member, where he met with members of communities working on the ongoing reconciliation outreach with the nation's indigenous population.
"As challenging as that conversation can be," Charles said. "The people of Canada are approaching it with courage and unwavering commitment. Determined to lay the foundation of respect and understanding on which a better future can be built."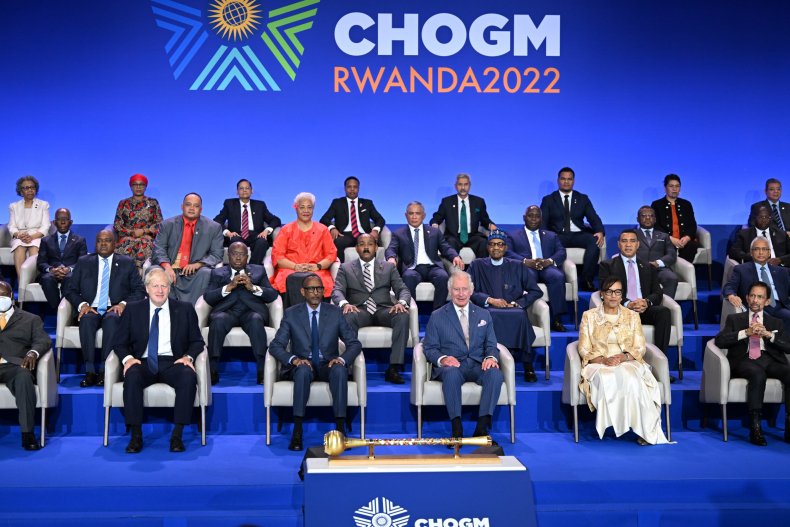 It was then that Charles moved on to address the subject of slavery.
"It seems to me that there are lessons in this for our Commonwealth family," he said, "for while we strive together for peace, prosperity and democracy, I want to acknowledge that the roots of our contemporary association run deep into the most painful period of our history."
"I cannot describe the depth of my personal sorrow at the personal suffering of so many as I continue to deepen my own understanding of slavery's enduring impact," he continued. "If we are forged with a common future that benefits all our citizens, we too must find ways, new ways, to acknowledge our past. Quite simply, this is a conversation whose time has come."
Most recently prior to Friday's Commonwealth Heads of Government meeting, Charles spoke about historic slavery during a visit to the Caribbean island of Barbados, marking the nation's abolishing of the British monarchy and formation of a republic.
Barbados became an independent nation in 1966, but though self-governing, maintained Queen Elizabeth II as their head of state until 2021.
In his speech marking the new republic, Charles said of the island's historic ties to Britain: "From the darkest days of our past, and the appalling atrocity of slavery, which forever stains our histories, the people of this island forged their path with extraordinary fortitude.
"Emancipation, self-government and independence were your way-points. Freedom, justice and self-determination have been your guides."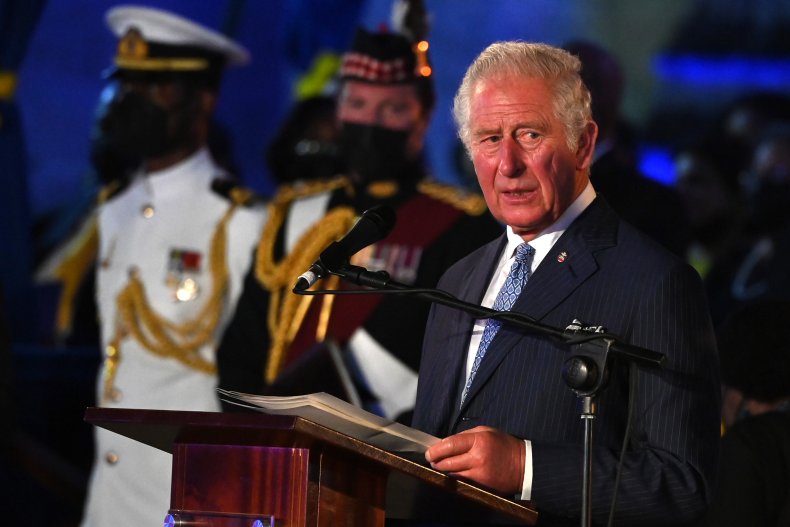 It is likely that other nations in the Commonwealth who maintain the status of Commonwealth Realm (an independent country with the queen as their head of state, of which there are 14, in addition to the U.K.) will follow Barbados in abolishing the monarchy.
During their visit to Jamaica in March, William and Kate were told by Prime Minister Andrew Holness that: "we're moving on. And we intend to attain, in short order, our development goals and fulfill our true ambitions and destiny as an independent, developed, prosperous country."
In addition to other Caribbean islands, support for the monarchy also wavers in countries like Australia and Canada. This prompted William to reference the future in the final statement of his Caribbean tour, saying:
"We support with pride and respect your decisions about your future. Relationships evolve. Friendship endures."
Charles, who will become the next king and elected head of the Commonwealth after the death of Queen Elizabeth II, also made a similar statement during his speech on Friday. Alluding to the potential for more Commonwealth Realms severing ties with the British monarchy, the prince said:
"I want to say clearly, as I have said before, that each member's constitutional arrangements as republic or monarchy, is purely a matter for each member country to decide.
"The benefit of long life brings me the experience that arrangements such as these can change, calmly and without rancor, but as I said in Barbados last November, we should never forget the things that do not change," he said. "The close and trusted partnership between Commonwealth members, our common values and shared goals and, perhaps most importantly, the strong and enduring connections between the peoples of the commonwealth which strengthen us all."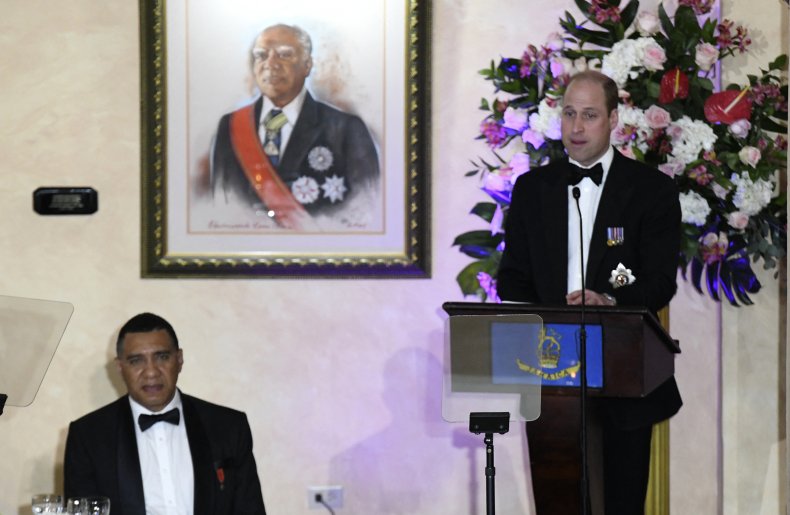 It was agreed at the Commonwealth Heads of Government meeting held by the queen in London in 2018 that Charles would take on the monarch's role as head of the Commonwealth after her death. This role is not an inherited one and Charles' succession had to be voted on by members.
With this in mind, the British monarchy's role as leaders of the Commonwealth may well end with Charles. During his Caribbean tour, William addressed this in a speech revealing he does not take for granted he will ever hold the title.
"Tours such as this reaffirm our desire to serve the people of the Commonwealth and to listen to communities around the world," he said. "Who the Commonwealth chooses to lead its family in the future isn't what is on my mind. What matters to us is the potential the Commonwealth family has to create a better future for the people who form it, and our commitment to serve and support as best we can."