William Says Caribbean Community 'Profoundly Wronged' by U.K. Government
Prince William, fresh from celebrating his 40th birthday, has made a politically charged speech marking "Windrush Day," a day of commemoration in Britain dedicated to a generation of Commonwealth nationals who helped rebuild the country after World War II.
A scandal was uncovered in 2017 when it emerged that thousands of people who moved to Britain between 1948 and 1973—known as the "Windrush generation" after the name of a passenger liner that brought the first post-war Caribbean migrants to the U.K.—had been wrongly classed as illegal migrants, detained and in some cases deported.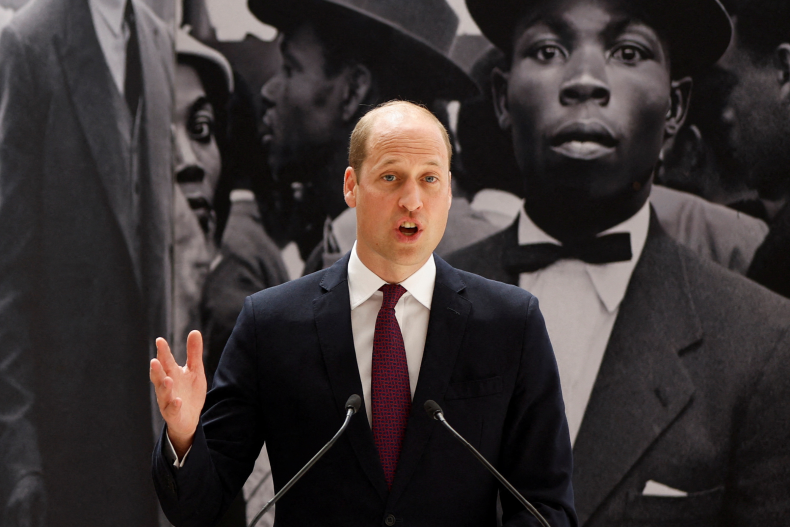 William's speech on Wednesday calling members of the Windrush generation "victims of racism" and "profoundly wronged" by the U.K. government is a rare example of the prince weighing in on a polarizing political issue and is likely to generate criticism.
He said: "We know without question, that the Windrush Generation have made our culture richer, our services stronger, and our fellow countrymen safer."
"This is something that resonated with Catherine and me after our visit to the Caribbean earlier this year," he continued.
"Our trip was an opportunity to reflect, and we learnt so much. Not just about the different issues that matter most to the people of the region, but also how the past weighs heavily on the present.
The reference to the Cambridges' Caribbean tour follows widespread criticism of the visits to Belize, Jamaica and the Bahamas in March which were met with anti-monarchy and pro-reparations protests at each stop.
The tour saw a series of PR blunders including poorly chosen photo opportunities that overshadowed some of the bigger issues, including a speech by William in which he expressed "profound sorrow" for slavery but stopped short of an apology. "Slavery was abhorrent, and it should never have happened,'' he said then.
In his speech on Wednesday, William said the past also weighed heavily for members of the Windrush generation "who were victims of racism when they arrived here, and discrimination remains an all too familiar experience for black men and women in Britain in 2022.
"Only a matter of years ago, tens of thousands of that Generation were profoundly wronged by the Windrush Scandal. That rightly reverberates throughout the Caribbean community here in the U.K. as well as many in the Caribbean nations.
"Therefore, alongside celebrating the diverse fabric of our families, our communities and our society as a whole—something the Windrush Generation has contributed so much to—it is also important to acknowledge the ways in which the future they sought and deserved has yet to come to pass."
William's comments on racism follow allegations made by Prince Harry and Meghan Markle during their 2021 interview with Oprah Winfrey that an unnamed member of the royal family had made racially insensitive comments about the skin color of the couple's future children.
Amid the furor created by this remark, William broke with his "never complain, never explain" motto to respond to a reporter's question about whether the royals were racist with, "we are very much not a racist family."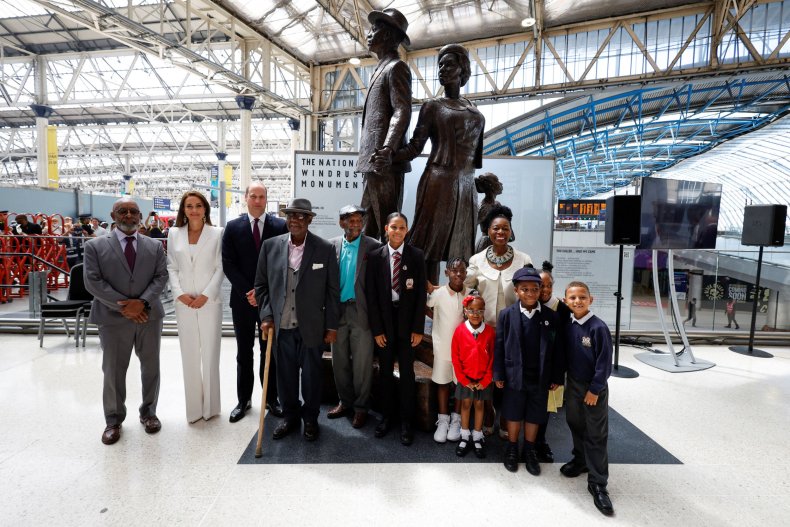 The prince concluded by drawing attention to the diversity of the British population which has been enriched by the Windrush generation.
"Diversity is what makes us strong, and it is what reflects the modern, outward-looking values that are so important to our country," he said.
"I want to say a profound thank you to every member of that generation, and the generations that have followed. And I want you to know that you can count on mine and Catherine's continued support in helping us achieve a future they would be proud of."
William and Kate Middleton marked the day with a visit to ELEVATE, a youth initiative in south London where they met with members of the British-Caribbean community and sat in on a discussion about supporting their future ambitions.
Afterwards, the couple unveiled a monument to the Windrush generation at London's Waterloo station. This location was chosen as many Caribbean migrants passed through the station as they began life in Britain. The monument was partially funded by the U.K. government.
The British government was heavily criticized over the Windrush scandal, culminating in the then-Home Secretary, Amber Rudd, resigning, saying that there was "justifiable outrage" over the treatment of the Windrush generation.
Another member of the royal family who marked the day of commemoration on Wednesday was the queen who released a statement from Windsor Castle which said:
"The unveiling at Waterloo station on Windrush Day serves as a fitting thank you to the Windrush pioneers and their descendants, in recognition of the profound contribution they have made to the United Kingdom over the decades.
"It is my hope that the memorial will serve to inspire present and future generations, and I send you my warmest good wishes on this historic occasion."
Update 22/06/22 9:38 a.m. ET: This article was updated with additional information and context.