Prince Charles Offers Prince Harry Olive Branch After Queen Overlooks Him Twice
Prince Charles praised Prince Harry for "passionately" fighting climate change despite his son's repeated public criticisms.
The Prince of Wales spoke warmly of the Duke of Sussex in an essay for Newsweek in which he compared the climate emergency to the Cuban Missile Crisis.
It comes after Queen Elizabeth II twice failed to mention Harry's contribution to the debate on climate change while praising Charles, Prince William and Prince Philip.
In an exclusive essay for Newsweek, Charles wrote: "As a father, I am proud that my sons have recognized this threat. Most recently, my elder son, William, launched the prestigious Earthshot Prize to incentivize change and help repair our planet over the next ten years by identifying and investing in the technologies that can make a difference.
"And my younger son, Harry, has passionately highlighted the impact of climate change, especially in relation to Africa, and committed his charity to being net-zero."
The Queen twice lavished praise on other members of the royal family for their work on climate without acknowledging Harry's contribution.
Elizabeth praised Philip, Charles and William for taking the lead on protecting the environment, saying: "I could not be more proud of them."
Just a day later, Harry and Meghan Markle announced their Archewell Foundation had set a target to be "net-zero" by 2030—one of the contributions referenced by Charles in his Newsweek essay.
The Queen expanded her flattery in her Christmas Day message by acknowledging Charles and William had the support of their wives, Camilla, the Duchess of Cornwall, and Kate Middleton.
However, she again made no mention of Prince Harry during an unusually emotional speech reflecting on her late husband.
Charles' warm words come after Harry accused his father of cutting him off financially in summer 2020, during the Oprah interview in March 2021.
Harry also told Oprah that Charles stopped taking his calls while he was trying to negotiate his way out of the royal family.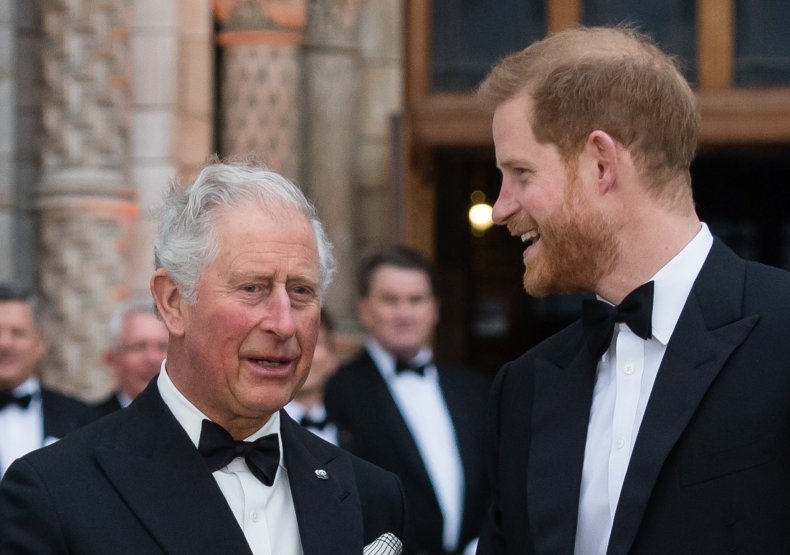 The Duke of Sussex then told Dax Shepard's Armchair Expert podcast in May 2021 he was experiencing "genetic pain" passed on by his father from Charles' own royal upbringing.
That same month he accused his family of "total silence or total neglect" over their reaction to his pleas for help dealing with the media in his The Me You Can't See Apple TV docuseries, again with Oprah.
In addition to his sons, Prince Charles also spoke of the impact his father Prince Philip had on his own early work on protecting the environment.
He wrote: "Sixty years ago, my late father identified the damage humankind was inflicting on the planet and helped to found the World Wildlife Fund.
"A decade later, when I first spoke publicly about the environment, many wondered if my sense of urgency was misplaced. That view has shifted in the intervening decades, though all too slowly, and, even today, lacks the urgency needed."
Charles made his first speech warning about plastic pollution in 1970 but for much of his career was mocked for his stance.
In his Newsweek article, he compared the threat of climate breakdown to the Cuban Missile Crisis—arguing that while the stakes are high, humankind can overcome the threat.
He said: "At present, there is none more pressing than putting Nature, people and our singular and fragile planet at the heart of how we live, work and do business to create the brightest possible future for humanity.
"The time is now. The eyes of our children and grandchildren are judging us. Let ours be the generation that can. And does. As we enter a new year, there is not a moment to lose."