Prince Charles Gets Poll Boost Despite Rift With Prince Harry and Charity Scandal
Prince Charles has received a polling boost at a time when his charity is in crisis and he has faced criticism from his second son, Prince Harry.
The Prince of Wales is in positive territory for the first time in almost 18 months in a crucial measure of support—whether or not he will make a good king.
The data comes after Queen Elizabeth II experienced a health scare in October and November, triggering questions over the transfer of power from mother to son.
Research by YouGov showed 34 percent of people felt he would make a good king, compared to 33 percent who didn't.
The last time he had net positive numbers against that particular measure was June 2020, prior to the broadcast of Season Four of The Crown, which recreated his messy marriage to Princess Diana.
Charles also saw his general popularity improve with 60 percent having a positive opinion of him and 33 percent having a negative opinion of him in a survey conducted on November 15, but published this month.
Prince Harry has also seen his support rise from 34 percent to 39 percent and negative opinion of him drop from 59 percent to 54 percent since August.
Meghan's polling remains low with 65 percent holding a negative view of her and 27 percent positive, giving her a net approval of -38, only one point better than August.
It's welcome news for Charles at a time when he is fighting on multiple fronts, with the Scottish charities regulator investigating press allegations against his charity, The Prince's Foundation.
Chief Executive Michael Fawcett resigned and a separate internal probe found he had "coordinated" with "fixers" over honors nominations.
The Mail on Sunday previously published a letter Fawcett sent to a Saudi billionaire offering help securing a knighthood in exchange for charity donations.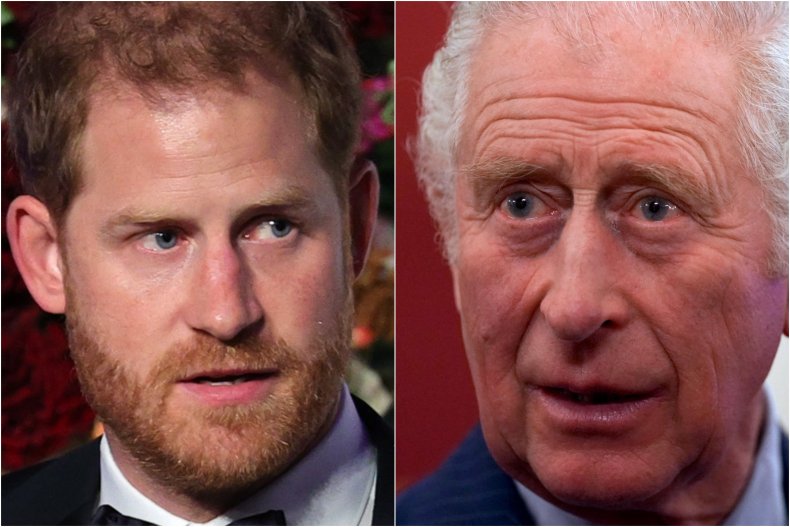 Prince Charles took flak during Harry and Meghan Markle's Oprah Winfrey interview when the Duke of Sussex accused his father of refusing to take his calls during royal exit negotiations.
Harry said: "My family literally cut me off financially," in reference to funding that Prince Charles stopped in the summer of 2020.
And the prince went on to claim he was experiencing "genetic pain" caused by Prince Charles passing on the trauma of his own childhood to his children in a May appearance on Dax Shepard's Armchair Expert podcast.
However, it hasn't all been bad news for Charles after he was the star of the show during the opening of the COP26 climate change conference on November 1.
The future king met world leaders, including Joe Biden, and exchanged affectionate words about the royals' long history of support for the environment.
The President told Charles: "We need you badly, I am not just saying. You got the whole thing going, that's how it started."