Prince Charles Tests Positive for COVID for Second Time
Prince Charles is self-isolating after testing positive for coronavirus for the second time, Clarence House has confirmed.
The Prince of Wales, 73, cleared his schedule for the day after confirmation that he has contracted COVID-19.
The positive test comes on the back of good news for the future king, after Queen Elizabeth II gave her blessing for his wife Camilla to receive the title of Queen Consort, rather than Princess Consort, when he takes the throne.
Clarence House said in a statement: "This morning The Prince of Wales has tested positive for COVID-19 and is now self-isolating.
"HRH is deeply disappointed not to be able to attend today's events in Winchester and will look to reschedule his visit as soon as possible."
Charles met the U.K.'s Chancellor of the Exchequer Rishi Sunak and Home Secretary Priti Patel on Wednesday evening at a reception for the British Asian Trust, held at the British Museum in central London.
Charles had two doses of the vaccine followed up by a booster shot in December.
The prince first had coronavirus in March 2020. His symptoms were mild, but he spoke about the loneliness brought on by isolation.
In a video made for the charity Age U.K., Charles said: "Having recently gone through the process of contracting this coronavirus, luckily with relatively mild symptoms, I now find myself on the other side of the illness but still in no less a state of social distance and general isolation.
"As we are all learning, this is a strange, frustrating and often distressing experience, when the presence of family and friends is no longer possible and the normal structures of life are suddenly removed.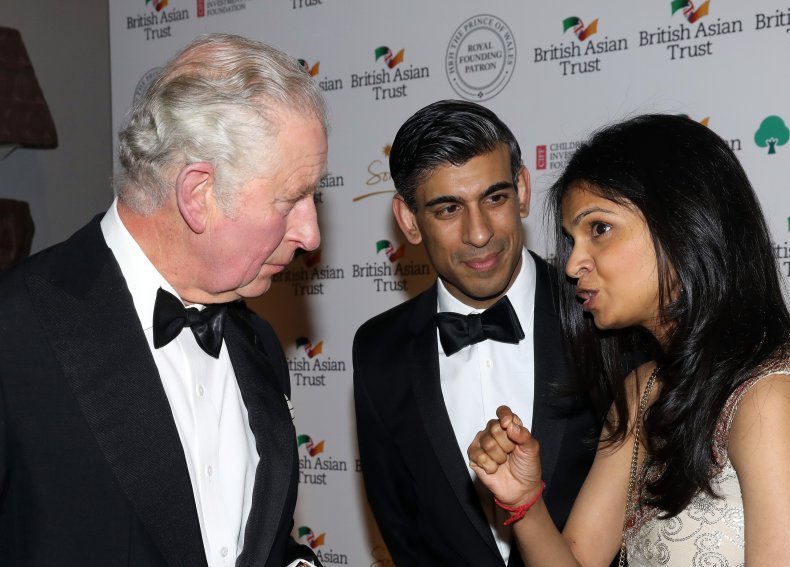 "At such an unprecedented and anxious time in all our lives my wife and I are thinking in particular of all those who have lost their loved ones in such very difficult and abnormal circumstances and of those having to endure sickness, isolation and loneliness."
Charles is the first British royal to get COVID-19 twice. Prince William also contracted the virus in the early stages of the pandemic.
The Duke of Cambridge tested positive in April 2020 but did not announce it publicly and was later criticized for his secrecy.
William is currently on a tour of Dubai, in the United Arab Emirates, where he is showcasing his Earthshot Prize Awards at Expo2020.
The Queen expressed her desire for Camilla to be named Queen Consort when Charles becomes king in a message marking the start of her Platinum Jubilee on Saturday, February 5.
The prince followed up with his own message a day later on February 6 when he said: "We are deeply conscious of the honour represented by my mother's wish. As we have sought together to serve and support Her Majesty and the people of our communities, my darling wife has been my own steadfast support throughout."