Prince Harry Disappointed at Being Linked to Crisis Engulfing His Father
Prince Harry said he raised concerns about a Saudi donor at the center of a cash-for-honors storm engulfing Prince Charles' charity.
Michael Fawcett resigned as chief executive of The Prince's Foundation over allegations he offered help securing a knighthood and citizenship in return for charity donations.
An internal inquiry last week found "co-ordination" did take place between Fawcett and "fixers" over nominations for honors between 2014 and 2018.
Prince Harry was dragged into the mess after reports in The Sunday Times showed his Sentebale charity also received £50,000 in 2013.
Harry met Mahfouz Marei Mubarak bin Mahfouz at a pub, posed for photographs and was in discussion about holding a charity auction or thank you dinner which ultimately never took place, the newspaper reported.
The Duke of Sussex came out fighting in a statement from his spokesperson suggesting he raised concerns about the donor. There is no suggestion Harry offered help securing a knighthood or citizenship for Mahfouz.
The statement read: "It is disappointing that The Sunday Times, knowing all the facts, has chosen to encourage speculation by being deliberately vague to try to create a falsified link between the Duke of Sussex and the CBE scandal, of which he had no knowledge or involvement.
"The duke and his advisers, as well as his non-profit Sentebale, severed ties with Mr Mahfouz and his associates in 2015, no longer accepting further donations to Sentebale and discontinuing any plans for a fundraising event amid growing concerns over the motives for his support.
"The duke had one planned meeting with this donor nearly eight years ago, did not introduce him to any members of the royal family, and expressed his concerns about the donor."
The statement did not make clear who he expressed his concerns to but the allegations against Fawcett relate to communications made after Harry says he cut ties with Mahfouz.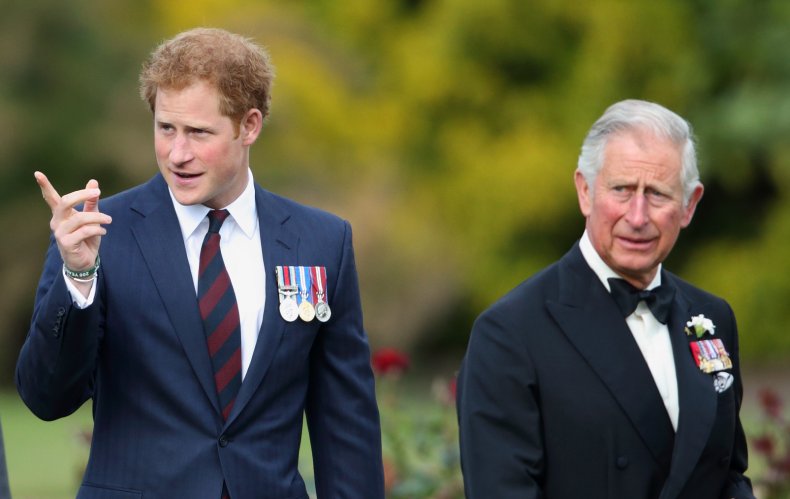 If the duke warned his father about the donor in 2015 that would pile extra pressure on the future king with an external inquiry by the Scottish charities regulator still ongoing.
The Mail on Sunday previously published a letter which Fawcett sent two years later, in 2017, to an aide to Mahfouz, who had given £1.5 million to The Prince's Foundation.
It read: "In light of the ongoing and most recent generosity of His Excellency, Sheikh Marei Mubarak Mahfouz bin Mahfouz I am happy to confirm to you, in confidence, that we are willing and happy to support and contribute to the application for Citizenship.
"I can further confirm that we are willing to make [an] application to increase His Excellency's honor from Honorary CBE to that of KBE in accordance with Her Majesty's Honors Committee.
"Both of these applications will be made in response to the most recent and anticipated support of the Trust and in connection with his ongoing commitment generally within the United Kingdom. I hope this confirmation is sufficient in allowing us to go forward."
The allegations were also reported to the Metropolitan Police who have reviewed the internal probe's findings but have not launched an investigation.
A summary of the charity's internal findings read: "With respect to the allegation of securing honours for a donor in exchange for donations, there is evidence that communication and co-ordination took place between the CEO at the time and so-called 'fixers' regarding honorary nominations for a donor between 2014-18. There is no evidence that trustees at the time were aware of these communications."
The Office of the Scottish Charities Regulator said in a statement: "OSCR has received a copy of a report prepared for the board of the Princes' Foundation into a series of allegations made against the charity's staff and trustees over the past few months.
"We are now carefully considering the contents of this report as part of the evidence we have gathered to support our own consideration of these matters.
"We will continue to progress our inquiry, working with the charity and others as we consider the information available before we decide what action, if any, is required in this case."