Harry's 'Incandescent' Reaction to Photographer Turned Friends Off Meghan
Prince Harry became "incandescent" after spotting a photographer hiding in the bushes at a friend's wedding—and the incident led his friends to become more suspicious of Meghan Markle, according to a new book.
The Duke and Duchess of Sussex were guests at the Jamaican wedding of his former Eton boarding school friend Tom "Skippy" Inskip, in March 2017.
The sun-kissed ceremony came around five months after Meghan and Harry's wedding first became public at the end of October 2016.
The new biography Revenge: Meghan, Harry and the War Between the Windsors describes how Harry spotted a photographer in bushes while out in Jamaica.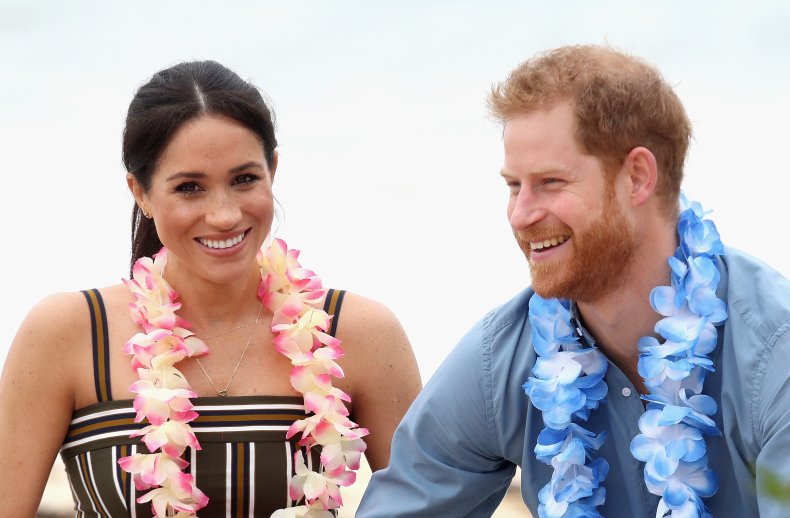 Prince Harry's 'Violent Outburst' Over Photographer
Author Tom Bower wrote: "Since this was the first important event Meghan and Harry had appeared at together, there was certain to be media interest. Secluded in the resort's most isolated villa, Harry spotted a photographer in the bushes. He became incandescent.
"Harry's friends were puzzled by his violent outburst considering the frequency of similar previous incidents in his life. Their suspicion of Meghan increased; the sentiment was mutual. Meghan disliked Inskip and his crowd. Their jokes and their attitude towards the world seemed unacceptable to her."
The book goes on to suggest Meghan rubbed some of the other guests up the wrong way.
It reads: "Harry flew premium economy from London; Meghan arrived from Toronto in a friend's private jet. About 40 guests, including Harry's oldest friends, gathered for the three-day party at the Round Hill Hotel in Montego Bay.
"Some of the parents in attendance fondly remembered giving Harry cottage pie and comfort during his teenage years. The close-knit group keenly anticipated meeting Meghan. They were quickly disappointed. Not only did she quibble about the food, but behaved 'princessy,' refusing to engage with Harry's friends, some said. 'She wasn't interested in us,' said one mother."
Jamaica Wedding Came Months After Media Battle Cry
Harry's strong reaction to the photographer may be explained in part by events that took place the November before when an avalanche of news coverage and a toxic social media debate followed the first news of Harry and Meghan's relationship.
Jason Knauf, then Kensington Palace communications secretary, released a rare statement condemning the media response just more than a week after the news first broke on the front page of the Sunday Express.
On November 8, Knauf wrote: "He has rarely taken formal action on the very regular publication of fictional stories that are written about him and he has worked hard to develop a professional relationship with the media, focused on his work and the issues he cares about.
"But the past week has seen a line crossed. His girlfriend, Meghan Markle, has been subject to a wave of abuse and harassment. Some of this has been very public—the smear on the front page of a national newspaper; the racial undertones of comment pieces; and the outright sexism and racism of social media trolls and web article comments.
"Some of it has been hidden from the public—the nightly legal battles to keep defamatory stories out of papers; her mother having to struggle past photographers in order to get to her front door; the attempts of reporters and photographers to gain illegal entry to her home and the calls to police that followed; the substantial bribes offered by papers to her ex-boyfriend; the bombardment of nearly every friend, co-worker, and loved one in her life.
"Prince Harry is worried about Ms. Markle's safety and is deeply disappointed that he has not been able to protect her. It is not right that a few months into a relationship with him that Ms. Markle should be subjected to such a storm."
It is possible that Harry reacted differently in Jamaica compared to previous run-ins with photographers because it flew in the face of his attempt months previously to denounce the actions of photographers in defense of the couple's privacy.
For more royal news and commentary check out Newsweek's The Royal Report podcast: