Meghan Markle Says Mother Was Endangered by Paparazzi While Driving, Echoing Diana
Meghan Markle feared for her mother's safety at the hands of "egregious" paparazzi who chased her, echoing Princess Diana.
The Duchess of Sussex asked for a meeting with her then press secretary to discuss how Doria Ragland felt "unsafe" in 2018, court documents show.
Her concerns came days after an article in The Daily Mail online containing pictures of her mother walking two dogs in Los Angeles on November 5, 2018.
The episode came to light as Meghan was forced to apologize at London's Court of Appeal for misleading a judge over what she knew about her staff's cooperation with the authors of biography Finding Freedom.
Lawyers for the duchess previously told the High Court she "does not know if, and to what extent, the Communications Team were involved in providing information for the book."
However, her then communications secretary Jason Knauf released a trove of her past emails and texts showing she sent him detailed briefing notes with information to pass on to writers Omid Scobie and Carolyn Durand.
Prince Harry was also supportive of working with the pair to the point that he, at one stage, suggested he might speak to them directly.
The duchess, however, has now told the court that at the time early discussions over the biography were taking place she was more concerned about Ragland.
Meghan said in a witness statement seen by Newsweek: "It can be seen from the full text of the email that it is principally about my concerns for my mother's safety.
"These were triggered by the fact that paparazzi had been chasing her, stalking her
at her home and work, and endangering her safety while she was driving."
Meghan sent Knauf, who had just a month previously accused her of bullying two PAs, an email expressing her concern for Ragland's safety on November 12, 2018.
It read: "I hope all is well—I meant to reach out this weekend to set a time to speak this week, but woke up to some sobering texts from my mom saying she feels unsafe.
"With that said, I feel a greater sense of urgency to sit down with you. Would you have some time to talk this afternoon?
"Would love to debrief a few things, discuss the Omid Scobie book (and their outreach), but most importantly figure out some sort of action plan to ensure my mom's safety from the egregious paps."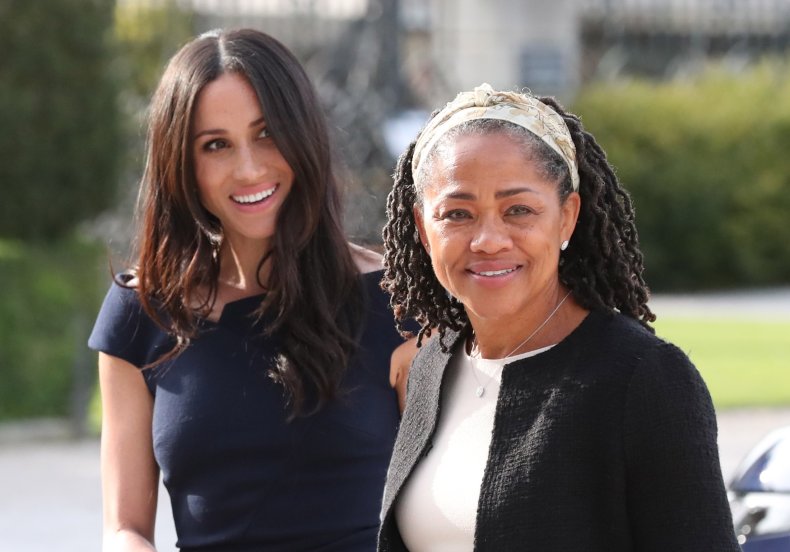 The following month, however, Meghan authorized Knauf to give information to the authors based on detailed briefing notes she gave him covering her two half siblings and a story that had recently been printed in The Sun about a dispute over her wedding day tiara, among other subjects.
Meghan wrote on December 10: "Thank you very much for the info below—for when you sit down with them [the book's authors] it may be helpful to have some background reminders so I've included them below just in case.
"I know you are better versed at this than most but assisting where I can. I appreciate your support—please let me know if you need me to fill in any other blanks."
Prince Harry emailed Knauf to say: "Also, are u planning on giving them a rough idea of what she's been through over the last 2yrs? Media onslaught, cyber bullying on a different scale, puppeteering Thomas Markle etc etc etc.
"Even if they choose not to use it, they should hear what it was like from someone who was in the thick of it. So if you aren't planning on telling them, can I ?!"
Knauf's witness statement read: "This briefing meeting between me and the two authors happened on December 12, 2018 and lasted almost two hours."
Meghan's apology read: "I did not have the benefit of seeing these emails and I apologize to the Court for the fact that I had not remembered these exchanges at the time.
"I had absolutely no wish or intention to mislead the Defendant or the Court.
"In fact, had I been aware of these exchanges at the time of serving the Re-Amended Reply, I would have been more than happy to refer to them as I feel they strongly support my case."
Meghan's Briefing to Aide Compared to 'Finding Freedom'
Meghan's briefing note read: "Meghan shared the very special story about choosing the tiara in their wedding exhibition now ongoing at Windsor.
"It's in the VO that she and Harry did. The queen, Harry and Meghan were all present —she tried on five tiaras and the queen asked her which she preferred.
"Meghan asked the queen her preference. The queen said they all suited her and Meghan chose the diamond one, which the queen agreed was perfect.
"Shame to see such a beautiful sweet moment skewed in media. There was no conversation about any other tiara as a preference. Meghan loved the one she wore and it remains a very special memory."
Finding Freedom read: "The Queen agreed with Meghan upon her choice of tiara for the wedding.
"Meghan tried on all five but knew right away which one she liked best. 'It was a special moment for both of them,' a palace aide shared.
"When more than a year later the story broke about Meghan demanding a different tiara to wear on her wedding day, she called a friend and said, 'How sad, I love my tiara.'"