Meghan Markle's Former Aide Behind Bullying Accusation Gives New Statement Against Her
Meghan Markle's former aide who accused her of bullying has given a witness statement against her to a U.K. tabloid, raising the stakes in a major court appeal.
The Duchess of Sussex sued the Mail on Sunday for breaching her privacy and copyright by printing a letter she sent her father Thomas Markle begging him to stop talking to the media.
She won an emphatic victory in February and told the world of the newspaper's "illegal and dehumanizing practices" in a triumphant statement.
The tabloid initially argued she intended the letter to become public, viewing it as part of a media strategy at a time when royal protocol stopped her speaking publicly.
However, since lodging an appeal the publisher has changed tack and now says she wrote it knowing it had the potential to become public.
The Mail on Sunday has asked the Court of Appeal in London to admit as supporting evidence a witness statement from her former communications secretary, Jason Knauf.
The Texas-born former staffer wrote a now-famous email in October 2018 accusing Meghan of bullying two PAs out of Kensington Palace and expressing concern for a third staff member.
The emotional stakes were already high since a victory for the tabloid would mean a trial in which Meghan would be expected to testify and hand over private documents.
Her own lawyers have said it would involve further violations of her privacy in their filing to the court.
However, Knauf's intervention adds an extra layer as it cuts to an issue that Prince Harry has previously said left Meghan crying into her pillow.
The ex-aide's 2018 email was leaked to U.K. newspaper The Times and published just days before the couple's bombshell Oprah Winfrey interview, in which the duchess accused the palace of leaking false stories about her to the media.
The Mail on Sunday's lawyers said that Knauf's evidence will contradict Meghan's if the judges allow it to be admitted.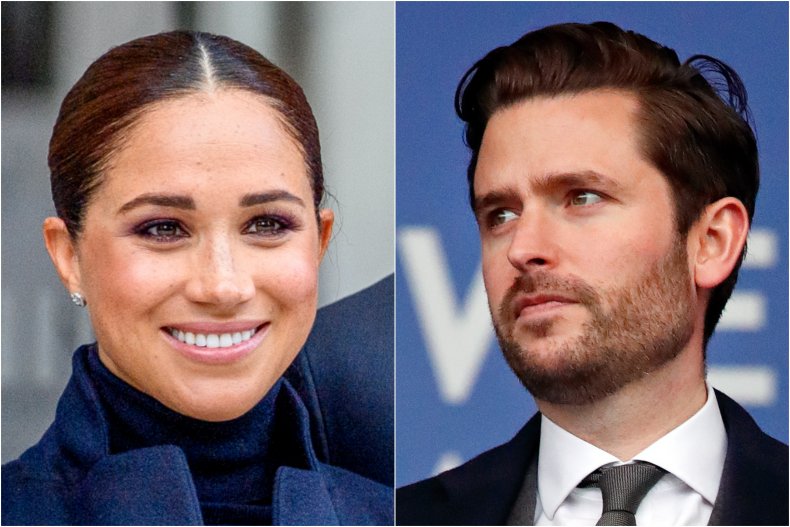 A court filing seen by Newsweek reads: "If permission is granted by the Court of Appeal to introduce Mr Knauf's recent witness statement, [The Mail on Sunday] will rely on it as evidence that [Meghan] considered it at least a serious possibility that the letter would be made public by her father and crafted the letter with that possibility specifically in mind.
"[Meghan's] pleaded case is very different, namely that she did not even suspect that he would disclose the letter."
The newspaper's lawyer, Andrew Caldecott, indicated in court he will argue the document "raises questions about her credibility."
The Mail on Sunday argued in the original lawsuit that Meghan's right to privacy over the letter was undermined by the fact it was referenced in a biography, Finding Freedom, about her and Prince Harry.
They said she briefed its contents to the authors as part of her PR strategy, a claim which she denies, though her lawyers did acknowledge authorizing a person to give Omid Scobie and Carolyn Durand some information.
Knauf appears to have also given information to the newspaper about the book.
A court filing describes the tabloid's case as being that Meghan "co-operated with the authors of the book, which [The Mail on Sunday] stands by (and which is now supported by Mr Knauf's witness statement). Co-operation through friends or other agents is as much co-operation as direct communication."
A filing by Meghan's lawyers, seen by Newsweek, reads: "[The Mail on Sunday's] conduct of the litigation is not just needlessly expensive and attritional but intrusive—in particular in its attempts to force her to open up further aspects of her private and personal life and that of her friends."
It added: "To permit the defense to go to trial would only have facilitated further invasions of [Meghan's] privacy, all flowing from its publication of a private and deeply personal letter, whilst giving [The Mail on Sunday] the opportunity to profit handsomely from the media circus that would inevitably result."
Jason's 2018 email read: "I am very concerned that the duchess was able to bully two PAs out of the household in the past year.
"The treatment of X [name removed] was totally unacceptable."
He added: "The Duchess seems intent on always having someone in her sights. She is bullying Y [name removed] and seeking to undermine her confidence.
"We have had report after report from people who have witnessed unacceptable behavior towards Y [name removed]."
The message was leaked to U.K. newspaper The Times in the days before the Oprah Winfrey interview in March.
Prince Harry told his Apple TV series The Me You Can't See in May: "The interview was about being real, being authentic and hopefully sharing an experience that we know is incredibly relatable to a lot of people around the world despite our unique privileged position.
"But before the Oprah interview had aired, because of their headlines, and that combined effort of the firm and the media to smear her, I was woken up in the middle of the night to her crying in her pillow because she doesn't want to wake me up, because I'm already carrying too much.
"That's heartbreaking. I held her, we talked, she cried, and she cried, and she cried."
The case will be heard over three days from November 9 to November 11 before the judges will reach a decision, some time after that.
Update 11/09/21, 2:53 p.m. ET: This article was updated with additional information.