Prince Harry's Latest Rift With Charles Could Be As Damaging as Diana—Princess' Friend
Prince Harry may now pose a threat to Prince Charles as big as the breakdown of the future-king's marriage to Diana, according to a friend of the princess.
The Duke of Sussex was dragged into cash-for-honors allegations engulfing his father's charity at the weekend and took a swipe at the press in his response.
The defensive statement from his spokesperson, however, heaped more pressure on Charles, according to journalist Richard Kay, a personal friend of Princess Diana's and one of the last people to speak to her by phone before her death.
The chief executive of Charles' charity The Prince's Foundation recently resigned over accusations he offered a Saudi businessman help securing a knighthood and citizenship in return for donations.
The Sunday Times reported Prince Harry's charity Sentebale accepted £50,000 from the same tycoon, Mahfouz Marei Mubarak bin Mahfouz, in 2013.
Harry's official spokesperson responded by expressing "concerns over the motives" of Mahfouz and saying the duke had "expressed his concerns about the donor," though she did not say to whom.
It comes after Prince Harry in May told Dax Shepard's Armchair Expert podcast he had experienced "genetic pain," in which Prince Charles passed on trauma from his own royal upbringing.
Kay, writing in The Daily Mail, said: "Criticizing his father—and by implication the Queen—for the way he was raised is one thing.
"But the broadside he launched questioning the 'motives' of Dr. Mahfouz Marei Mubarak bin Mahfouz and highlighting his own 'concerns' about the Saudi businessman, is an implicit challenge to Charles's judgment.
"Such a rebuke—especially if it continues—could have an impact on the Prince as monarch as we edge closer to his reign.
"And it is why this week those close to Charles are viewing the unraveling of the relationship between father and son as potentially as damaging as that between the Prince and Princess Diana."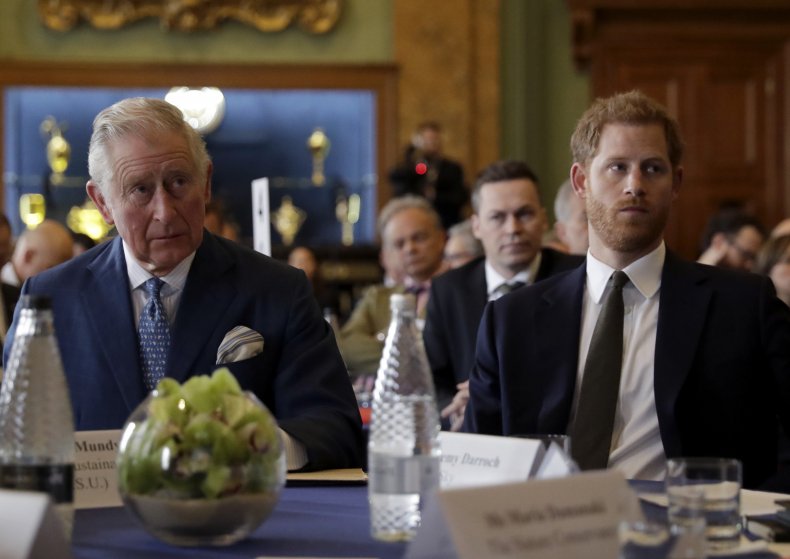 Prince Charles was popular before his marriage to Diana exploded in the media starting in 1992 with a biography by Andrew Morton, Diana: Her True Story, which exposed his affair with Camilla, now his wife the Duchess of Cornwall.
Polling by Ipsos Mori in 1991 showed 82 percent of Britons thought Charles would make a good king but by 1996, the year of the divorce, he was down to 41 percent.
Currently, 34 percent believe he will be a good successor to Queen Elizabeth II compared to 33 percent who do not, though even that is a boost compared to May when 35 percent thought he would make a bad king and 31 percent good.
And it comes at a time when the queen's health problems have pushed to the fore the question of her successor.
The Prince's Foundation released a summary of its internal investigation into cash-for-honors which appeared to confirm the allegations against chief executive Michael Fawcett.
It read: "With respect to the allegation of securing honors for a donor in exchange for donations, there is evidence that communication and coordination took place between the CEO at the time and so-called 'fixers' regarding honorary nominations for a donor between 2014-18.
"There is no evidence that trustees at the time were aware of these communications."
The statement by Prince Harry's spokesperson read: "It is disappointing that The Sunday Times, knowing all the facts, has chosen to encourage speculation by being deliberately vague to try to create a falsified link between the Duke of Sussex and the CBE scandal, of which he had no knowledge or involvement.
"The duke and his advisers, as well as his non-profit Sentebale, severed ties with Mr. Mahfouz and his associates in 2015, no longer accepting further donations to Sentebale and discontinuing any plans for a fundraising event amid growing concerns over the motives for his support.
"The duke had one planned meeting with this donor nearly eight years ago, did not introduce him to any members of the royal family, and expressed his concerns about the donor."