Prince Harry Concedes He May Miss Queen's Celebration Over Security Dispute
Prince Harry said he is trying to make it possible for his children to meet Queen Elizabeth II at her Platinum Jubilee but conceded a dispute over his security may get in the way.
The Duke of Sussex told NBC's Today show he is "trying to make it possible that I can get my kids to meet her" in an exclusive interview.
Son Archie Mountbatten-Windsor has not seen Queen Elizabeth II since the first months of his life and baby daughter Lilibet Mountbatten-Windsor has never met the Monarch, despite being named after her.
However, Harry is suing the U.K. Government for removing his police protection and a legal representative said in January he considers it unsafe in the country of his birth unless his security detail is reinstated.
Prince Harry was asked on NBC whether he will attend celebrations of Elizabeth's 70 years on the throne, which take place in June.
He told presenter Hoda Kotb: "I don't know yet. There's lots of things with security issues and everything else. This is what I'm trying to do, trying to make it possible that I can get my kids to meet her."
He said the queen would be bored of her birthday as she prepares to turn 96 on April 21 but would not yet be tired of jubilees, which celebrate her reign.
The duke said: "I think after a certain age you get bored of birthdays."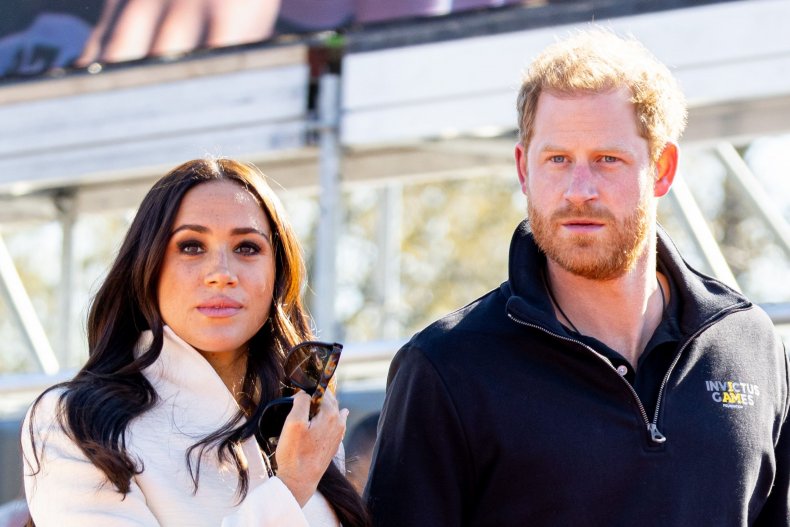 He added: "She's had a few jubilees now so everyone is slightly different but I'm sure she's looking forward to it."
Harry's comments come after just days after a secret trip with Meghan Markle to meet the queen at Windsor were interpreted as a sign the couple's troubled relations with the royals might be healing.
They also met Prince Charles and Camilla during their whistle-stop tour on the way to the Invictus Games, which began in the Netherlands on Saturday, April 16.
However, Harry hinted problems may well persist during the interview when he said he wanted to ensure Elizabeth was protected and had the right people around her.
The duke said: "Being with her, it was great. It was just so nice to see her. She's on great form.
"She's always got a great sense of humor with me and I'm just making sure that she's, you know, protected and got the right people around her."
He added: "Both Meghan and I had tea with her so it was really nice to catch up with her. You know, home—home for me, now, is, you know, for the time being, in the States.
"And it feels that way as well. We've been welcomed with open arms and we have such a great community up in Santa Barbara."
It was not immediately clear who Prince Harry wanted to protect the queen from or which people in her circle he was calling into question.
Prince Andrew triggered front page criticism in the U.K. after walking his mother into Westminster Abbey for a memorial to Prince Philip weeks after settling a civil lawsuit in which Virginia Giuffre accused him of raping her when she was a 17-year-old Jeffrey Epstein victim.
However, Harry and Meghan's Oprah Winfrey interview also featured criticisms of the Institution of Monarchy and royal staff, as well as other family members.
For more royal news and commentary check out Newsweek's The Royal Report podcast: