Prince Harry and Meghan, Duchess of Sussex's decision not to reveal the name of their son's would-be godparents may violate Church of England law, The Daily Express reported Friday.
Archie Mountbatten-Windsor is due to be christened in a private ceremony at Windsor Castle on Saturday. Buckingham Palace said Wednesday it is keeping his godparents' names under wraps at their request.
Baptisms are normally logged on parish registers, which can be viewed by members of the public on request. But the royal family typically eschew parish registers in favor of a private register held by the Queen, The Express reported.
By using a private log in favor of a parish register, the royal family has long ignored this rule, church lawyers told the newspaper. Church of England rules have equivalent force to Acts of Parliament, tweeted Express royal correspondent Richard Palmer, who co-authored Friday's print article.
Baby Archie's christening has drawn attention to the practice because his godparents' names are being kept under wraps, Palmer added. The names of other major royals' godparents are usually publicly announced, despite of the family's use of a private record.
"Archie Harrison Mountbatten-Windsor appears to be one of a tiny number of royal children for whom it is not possible to obtain christening details because the family ignores the law," he wrote.
A spokesperson for the church told The Express: "Under the Parochial Registers and Records Measure 1978 all baptisms must be registered and the record made is normally publicly available for searches and for the making of certified copies."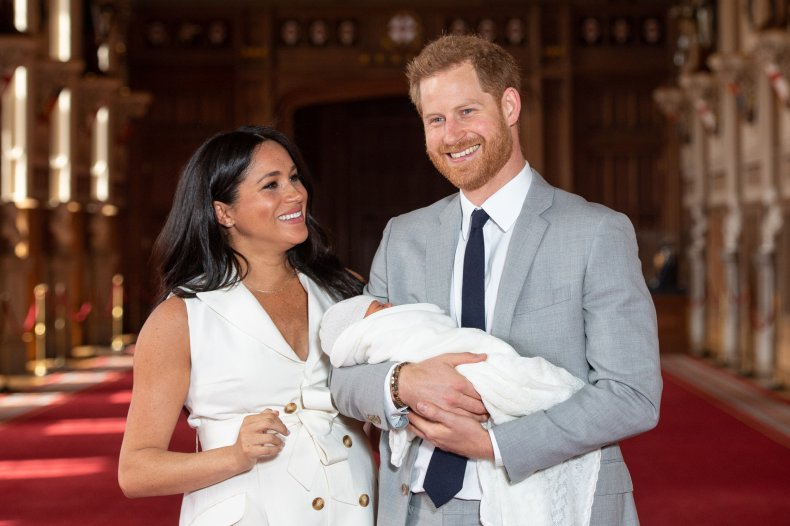 The spokesperson confirmed a royal register will be used instead of a public one Saturday. They added: "We understand that it has never complied with the usual requirement."
The Church of England did not immediately respond to Newsweek's request for comment.
Buckingham Palace previously announced Harry and Meghan will share "some" photos from the event, but it is not clear how many will be released, or who will be pictured.
The lack of public information about Saturday's christening has provoked ire among royal fans and commentators.
Even religious figures have criticized the secrecy surrounding the ceremony. Nicholas Henshall, dean of Chelmsford Cathedral in southeast England told the BBC: "Baptism should never be private—it's a public demonstration of God's love."
Anti-monarchy campaigners have long condemned the royal family over certain legal privileges. "Queen's consent" for example, may be required for legal provisions that risk impacting the "personal interests" of the Crown. Similarly "Prince's Consent" rules apply to the heir apparent, Prince Charles.