Harry's Carbon Pledge Misses U.K. Front Pages As Charles Gets Turn to Shine
Prince Harry and Meghan Markle's pledge to be net zero by 2030 put them in direct competition with other royals for U.K. front pages this week—and for once the older generations won.
The Duke and Duchess of Sussex dipped their toes into the debate around the COP26 summit by releasing a statement on their website on Tuesday, vowing to work towards being carbon neutral.
However, Harry's father Prince Charles and his grandmother Queen Elizabeth II have so far been the stars of the global climate change conference, which has been described as humanity's last chance to tackle global warming.
It was a rare moment when Harry and Meghan were outshone by their elders.
The Duke and Duchess of Sussex did not appear on a single U.K. newspaper front page on the morning of November 3.
Instead, photos of Charles at COP26 made the front pages of the tabloid Daily Express and the broadsheet Daily Telegraph, where the heir to the throne appeared alongside President Joe Biden.
The Sussexes were not the only royals to miss out— Prince William has also received less prominent coverage than his father and grandmother, despite a busy schedule.
The prince and his wife Kate Middleton met Scouts taking part in the #PromiseToThePlanet campaign on the summit's opening day and later attended an evening reception where William spoke to Biden.
The future king and the president appeared to share a moment of warmth as Biden put a hand on William's shoulder.
However, on Tuesday, U.K. newspapers focused on the queen's rousing pre-recorded address to the reception on Monday night.
Elizabeth, 95, made the front pages of The Daily Telegraph, The Daily Express, The Daily Mail, The Times and Metro while sharing the front page of The Sun with Kate.
She said: "For more than 70 years, I have been lucky to meet and to know many of the world's great leaders. And I have perhaps come to understand a little about what made them special.
"It has sometimes been observed that what leaders do for their people today is government and politics. But what they do for the people of tomorrow—that is statesmanship.
"I, for one, hope that this conference will be one of those rare occasions where everyone will have the chance to rise above the politics of the moment, and achieve true statesmanship.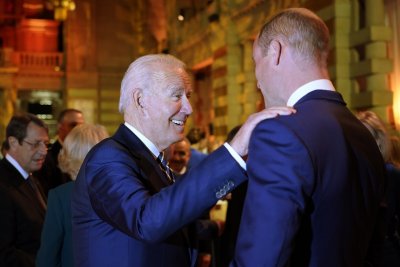 "It is the hope of many that the legacy of this summit—written in history books yet to be printed—will describe you as the leaders who did not pass up the opportunity; and that you answered the call of those future generations.
"That you left this conference as a community of nations with a determination, a desire, and a plan, to address the impact of climate change; and to recognise that the time for words has now moved to the time for action."
Charles' PR success comes after years in which he has routinely carried out more public engagements than his sons, but has been dwarfed by them in newspaper coverage.
His ex-wife Diana was also famously more popular than her husband, with crowds openly groaning if they got Charles instead of her on walkabouts, according to Diana: Her True Story, the biography by Andrew Morton.
Harry and Meghan's Archewell Foundation said in its statement: "As global leaders convene for COP26 to commit to solutions for our climate crisis, all of us at Archewell, led by The Duke and Duchess of Sussex, share our pledge towards a more sustainable future by becoming net zero by 2030.
"Our co-founders, Prince Harry and Meghan, The Duke and Duchess of Sussex, have a long-standing commitment to the planet, both together and prior to their union, with global projects and partnerships dating back over a decade."