Queen Omits Prince Harry From COP26 Speech in Echoes of Royal Exit Dispute
Queen Elizabeth II praised "the work of our eldest son Charles and his eldest son William" on climate change, but did not mention Prince Harry in her COP26 address.
The British Monarch, 95, had intended to address world leaders including President Joe Biden in person at the major conference in Glasgow, Scotland, but gave a pre-recorded speech on doctor's advice.
She described her husband Prince Philip's early calls for action on pollution, after his death aged 99 in April.
However, there was one notable absence from her account of the royal family's record on a defining issue of the era.
Prince Harry has set up an eco-travel initiative, joined an ethical investor and recently called for a halt to oil and gas drilling to save the Okavango Delta, in southern Africa.
The queen told world leaders that Philip had as early as 1969 told an academic gathering: "If the world pollution situation is not critical at the moment, it is as certain as anything can be, that the situation will become increasingly intolerable within a very short time ... If we fail to cope with this challenge, all the other problems will pale into insignificance."
She added: "It is a source of great pride to me that the leading role my husband played in encouraging people to protect our fragile planet, lives on through the work of our eldest son Charles and his eldest son William. I could not be more proud of them."
The omission cuts to a source of tension that has existed between Harry and Meghan and the royals in the past, with biography Finding Freedom suggesting the Sussexes resented being left out of official royal images over Christmas 2019.
Authors Omid Scobie and Carolyn Durand wrote: "Harry felt as though he and Meghan had long been sidelines by the institution and were not a fundamental part of its future.
"One didn't have to look further than the family photos displayed during the Queen's Speech on Christmas Day."
They added: "Noticeably absent was a photo of Harry, Meghan and their new baby, Archie.
"Palace sources insisted that the photos were chosen to represent the direct line of succession, but for Harry and Meghan it was yet another sign that they needed to consider their own path."
The incident came during the same Christmas and New Year period that they began negotiating their way out of the royal family.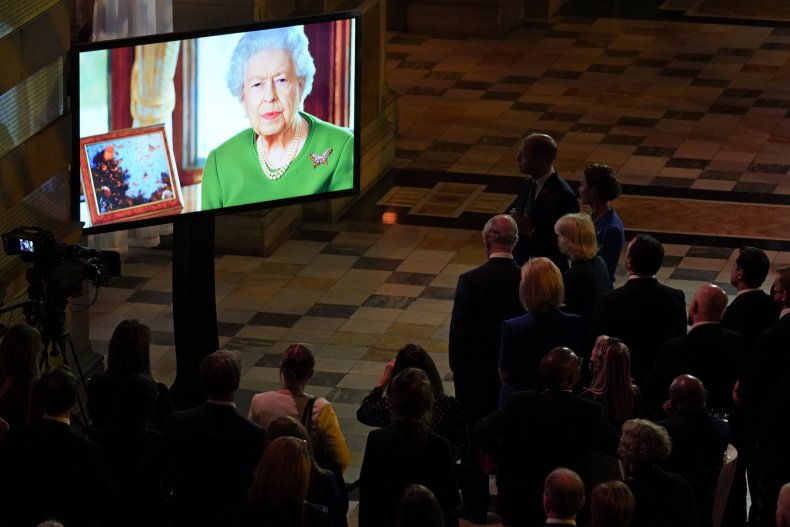 The queen's address to a COP26 evening reception came eight months after Harry and Meghan leveled racism allegations at the royals during an interview with Oprah Winfrey for CBS.
Elizabeth's speech touched not only on the memory of Prince Philip but also her own mortality, galvanized by a recent health scare.
She said: "For more than seventy years, I have been lucky to meet and to know many of the world's great leaders. And I have perhaps come to understand a little about what made them special.
"It has sometimes been observed that what leaders do for their people today is government and politics. But what they do for the people of tomorrow—that is statesmanship.
"I, for one, hope that this conference will be one of those rare occasions where everyone will have the chance to rise above the politics of the moment, and achieve true statesmanship.
"It is the hope of many that the legacy of this summit—written in history books yet to be printed—will describe you as the leaders who did not pass up the opportunity; and that you answered the call of those future generations."
Prince William, Kate Middleton, Prince Charles and Camilla, the Duchess of Cornwall, all watched on as the queen's speech was broadcast to delegates.