Prince Harry, Meghan Markle Christening Lilibet as 'Princess' Sparks Debate
Prince Harry and Meghan Markle have christened their daughter and described her as a princess for the first time.
The Duke and Duchess of Sussex confirmed news of the private ceremony at their home in Montecito, which was first reported by People.
Their spokesperson said in a statement released to Newsweek: "I can confirm that Princess Lilibet Diana was christened on Friday, March 3, by the Archbishop of Los Angeles, the Rev John Taylor."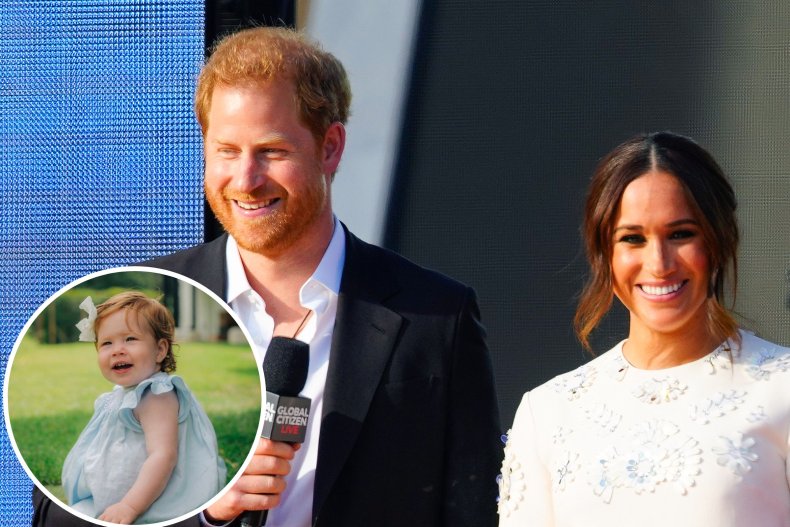 The couple's children, Archie and Lilibet, would be expected to receive the titles prince and princess under the 1917 George V Convention, because they are grandchildren of the monarch.
When King Charles III took the throne after the death of his mother Queen Elizabeth II, he announced that Prince William and Kate Middleton were to become Prince and Princess of Wales but made no statement about new titles for the Sussex children.
At the time, a royal source told Newsweek the aftermath of Elizabeth's death was not the time for such discussions.
However, Buckingham Palace has now confirmed that Harry and Meghan had in fact been entitled to describe Lilibet as a princess since Charles became king.
Natalie Rowe, a former friend of British politician George Osborne, wrote on Twitter: "Meghan and Harry's daughter has been Christened 'PRINCESS Lilibet Diana' by the Archbishop of Los Angeles. To all the Meghan haters, eat that!"
Shola Mos-Shogbamimu, author of This Is Why I Resist, wrote on Twitter: "I'm glad cutie, Princess Lilibet Diana, was surrounded by those who love & wish her well. Well done Harry and Meghan for keeping christening intimate.
"Shameful that King Charles & Prince William snubbed Lilibet though invited. Petty. Was there representation from Royal Family?"
Meanwhile, Dan Wootton, a host on GB News and regular critic of the Sussexes, tweeted: "Baffling that wretched Harry and Meghan refer to their daughter Lilibet as 'Princess' in the announcement of her christening.
"They hate everything about the institution of the monarchy and are trying to bring it down, yet still want to push it on their very Californian daughter."
The saga brings some clarity to a discussion that has raged for two years, since Meghan told Oprah Winfrey in March 2021 that there had been discussion about denying the Sussex children royal titles.
She told Winfrey during the couple's interview: "But the idea of our son not being safe, and also the idea of the first member of color in this family not being titled in the same way that other grandchildren would be …
"You know, the other piece of that conversation is, there's a convention—I forget if it was George V or George VI convention—that when you're the grandchild of the monarch, so when Harry's dad becomes king, automatically Archie and our next baby would become prince or princess, or whatever they were going to be."
"So, we have in tandem the conversation of 'He won't be given security, he's not going to be given a title.' And also concerns and conversations about how dark his skin might be when he's born."
Update 03/08/23 12:20 p.m. ET: This article has been updated to add a comment by Shola Mos-Shogbamimu.