Prince Harry, Meghan Markle Lawyers Accuse BBC of Defamation Over Lilibet Story
Prince Harry and Meghan Markle called in lawyers today over a BBC story about their decision to name their daughter Lilibet—Queen Elizabeth II's childhood nickname.
The Duke and Duchess of Sussex's team at Schillings have sent letters to British media organizations warning the allegations in the article are defamatory and "should not be repeated."
The stand-off relates to what the couple told the Queen about their intention to call their daughter Lilibet Mountbatten-Windsor.
The first name is Elizabeth's lifelong family nickname dating back to childhood when she could not pronounce her own name.
Harry and Meghan's spokesperson told Newsweek the prince "shared their hope" of using Lilibet prior to the official announcement.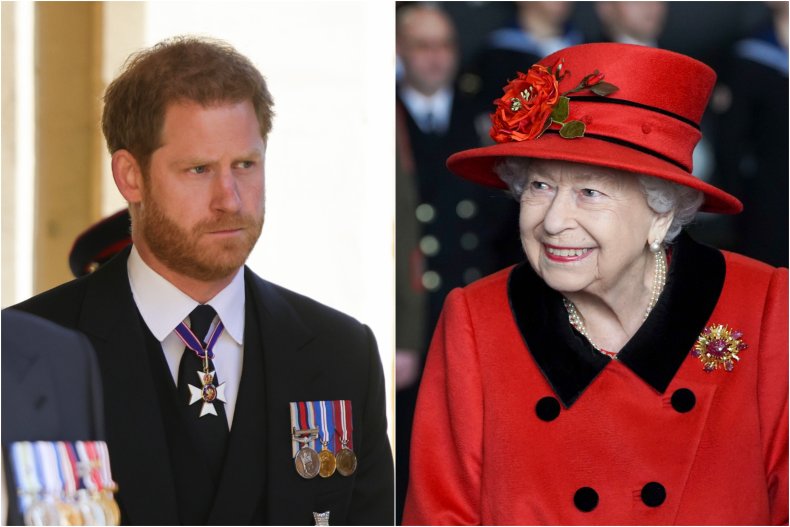 Quoted in U.K. newspaper The Times, the Schillings letter reads: "The article is false and defamatory and the allegations within it should not be repeated."
The BBC story quoted a palace source saying the couple "never asked" the Queen's permission.
A spokesperson for Harry and Meghan told Newsweek: "The Duke spoke with his family in advance of the announcement, in fact his grandmother was the first family member he called.
"During that conversation, he shared their hope of naming their daughter Lilibet in her honor.
"Had she not been supportive, they would not have used the name."
The BBC updated its story to include the Sussex statement but did not change or remove its original claim that the couple "never asked."
Royal correspondent Jonny Dymond also did not delete his original Tweet making the claim.
It is not clear whether Prince Harry intends to pursue legal action against the BBC over the story.
However, if he did it would move his legal war against the British media firmly out of the tabloid and paparazzi sphere and onto a jewel in the crown of the British establishment.
Prince Harry and Meghan launched six lawsuits between them from fall 2019 to fall 2020 but have yet to file any new court cases in 2021.
Former BBC correspondent Peter Hunt Tweeted: "Not a good look for the House of Windsor when the briefings and counter briefings are about a baby's name: #HarryandMeghan."
A statement from Harry and Meghan's spokesperson on Sunday said: "It is with great joy that Prince Harry and Meghan, The Duke and Duchess of Sussex, welcome their daughter, Lilibet 'Lili' Diana Mountbatten-Windsor, to the world.
"Lili was born on Friday, June 4 at 11:40 a.m. in the trusted care of the doctors and staff at Santa Barbara Cottage Hospital in Santa Barbara, CA.
"She weighed 7 lbs 11 oz. Both mother and child are healthy and well, and settling in at home.
"Lili is named after her great-grandmother, Her Majesty The Queen, whose family nickname is Lilibet. Her middle name, Diana, was chosen to honor her beloved late grandmother, The Princess of Wales."