Lilibet Name Meaning as Queen's Nickname Honored by Meghan and Harry
Prince Harry and Meghan Markle have named their second child Lilibet Diana Mountbatten-Windsor. The newborn is expected to be known as "Lili" for short.
In a statement announcing the birth on Sunday, the couple said their new daughter was "more than we could have ever imagined."
Her full name pays tribute to both Harry's grandmother, Queen Elizabeth II and Princess Diana, the prince's late mother who died in August 1997.
Lilibet—shortened version of Elizabeth—is the nickname for the queen that is used by members of the Royal Family.
Elizabeth was named after her own mother, Elizabeth Angela Marguerite Bowes-Lyon, who would later often be referred to simply as "The Queen's Mother."
But the shorter moniker was bestowed on the future queen from a young age, according to royal photographer Arthur Edwards, who traveled with the family for decades.
As a young royal, who was not first in line for the throne as child, Elizabeth would sign letters using the shortened name.
"Darling Granny," she wrote in one thank you note to her grandmother, Queen Mary. "Thank you very much for the lovely doll's house. I do love it, and I have unpacked the dining room and the hall. Love from Lilibet xxx."
Her father, who became King George VI when his brother abdicated, once said: 'Lilibet is my pride. Margaret [his other daughter] is my joy.'
Prince Philip, the queen's husband who died in April this year, would frequently call her by her nickname.
When her late husband's coffin was brought from the Palace of Westminster to Westminster Abbey during his funeral, the coffin reportedly featured a note from the queen: "In loving memory, Lilibet."
Ingrid Seward, author of "Prince Philip Revealed," told Newsweek the nickname is a "very private name."
"We know it but the whole world doesn't know it," she said. "It's the name that Prince Philip called her and it's the name she signs herself as to family but only close family."
"I don't think Prince Charles would call her Lilibet," she added.
Lilibet was not the only nickname Philip, the Duke of Edinburgh, used for his wife. Royal biographer Robert Lacey has previously revealed to The Sunday Times that the Duke of Edinburgh would frequently call his wife "cabbage."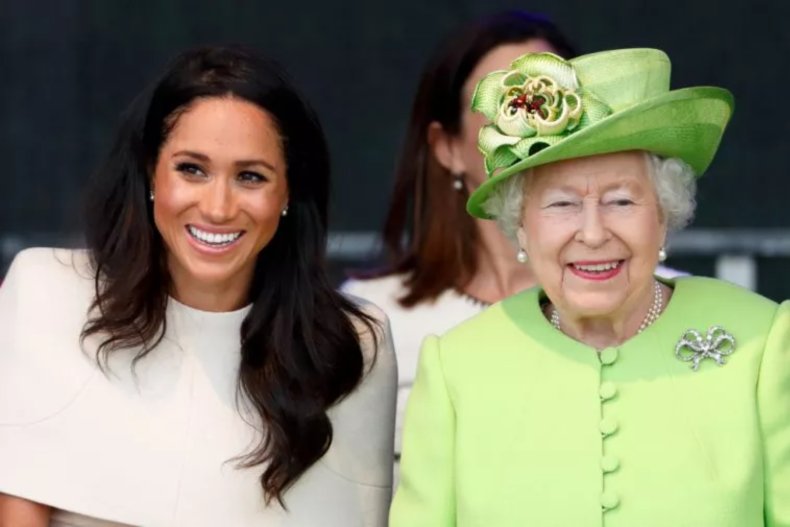 Harry and Meghan's daughter's middle name "Diana," also pays tribute to the late Princess Diana, Harry's mother, who Meghan did not meet.
Born Diana Frances Spencer in 1961, and considered a commoner by royal standards, she later marries Charles, Prince of Wales—the heir to the throne.
Her death, in a car crash in Paris in 1997, has had a profound impact on Harry and his brother Prince William's lives.
In his new AppleTV+ docuseries The Me You Can't See, which was co-created with Oprah Winfrey, he spoke about his mother's funeral during which he and his brother walked behind the coffin through vast crowds in London.
"For me, the thing I remember the most was the sound of the horse's hooves going along the Mall, the red brick road. By this point both of us were in shock," he said.
"It was like I was outside of my body. I'm just walking along and doing what was expected of me, showing the one-tenth of the emotion that everybody else was showing. This was my mom, you never even met her."
His newborn daughter's surname, Mountbatten-Windsor, is the name used by some male-line descendants of Philip and Elizabeth.
Windsor was adopted by King George V in 1917 amid anti-German feeling during the First World War. Previously the family had used the surname Saxe-Coburg-Gotha, which came into the family when Queen Victoria married her German-born love, Albert.
According to the royals' official website: "Members of the Royal Family can be known both by the name of the Royal house and by a surname, which are not always the same. And often they do not use a surname at all."