Prince Harry and Meghan Markle's 'Petulant' Reaction to King Was 'Wrong'
Prince Harry and Meghan Markle's "only currency is the fact that they're royalty" so the couple not confirming whether they're attending King Charles III's coronation looks "really childish," a PR expert told Newsweek.
The Duke and Duchess of Sussex confirmed that they had received an email from King Charles' office but did not confirm whether they will attend the coronation held on May 6.
Their spokesperson said on Sunday: "I can confirm the duke has recently received email correspondence from his majesty's office regarding the coronation. An immediate decision on whether the duke and duchess will attend will not be disclosed by us at this time."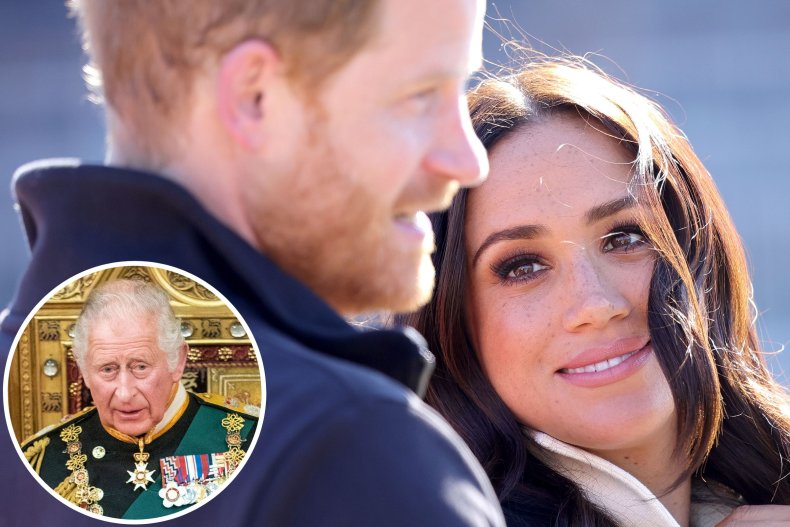 Edward Coram James, chief executive of PR agency Go Up, told Newsweek: "The fact that they've been invited, but they're not commenting on whether they're going to go, reputationally, just makes them look really childish. It's just another thing that they've done wrong.
"They could have just been really quiet about it and just turned up. Instead, it's something that actually is a bit of an olive branch that's been extended to them and I don't know what their genuine reaction is but the optics are just a little bit petulant and that's how it comes across."
Coram James said the couple should go to the coronation because their reputations are so heavily dependent on their connection to the monarchy.
"Their only currency is the fact that they're royalty. They've got nothing else. It may well be that in the coming few years they'll build a really strong reputation as solid film makers but that hasn't yet happened," he said.
"Their filmmaking so far, the successful stuff, has been scandal based—it hasn't been issues based. It hasn't been some serious filmmaking, so they're not yet considered serious filmmakers. So the only thing that is keeping them relevant and prevalent is being royal. Take that away from them and they disappear very quickly into anonymity.
"I don't see that they have an option but to go...if they just stop doing royal things then they stop being royal, and if they stop being royal then there goes their career and there goes their income stream and everything that comes along with it."
Harry and Meghan's projects so far have been commercially successful but the publicity blitz around their Netflix show and the prince's memoir, Spare, appeared to shatter their popularity in America.
The duke dropped 48 points while the duchess dropped 40 points between December and February in polling by Redfield & Wilton for Newsweek. Both now have U.S. approval ratings in the negatives, meaning they are more disliked than liked, with Harry at -10 and Meghan at -17.
Even before the release of Spare, the Netflix docuseries Harry & Meghan prompted critical coverage by media organizations that have traditionally not been hostile, such as Variety, which ran the headline: "It's Well Past Time for Harry and Meghan 2.0."
The article argued: "Just when the Duke and Duchess of Sussex would seem to be proving their enduring popularity, it's the very thing any media company in business with them should be questioning.
"That's because some skepticism is warranted regarding whether they've finally gone to the well one too many times with their oft-repeated tale of mistreatment at the hands of England's royal family.
"While the success of their Netflix docuseries demonstrates that the audience's curiosity wasn't sated by last year's interview with Oprah Winfrey, how much more meat could possibly be left on this bone, especially once Harry's own take, 'Spare,' arrives in print?"
Forbes, meanwhile, went with: "Netflix's 'Harry & Meghan' Is Bad PR For Harry And Meghan."
Since then, publicity surrounding the release of Spare was so prolific it prompted a South Park parody titled the "Worldwide Privacy Tour."
Yet, after all the exposure their upside down royal fairy tale-gone-wrong received, Harry revisited his criticisms of Monarchy again on Saturday, March 4, during a Q&A to promote the book.
The prince suggested he was a good candidate for the army as they recruit from broken homes but also suggested he was not asking for sympathy.
"Well, I certainly don't see myself as a victim. I'm really grateful to be able to share my story in the hope it will help empower, encourage others," he said during the online interview organized by publisher Penguin Random House. "And hopefully let people understand that again, back to the human experience, that we are in some shape or form all connected especially through trauma. But no, I do not and I have never looked for sympathy in this."
Jack Royston is the chief royal correspondent at Newsweek, based in London. You can find him on Twitter at @jack_royston and read his stories on Newsweek's The Royals Facebook page.
Do you have a question about King Charles III, William and Kate, Meghan and Harry, or their family that you would like our experienced royal correspondents to answer? Email royals@newsweek.com. We'd love to hear from you.