Harry and Meghan Truce Holds as They Join Royals to Receive Queen's Coffin
Prince Harry and Meghan Markle joined the royals at Buckingham Palace to receive Queen Elizabeth II's coffin, as a royal truce in her honor avoided a potential conflict over the wearing of military uniforms at the funeral.
The Duke and Duchess of Sussex were photographed with King Charles III as they fleetingly passed a palace window while preparing for Elizabeth to arrive at her London residence for the final time. It was the first photo of Harry with his father since the death of Britain's longest-reigning monarch on September 8.
It also was the latest in a series of unity displays following years of division at the heart of the monarchy.
William and Kate Middleton, the Prince and Princess of Wales, were also present, along with Elizabeth's four children, during the somber moment when the coffin arrived in darkness through crowds of mourners on Tuesday.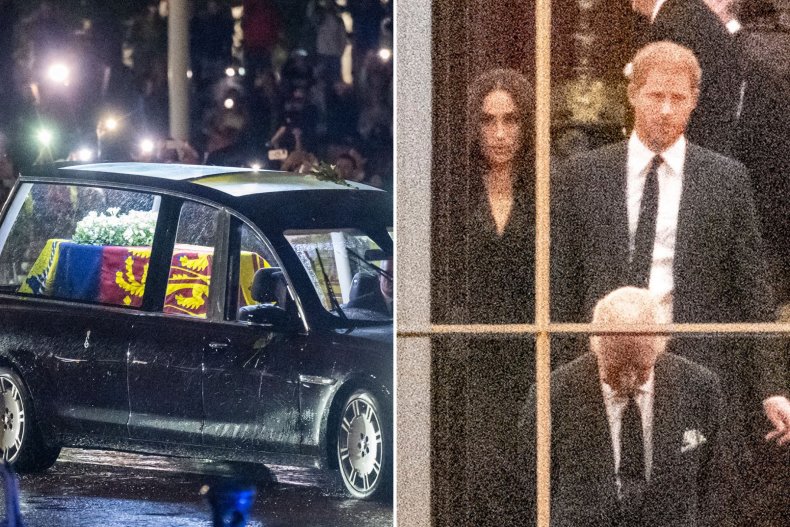 Harry and William will join Charles and the royals in walking behind the coffin on Wednesday as it makes its way to London's Westminster Hall, where she will lie in state until the funeral next Monday.
The day the queen died, on September 8, brought an undercurrent of confusion and tensions after Harry was expected to arrange his own travel, meaning he was not on the first plane to arrive at Scotland's Balmoral Castle with Prince William, Prince Andrew, Prince Edward and Sophie, Countess of Wessex.
Those royals came too late to say goodbye to Elizabeth but did arrive before Buckingham Palace announced her death. At the time, Harry was still in the air and minutes from landing at Aberdeen Airport.
There was also confusion over why Meghan Markle pulled out of making the journey with him, following an unconfirmed report in The Sun that it was on Charles' request.
But Charles extended an olive branch to his second son when he said on September 9 in his first broadcast: "I want also to express my love for Harry and Meghan as they continue to build their life overseas."
It was the first in a series of olive branches, and the next day Prince William invited Harry and Meghan to join him and Kate for a walkabout where they met with well-wishers at Windsor Castle.
Few words were exchanged between the couples, and there was little sign of warmth. But it was also the first time William and Kate were seen together with Meghan since the Sussexes quit their royal duties in March 2020.
The royals encountered a new public backlash, however, after it emerged that Harry would not be able to wear his military uniform at the queen's funeral because he is not a working royal, despite having served twice on the front lines in Afghanistan.
Prince Andrew was also barred from wearing his uniform at the funeral but given the opportunity to wear it at the final vigil in Westminster. That event is for Elizabeth's children only and Harry was therefore not invited, meaning the Duke of Sussex was not afforded the same opportunity to wear his uniform.
Harry moved to defuse a brewing dispute over the ruling when his spokesperson released a statement suggesting the focus should remain on the queen.
Released to Newsweek, the statement read: "Prince Harry, The Duke of Sussex will wear a morning suit throughout events honoring his grandmother. His decade of military service is not determined by the uniform he wears and we respectfully ask that focus remain on the life and legacy of Her Majesty Queen Elizabeth II."
Do you have a question about Queen Elizabeth II, King Charles III or their family that you would like our experienced royal correspondents to answer? Email royals@newsweek.com. We'd love to hear from you.