Prince Harry's Palace Rival Leaving After Rise of King Charles
Prince Harry's tensions with Queen Elizabeth's closest aide may soon come to an abrupt end, as King Charles III will not retain the courtier's services in the long term.
Members of Buckingham Palace's staff who served the queen and Charles' former team at Clarence House have been warned they may face dismissal for redundancy as the two royal divisions are merged into one. The move, announced internally while funeral planning for the queen was ongoing, caused consternation among trade union officials.
But this may be good news for Harry. U.K. broadsheet The Daily Telegraph reported that Sir Edward Young will be among those to leave, after a transition period lasting months. Newsweek has confirmed the Telegraph's account.
There will be a period when Elizabeth's private secretary stays on as joint private secretary to the king, along with Sir Clive Alderton, who has been by Charles' side for many years as his principal private secretary.
However, in the long term Young will leave the Royal Household as Charles consolidates the staff charged with defining his reign. Young got on so badly with Harry that his role in negotiating the Duke and Duchess of Sussex's exit from the royal family is now a matter of contention in London's High Court.
Harry is suing the U.K. Home Office for removing his police security team during visits to Britain. His lawyers said he was initially, and wrongly, informed that royal staff had played no role in the decision.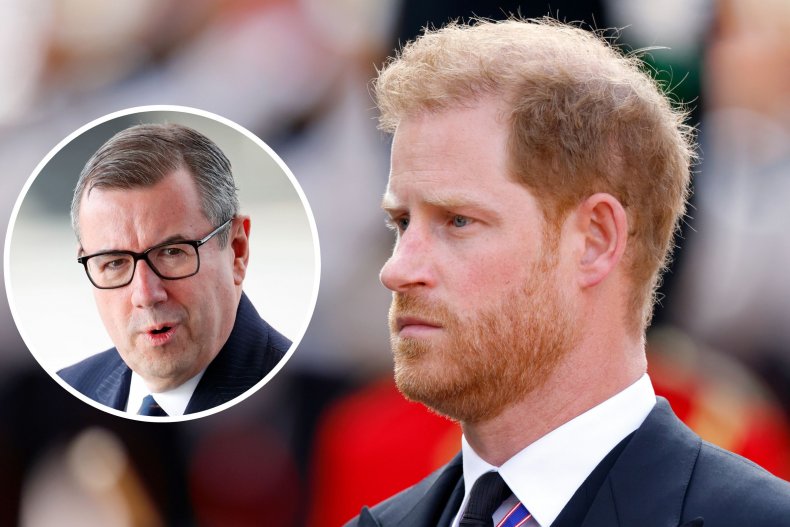 Through the court process, it became apparent that some of the queen's staff, including Young, had sat on the Royal and VIP Executive Committee (RAVEC), which made the call.
Shaheed Fatima, Harry's U.K. attorney, told London's High Court in July that Harry should have been informed of Young's role because of the background of tension between them.
Fatima said, "There were significant tensions between the claimant [Prince Harry] and certain people," adding that it was "primarily Sir Edward Young."
A court filing by Harry's legal team said Young and other royal staff did not tell the police and the Home Office that Harry had offered to fund the police security team himself.
The filing by Harry's lawyers, which was seen by Newsweek, read: "[Prince Harry] should have been given a clear and full explanation of the composition of RAVEC and those involved in its decision-making, i.e. that this included The Royal Household ("TRH").
"He should have been given the opportunity to make direct representations to RAVEC as a body to ensure that all his points were fully and properly communicated to RAVEC; he should have been informed about the RAVEC Policy/how it was applied and points being made by others involved in the process, including TRH; and he should have been given an opportunity to respond to those points/make any others he wished, such as whether it was appropriate for TRH/certain individuals to be involved in making the Decision.
The filing went on: "Prior to the Decision, [Prince Harry] was told by TRH that RAVEC was 'independent;' he was not informed about the composition of RAVEC and nor was he informed that TRH was involved in the making of the Decision. Prior to the Decision, he understood that his points, as communicated by him to TRH, were being fully and properly communicated to RAVEC."
Ultimately, RAVEC ruled that private individuals should not be allowed to fund their own police protection teams if they have been assessed as not eligible for a security detail.
Harry's judicial review is ongoing. It is not known if Young's unconfirmed departure will have any impact on RAVEC's position in relation to police security.