Prince Harry and Prince William Discuss Diana's 'Love' In Resurfaced Clip
A video clip of Prince Harry and Prince William reminiscing about their childhoods spent with Princess Diana has gone viral after resurfacing on social media.
The royal brother's sat down together in front of documentary filmmakers in 2017 to look through some old family albums complied by their mother to commemorate the twentieth anniversary of her death.
The film, titled Diana, Our Mother Her Life and Legacy, showed both princes sharing their memories of their mother, and reactions to her death in a 1997 Paris car crash, for the first time in real depth.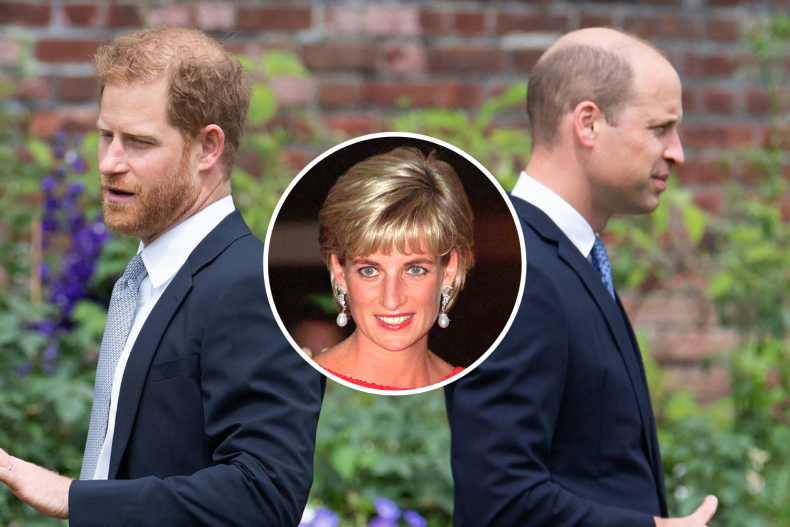 The viral clip, taken from a section of the final film, shows William highlighting a photograph of Diana, holding him in her arms. "Believe it or not both of us are in this photo," he told his brother. "You're in her tummy."
Shown sitting in a room of Diana's former apartments at Kensington Palace, Harry comments: "She smothered us with love, that's for sure."
Uploaded to TikTok by user remembering.diana, the video has been viewed over 1.6 million times and received in excess of 75,000 likes and 2,000 comments from fans.
A number of commenters reflected on where the brothers relationship stands today and how their mother would have responded, given Harry's description of the breakdown in communication between the pair.
"They were so good together and now if their mother was still alive maybe that wouldn't happened🥺," said one user.
The documentary saw the princes describe their grief and how the events of the summer of 1997 affected them, most prominently referencing the things they missed most about having her still around.
"Even talking about it now I can feel the hugs she used to give us and you know I miss that, I miss that feeling," Harry explained.
"I miss that part of a family, I miss having that mother to be able give you that hug and that compassion that everybody needs."
"I was so young I grew up sort of thinking not having a mom was normal," he went on to add later in the film. "I think it was a classic case of don't let yourself think about your mom and the grief and the hurt that comes with it because it's never going to bring her back and it's only going to make you more sad."
These are themes that the royal touched on in his tell-all memoir Spare, which upon it's release last month, became the fasted selling non-fiction book in history.
Though the book contained a number of bombshell claims and allegations against the royal family and the British press, a core theme is how the prince has processed the loss of his mother when he was aged just 12 and William was 15.
Among the memoires shared of the events of 1997, Harry recounts the morning hat his father, the then-Prince Charles (now King Charles), woke him to explain that Diana had been killed.
"He sat down on the edge of the bed. He put a hand on my knee. 'Darling
boy, Mummy's been in a car crash,'" the royal remembered.
"I remember thinking: 'Crash...OK. But she's all right? Yes?' I vividly remember that thought flashing through my mind. And I remember waiting patiently for Pa to confirm that indeed Mummy was all right. And I remember him not doing that."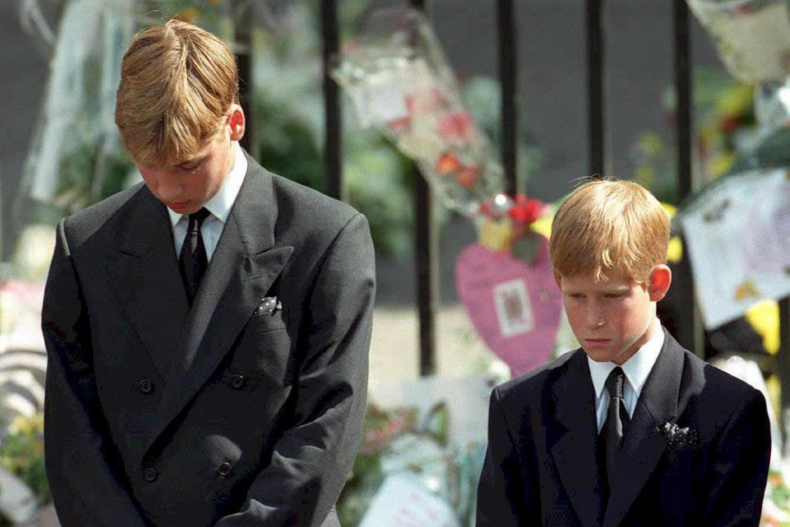 On how Diana would feel about Harry and William's relationship, following the prince's revelations that physical and verbal fights occurred between the two prior to Harry and Meghan's stepping away from the monarchy and moving to America, he told Anderson Cooper for 60 Minutes: "I think she would be sad that it is where it is now [...] I believe that she would want reconciliation. And I hope that's what's achievable."
As for where things stand between the royal siblings now, Harry told Cooper that they "haven't spoken for quite a while," but went on to add that he is looking forward to "us being able to find peace."
James Crawford-Smith is Newsweek's royal reporter based in London. You can find him on Twitter at @jrcrawfordsmith and read his stories on Newsweek's The Royals Facebook page.
Do you have a question about King Charles III, William and Kate, Meghan and Harry, or their family that you would like our experienced royal correspondents to answer? Email royals@newsweek.com. We'd love to hear from you.