It is one of the most poignant images of mourning in modern times, and perhaps one of the cruelest: a 12-year-old Prince Harry, head bowed and fists clenched, marching in the funeral procession behind his mother's coffin. He, along with his older brother, Prince William; his father, Prince Charles; his grandfather, the Duke of Edinburgh; and his maternal uncle, Charles Spencer, walked slowly through the heart of London on September 6, 1997. Seven days earlier, the beautiful, charismatic and unpredictable Princess Diana had died in a car crash in Paris. She was 36.
Her funeral was nearly 20 years ago, but Harry's recollection of that tragic day can still overwhelm him. "My mother had just died, and I had to walk a long way behind her coffin, surrounded by thousands of people watching me while millions more did on television," he tells Newsweek . His face hardens. "I don't think any child should be asked to do that, under any circumstances. I don't think it would happen today."
The prince readily admits that he was scarred by that day, by his mother's death, and was adrift for decades. He ran with a wealthy, fast set, and smoked and drank too much. He also once wore Nazi clothing at a fancy dress party and was photographed in 2012 partying naked in Las Vegas, with scantily clad women. He was the world's most eligible bachelor—and a royal pain.
Read more: Kate Middleton discusses Princess Diana's death with the princes in new video
Now, however, he exudes a combination of royal stardust, accessibility, confidence and mischief, a mixture that reminds many people of his mother. His journey from rebellious outsider to one of the world's most popular royals has required much soul-searching, and there is still some way to go, but he is proud of what he has accomplished and restless to do much more. He tells me several times that he aches to be "something other than Prince Harry."
The Extraordinary Ordinary
For the best part of the past year, Newsweek was given generous access to follow Prince Harry, now 32, as he went about his royal duties. I went to speak with him one-on-one at Kensington Palace, where he lives in a two-bedroom cottage on the central London grounds while his brother and his wife, Kate, have a 22-room apartment in the palace.
When we meet, Harry, wearing an open-necked, ice-blue shirt, brown chinos and gray suede shoes, leaps out of his armchair to greet me. He talks with warmth and energy but is also quite guarded. He is surprisingly relaxed when talking about his transformation over the past few years.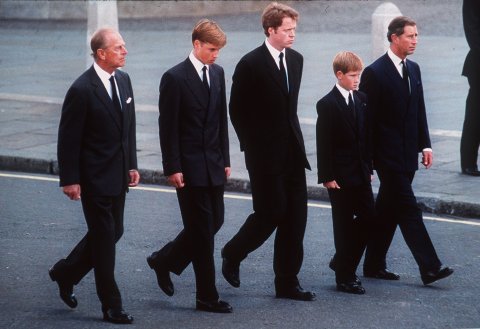 "My search began when I was in my mid-20s," Harry tells me. "I needed to fix the mistakes I was making." In April, he revealed on a podcast that bottling up his grief over his mother's death led to two years of "total chaos," and that he was "very close" to a breakdown several times. When he was 28, on William's advice, he sought professional help.
"My mother died when I was very young. I didn't want to be in the position I was in, but I eventually pulled my head out of the sand, started listening to people and decided to use my role for good. I am now fired up and energized and love charity stuff, meeting people and making them laugh," he says. "I sometimes still feel I am living in a goldfish bowl, but I now manage it better. I still have a naughty streak too, which I enjoy and is how I relate to those individuals who have got themselves into trouble."
Read more: Barack Obama and Prince Harry continue their bromance
He says maintaining his "ordinary life" is a high priority. "My mother took a huge part in showing me an ordinary life, including taking me and my brother to see homeless people. Thank goodness I'm not completely cut off from reality. People would be amazed by the ordinary life William and I live. I do my own shopping. Sometimes, when I come away from the meat counter in my local supermarket, I worry someone will snap me with their phone. But I am determined to have a relatively normal life, and if I am lucky enough to have children, they can have one too." He pauses, then adds, "Even if I was king, I would do my own shopping."
Harry's determination to be ordinary seems reflected in his love life. His girlfriend, Meghan Markle, might be a well-known actress, but she is also a divorcée, a vocal feminist and American, none of which conforms to the stereotype of a royal consort.
The prince can be fiercely protective of Meghan—and of their ability to have something approximating an ordinary relationship. In November, at his request, Kensington Palace put out a statement complaining about the " wave of abuse and harassment...the smear on the front page of a national newspaper; the racial undertones of comment pieces; and the outright sexism and racism of social media trolls." It continued: "Prince Harry is worried about Ms. Markle's safety and is deeply disappointed that he has not been able to protect her. It is not right that a few months into a relationship with him Ms. Markle should be subjected to such a storm."
One person close to the prince says Harry is not rushing to "get things done"—royal-speak for proposing. "They obviously get on very well and have a lot in common, but they have not known each other that long. They need to find out if they can have an ordinary relationship within a very unusual setting. I don't think anything will happen until the end of the year."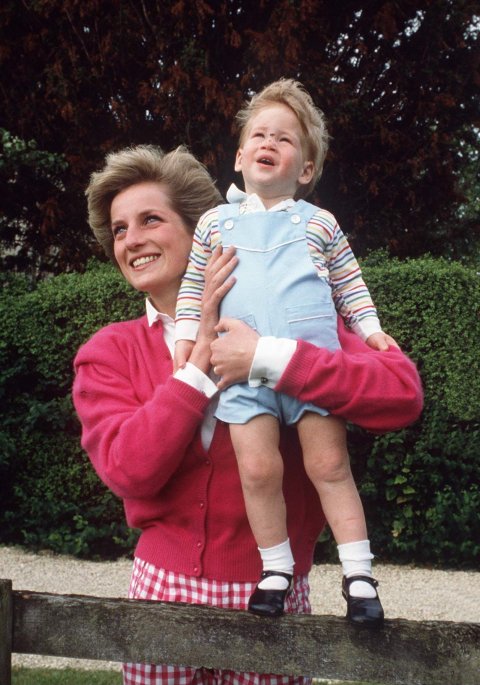 Does the prince ever worry that too much "ordinary" might make the royal family too accessible and take away its mystery? "It's a tricky balancing act," he says. "We don't want to dilute the magic….The British public and the whole world need institutions like it."
The prince knows it is easy to mock his quest for "ordinary" while he lives in a palace, is ferried around in limousines with blackened windows and can use his contacts to get what he wants. Few people could get through to the head of the British army, as Harry did when he was told he had to leave his unit in Afghanistan for security reasons; the prince was lobbying to stay on the battlefield. More recently, he persuaded the Natural History Museum to stay open late one night so he and Meghan could commune with the dinosaurs in private.
He also seems to know that millions of people don't want him to be just another bloke. Nearly everyone he met when I followed him on his royal duties was thrilled to be talking to, as one said, "an actual prince."
And Harry appeared to be engaged when talking to children, wounded veterans and whoever else crossed his path as he made his rounds. He appears to have a genuine ability to connect with people and in particular to help soldiers and other people of all ages and types overcome their hurdles.
Having admitted he "shut down" his emotions for nearly two decades, Harry is now keen to show the world he is a passionate, emotional person. "Sometimes, I can have too much passion," he says with a smile. "It has got me into trouble in the past, partly because I cannot stand the idea of people mincing around the subject rather than just getting on with it."
Light Is the Head That Wears This Crown
One of the many things Harry is eager to "get on with" is an overhaul of the British monarchy—he, William and Kate appear determined to drag it into the 21st century. "The monarchy is a force for good," he says, "and we want to carry on the positive atmosphere that the queen has achieved for over 60 years, but we won't be trying to fill her boots."
William, second in line to the throne, will likely follow Prince Charles as King, and while William is popular, Harry's charm and energy have been particularly helpful in the younger generation's revival of a brand that after Diana's death—and several other misfortunes that befell the royal family around the same time—seemed almost fatally damaged. "We are involved in modernizing the British monarchy. We are not doing this for ourselves but for the greater good of the people…. Is there any one of the royal family who wants to be king or queen? I don't think so, but we will carry out our duties at the right time."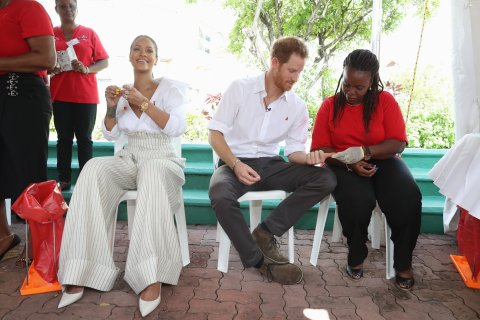 The amount of charity work he, William and Kate will do—which has been a huge part of the queen's public persona—will be more focused. Until last year, the queen was patron of more than 600 charities, and the royal family supported 3,000. By the time William becomes king, those numbers will have plummeted, but a source close to Harry insists this is not due to laziness. (Royal officials prefer to remain anonymous in order to speak more freely about the family.) "They want instead to concentrate on specific charities that they research thoroughly first and then get involved in on a regular basis. The one thing they don't want is to be seen as a group of celebrities."
Harry seconds that. "We use our time wisely," he says. "We don't want to turn up, shake hands but not get involved."
From Eton to Afghanistan
Harry sees himself as having three core roles in a working life that isn't exactly a career but is as close to one as he's ever likely to have. The first is to honor and extend his mother's legacy. "I intuitively know what my mother would like me to do and want to progress with work she couldn't complete." Twenty years ago, when irrational fear of being infected with HIV/AIDS was at its height, Diana was photographed touching an HIV-positive man, and that one gesture altered public attitudes. ("I'd like to be a queen of people's hearts," Diana once told a TV interviewer; the moniker stuck, especially after her death.) Last December, Harry had an HIV test in Barbados before a bevy of photographers.
In 2006, he founded the charity Sentebale with Prince Seeiso, a member of Lesotho's royal family who also lost his mother when he was young. Sentebale, which means "forget me not," commemorates the mothers of both princes by helping vulnerable children in the southern African country, which has the second highest HIV rate in the world. Harry is also patron of the anti-mines charity the HALO Trust, pursuing his mother's goal to "rid the world of land mines."
His second role is to support the queen, now 91, who is steadily passing on some of her duties to her grandchildren. "The queen has been fantastic in letting us choose," he says. "She tells us to take our time and really think things through."
The third strand of his working life is something previous generations of stiff-upper-lip royals would never have countenanced for a moment: Harry is determined to break the stigma surrounding mental health issues. This is something he, William and Kate are doing with the support of the British government. "They have the money. We have the voice," he says.
He confesses that his charity efforts in that regard have enabled him to work through some of his own issues. On more than one occasion when I'm with him, he declares, "I believe a leopard can change its spots." It seems clear he is speaking, at least in part, about himself.
In 2012, Harry, William and Kate launched the Royal Foundation. Full Effect, one of its offshoots, aims to give kids, many of whom come from deprived backgrounds and are at risk of being drawn into gangs, a love of sports, which it is hoped will motivate them to take a more positive path. I accompanied Harry on a visit to a Full Effect project in the city of Nottingham in central England.
His first stop was outside Nottingham's National Ice Centre, where about 30 9-year-old boys and girls weren't at all interested in his "ordinary" side. They wanted the pageantry, the aura; Harry was dressed casually in a navy shirt with the sleeves rolled up and his shirt tails not quite tucked into his brown jeans, and he clearly didn't care whether people curtsied or bowed when meeting him. Instead, he cracked one-liners and made the boys and girls laugh and relax. The children stared wide-eyed as he threw rugby balls to the boys and kicked a football around.
After about 20 minutes, he talked to a group of 16- to 24-year-olds who were part of a Royal Foundation initiative offering a chance to train as a sports coach. Most of these young people came from dysfunctional homes, didn't fit in with the school system and so far had had very few opportunities in life. One told me he had to get his seven siblings to school every morning before he could come to work.
Next stop was the Russell Youth Centre in St. Ann's, a deprived area that has a renowned Community Recording Studio run by Trevor Rose. Harry has been a regular visitor since 2013. "This place is a safe haven even for kids who have been banned from school, youth and sports centers," Rose says. "Many have been stabbed, thrown out of their home and have to deal with alcohol and drug issues, as well as low confidence and self-esteem."
Before Harry arrived, most of the teenagers seemed too cool to care about a royal visit, but Rose wasn't worried. "When you work with young people who are at-risk, they don't trust people easily, but when Harry walks in, you'll see he is one of the boys."
And he was. Harry shook lots of hands, slapped the boys on the back, hugged the girls and cracked jokes. Within minutes, he was surrounded by formerly oh-so-cool teenagers pleading with him to share a selfie, which he readily did.
"It really makes a difference to the children to know they have a prince watching over them," Rose says. "Not that Harry is what you would expect of a prince. He doesn't just want to shake hands and say hello. He has instead become part of their journey. I believe his dedication is partly because it helps put his own life into perspective."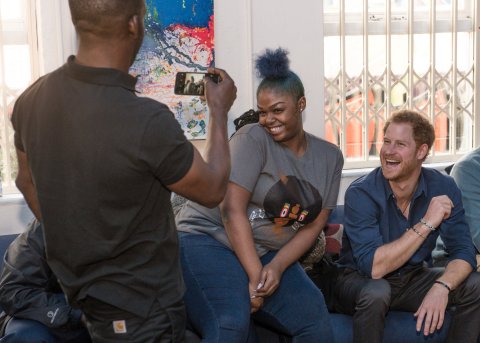 Harry was educated at the elite Eton College school (he disliked it) and then served in the army for 10 years and flew combat missions in Afghanistan. He loved being part of a combat unit in Afghanistan and was devastated when he was ordered off the front lines because it was feared he'd be too tantalizing a target for every Taliban fighter for miles around, putting himself and his comrades in extraordinary peril.
His army experience clearly made him a different, better person and gave him a very personal mission: to advocate for wounded servicemen and women. In 2014, he created, then launched, the Paralympic Invictus Games, which was a huge hit and is now an annual event.
Speaking about trauma and depression was the focus at the Emergency Operations Centre for London Ambulance Service, which takes about 5,000 medical emergency calls a day and dispatches ambulances around London. This visit was to promote Time to Talk Day, an offshoot of the Heads Together campaign to destigmatize mental health issues. Harry once again reached back to his experience on the front line in Afghanistan to empathize with the ambulance dispatchers and paramedics. He recalled how, when he was a helicopter pilot, he would evacuate injured servicemen and women. "You land, hand them over and then are radioed to do something else," he said. "You never find out how that guy or girl lived or died." Then, turning to a couple of male paramedics, he added: "It's amazing what you guys have to deal with every single day. You don't know what you are going to get. You can be attacked, abused, everything. It's not human to come away from that and not think you will be affected. Well done, you."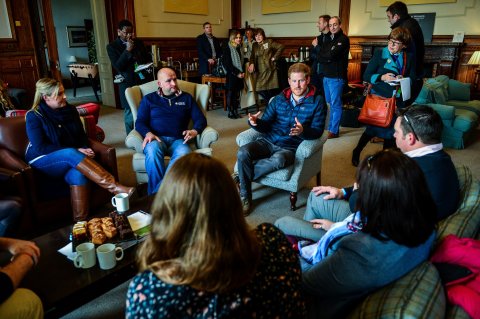 He chatted at length with father of four Dan Farnworth, a paramedic from Blackpool suffering from post-traumatic stress disorder after dealing with a particularly difficult case involving child abuse in which the child died. Farnworth talked about being in "a really dark place" and how scared he was to admit that because it could have meant he'd not be allowed to work.
Harry nodded—and spoke to Farnworth more like a psychotherapist than a buttoned-up royal. "It's really important to speak out. If you keep concerns to yourself for weeks, months or years, they become a real problem. It is not weakness. It is strength to come forward, talk about it and move on. I know people don't want to come forward because they don't want to risk losing their job. But then they risk losing their job because they can't cope."
That empathy is perhaps most on display when Harry interacts with the kind of men and women he served alongside in the military. I also joined Harry on a visit to the Help for Heroes recovery center. It was a clear, cold day, and a small group of men were chatting as they made long wooden struts for the door of the Iron Age house—a therapeutic building project. Close by was a roaring fire that kept them warm and would later help provide a hot lunch.
They were all former British soldiers who had been seriously wounded in battle. Although their physical wounds had largely healed, they had come to take advantage of the Hidden Wounds psychological and well-being service, a program that Help for Heroes offers to veterans suffering from depression, stress, anger, anxiety and problems with alcohol. Harry was both compassionate and jokey with them, and he acknowledged to the veterans—and again to me later—that he missed both the camaraderie of army life and its "black humor."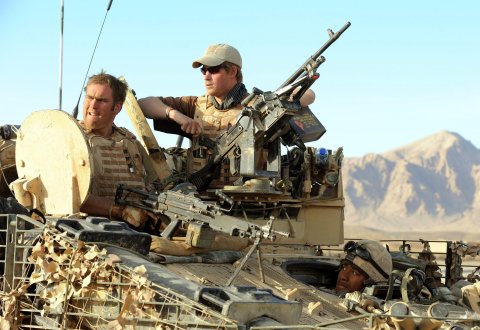 His first question to Mike Day, a former sniper commander who was hit by a grenade in Afghanistan in 2009 and whose injuries included a broken back and shrapnel in his head and body, went right to the core: "So what has been the biggest effect on you?"
Day thought for a moment, then said softly, "I am no longer me."
It was a moving and delicate moment, but Harry wasn't thrown. "One of your biggest struggles must be living rather than just existing," he said.
Day nodded. "I come here once a month for four days, and it brings out the best in me."
Harry's support team seemed hesitant about whether to move him on to his next appointment. "Well done, guys," he said to the soldiers as he left.
"We share the uniform," the prince tells me soon after the visit. "I see a lot of myself in these guys. They want an opportunity to prove themselves and be someone."
Hidden Wounds
When Harry is on duty, he is steadfastly animated and friendly, but in quieter moments he can often seem tense and irritable. For sure, he's lived a life of extraordinary privilege, but he has also suffered considerable pain in his 32 years. His parents were a horrible mismatch, and they separated after a fairy-tale-turned-nightmare marriage of 11 years. Charles went back to his long-term lover, Camilla Parker Bowles; Diana had a variety of lovers, the last of whom was Dodi Fayed, the son of Mohamed al-Fayed, the former owner of mega-store Harrods. He died with her in that car crash in Paris.
When asked about his family, Harry talks readily about the queen—"She is so remarkable"—and his late mother—"She had the most wonderful sense of humor and always wanted to make things fun for us, as well as protect us." He says less about William and Kate, and almost nothing about his father or his stepmother. The world now knows how unhappy that relationship made his mother, and her sons.
There was no filling the hole left by Diana's death, and Harry seemed to be growing up without someone emotionally available he could lean on. Kate has helped fill some of that gap. When she and William got engaged, Harry called her the big sister he never had. He often pops into their apartment at Kensington Palace, where she cooks him a meal—roast chicken is reportedly a particular favorite.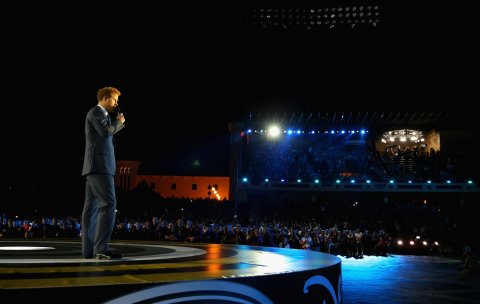 Harry and William have very different personalities. "Emotionally, they are very unalike," a royal insider says. "Harry wears his heart on his sleeve. William is introverted and reclusive. They are bonded together by the unique position they are in and the experience of losing their mother very young. But they don't live in each other's pockets, and while William was at university, they didn't see much of each other at all." Another member of Harry's inner circle further delineates the differences between the two princes: "William was more successful academically, but when it comes to dealing with people, Harry knocks the spots off both him and Kate, especially with children. Harry is passionate about them and is a natural, which neither William nor Kate are." Having their own has no doubt helped.
Harry has a more practical side. "I can do most things with my hands," he says. That is one reason why serving in the British army suited him so well. At the end of 2007, he was secretly flown out to Afghanistan and worked as a forward air controller in Helmand province, guiding fighter jets to suspected Taliban targets. Ten weeks in, his tour of duty was leaked by the press, and he was pulled out for security reasons. "I felt very resentful," he says. "Being in the army was the best escape I've ever had. I felt as though I was really achieving something."
In 2012, he was allowed to return to Afghanistan , where he commanded an attack helicopter at Camp Bastion in Helmand province. "All I wanted to do was prove that I had a certain set of skills—for instance, flying an Apache helicopter—rather than just being Prince Harry. I also felt I was one of the lads and could forget I was Prince Harry when I was with them."
He returned home in 2015, angry that his army life had been ripped from him. But he finally let that frustration go, and aggressively pursued his quest for a new identity that would make him feel as if his life had meaning other than just as a member of the royal family. He tells me that he is in a rush "to make something of my life. I feel there is just a smallish window when people are interested in me before [William's children] take over, and I've got to make the most of it."