Prince Harry Describes 'Proud Papa' Moment as Daughter Takes First Steps
Prince Harry has described himself as a "proud papa" after he announced that his daughter, Lilibet Mountbatten-Windsor, aged 10 months, had taken her first steps just days before the start of the 2022 Invictus Games.
Harry, who is in the Netherlands for the games which will close on April 22, told People that Lilibet (known by the name Lili within her family) was focusing on the main priority of "trying to keep up with her brother."
"She took her first step just a few days ago, proud papa, here!" Harry commented.
The prince's interview with the magazine forms part of a wider round of press and media engagement highlighting the Invictus Games and the Invictus Games Foundation of which Harry is a founding patron.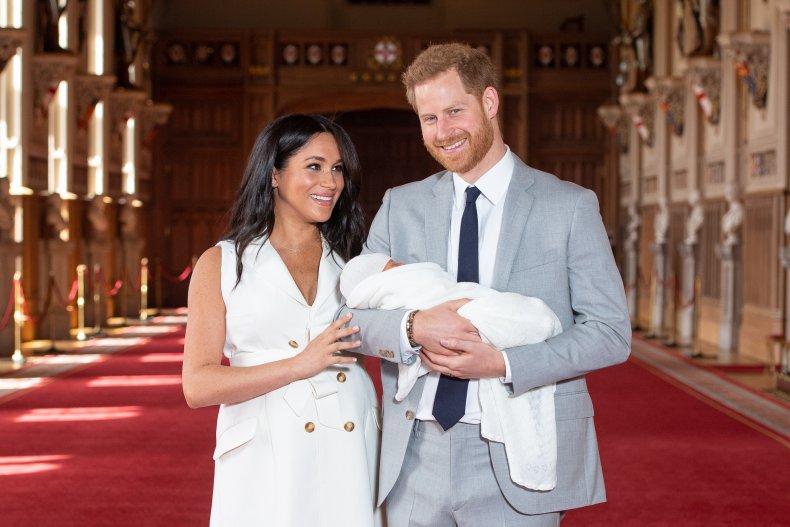 Meghan Markle joined her husband for the start of the games and made a touching speech at the opening ceremony during which she introduced the prince as "the founder of the Invictus Games, and the father to our two little ones, Archie and Lili...my incredible husband, Prince Harry, the Duke of Sussex."
Though Archie, 2, and Lilibet, 10 months, were left at home in California for the events they were ever present in the minds of their parents. In his opening speech, Harry told the crowds of competitors and spectators: "When I talk to my son Archie about what he wants to be when he grows up, some days it's an astronaut, other days it's a pilot—a helicopter pilot obviously.
"But what I remind him is that no matter what you want to be when you grow up, it's your character that matters most, and nothing would make his mum and me prouder than to see him have the character of what we see before us today."
In his interview with People, Harry expressed his wish for the Invictus Games to become a family affair one day soon. "We can't wait," he said of the prospect of taking his son and daughter to the events. "I showed Archie a video of wheelchair basketball and rugby from the Invictus Games in Sydney, and he absolutely loved it."
The prince, who has been vocal about the importance of mental and physical wellbeing, went on to explain: "I showed him how some were missing legs and explained that some had invisible injuries, too...Not because he asked, but because I wanted to tell him. Kids understand so much, and to see it through his eyes was amazing because it's so unfiltered and honest."
Before the 2022 Invictus Games began it was announced that BetterUp, the virtual coaching service of which Harry is chief impact officer, had linked with the Invictus Games Foundation to become its official virtual mental coaching tool offered to the 500 games competitors.
Another of the Sussex's professional ventures crossed over with the Invictus Games in The Hague in the form of a Netflix film crew who is documenting the events. This will result in a documentary series titled Heart of Invictus produced by the video production arm of the couple's Archewell organization.
The games have marked important steps for the prince in his relationship with wife, Meghan, as he told People: "The Toronto [Invictus] Games [in 2017] were our first time out and about publicly in an official way. We were dating at the time, so it was a lot to take in, but fortunately, we were with the perfect community for that.
"Now, five years later, here we are in The Hague at the fifth Invictus Games, as parents of two, and living in the U.S. I had always wanted to share these incredible moments with someone special, and to have Meg by my side means everything."
In 2020, both Harry and Meghan stepped down as full-time working members of the royal family to raise their family in California and the prince is currently in the middle of a lawsuit with the U.K. Home Office after logging concerns that the security arrangements made for him and his family are not adequate.
At the time of the court case's filing a statement filed by the prince's legal team read that "the U.K. will always be Prince Harry's home and a country he wants his wife and children to be safe in. With the lack of police protection, comes too great a personal risk."
"Being a dad certainly adds another emotional layer to it," Harry reflected in his interview on how his life has changed since founding the Invictus Games in 2014.
"When I was in the Army, I promised myself I would be out before having a wife and kids, because I couldn't imagine the heartache of being apart for so long during deployment, the risk of possibly getting injured, and the reality that my family's lives could be changed forever if that happened."
Harry left the armed forces in 2015 where he then took up royal duties full time. The prince met Meghan in the summer of 2016 while she was working as an actress in the hit show Suits. The couple announced their relationship in 2017 and were engaged later that same year with their wedding taking place in May 2018.
Now, the "proud papa" of two children, the prince's future hopes are for them. When asked by child reporters at the Invictus Games in The Hague what his wish would be for Archie and Lilibet, he replied: "To grow up in a fairer world, a safer world, a more equal world. It's not going to be easy, but I will never, ever, ever rest until I as a parent have at least tried to make the world a better place for them."