Prince Harry Says He Is Ensuring Queen Is 'Protected,' Risks New Royal Rift
Prince Harry has framed himself as Queen Elizabeth II's protector, saying he wants to make sure his 95-year-old grandmother has "got the right people around her."
The cryptic comments threatened to stir deep-seated tensions between the Duke of Sussex and the monarchy just days after he and Meghan Markle visited Elizabeth in Windsor.
Harry said they had tea with the queen and that she was on "great form," but he also hinted that problems persist within the wider institution in an interview with NBC News' Today show.
The duke told presenter Hoda Kotb during a promo clip: "Being with her, it was great. It was just so nice to see her. She's on great form.
"She's always got a great sense of humor with me and I'm just making sure that she's, you know, protected and got the right people around her."
He added: "Both Meghan and I had tea with her so it was really nice to catch up with her. You know, home—home for me, now, is, you know, for the time being, in the states.
"And it feels that way as well. We've been welcomed with open arms and we have such a great community up in Santa Barbara."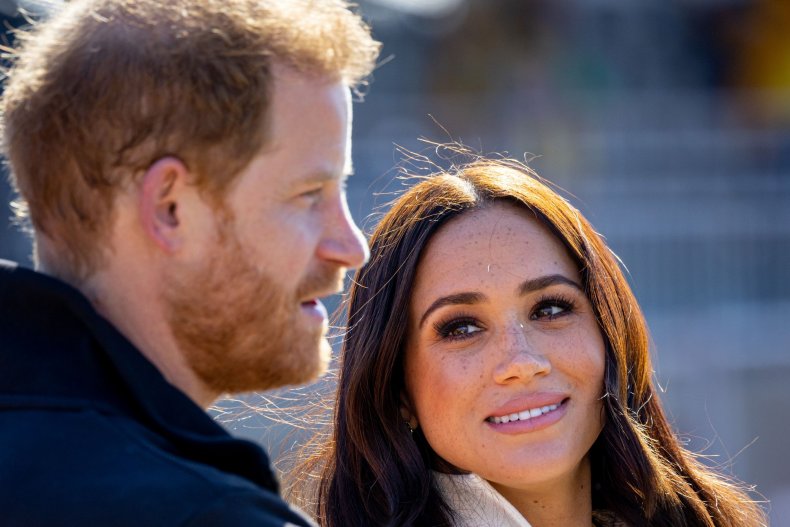 Harry and Meghan also saw Prince Charles and Camilla, the Duchess of Cornwall, during their U.K. visit, but not Prince William, who was away on holiday.
Harry's Today interview was filmed during his Invictus Games tournament for wounded service personnel. It will be broadcast in full on NBC on Wednesday, April 20.
His comments were condemned in Britain where they were interpreted as a slight on other senior royals.
Royal biographer Robert Jobson, author of upcoming William at 40, wrote on Twitter: "Prince Harry says on US TV he is making sure the Queen is 'protected and has the right people around her'. How so? I think you'll find that Prince Charles and Her Majesty's children and William are DOING just that and supporting the Queen, with actions—and not just words."
He added: "Such an odd statement by Harry that he is making sure the Queen is 'protected'. I hope it is not left hanging, and the obvious follow up questions of 'why, how and from who?' are asked. I hope US interview it is not an another Oprah where brash statements by H are unchallenged."
David Mellor, a former Conservative Party health secretary, told GB News: "I fell about. This was a real comic turn. The most best paid comedian couldn't be funnier than that. What is the man on?"
He added: "His life is totally distorted now by becoming a sort of Kardashian-type figure where he's surrounded by people who want to photograph him because they're paying him lots of money for the privilege of filming him.
"And the queen becomes important to him only because he has to see the queen for his credibility on Netflix."
Harry didn't elaborate on who Elizabeth might need protecting from or why he was casting doubt on her circle.
It comes after Prince Andrew walked the queen into Westminster Abbey for a memorial service in Prince Philip's honor, triggering a wave of negative commentary in Britain.
Much of Harry and Meghan's bombshell Oprah Winfrey interview in March 2021 was directed at the institution of monarchy.
And the duke suggested he may have been blocked at the time from visiting his grandmother after a scheduled meeting was canceled.
He said: "That announcement [on quitting royal life] that we put out on 8 January in 2020—the contents of that were put into a letter to the institution—to my father, which was then shared at the end of December, when we were in Canada.
"And to then get back on the 6th after my grandmother had said 'the moment you land come up to Sandringham, we'd love to have a chat, come and have tea—why don't you stay for dinner because it's going to be a long drive and you're going to be exhausted.'
"The moment we landed in the UK I got a message from my private secretary, Fiona at the time... cutting and pasting a message from the Queen's private secretary, basically saying 'please pass on to the Duke and Duchess of Sussex that he cannot come to Norfolk. The Queen is busy, she's busy all week... do not come up here.'"
For more royal news and commentary check out Newsweek's The Royal Report podcast: