Five Times Prince Harry Slammed Queen Camilla in Public: 'The Villain'
For over two decades the press and public have speculated over the true nature of the relationship between Princes William and Harry, and the woman who Princess Diana considered a key factor in the breakdown of her marriage to Prince Charles, Camilla Parker Bowles.
Now Queen Camilla, since the death of Queen Elizabeth II and the accession to the throne of her husband King Charles, the woman once reviled by many in Britain and around the world for her role in Diana's unhappiness has gone through a PR transformation in recent years. This has been so dramatic that she is now more popular in the U.S. and U.K. than both Harry and his wife, Meghan Markle.
The prince, following his separation from the monarchy with Meghan and move to California in 2020, has made a number of recent revelations about his relationships with family members, principally focused on some negative comments about his brother William and Camilla.
Previously in 2005, at the time of his 21st birthday, Harry told the press that he loved Camilla "to bits," assuaging any hint of her being a "wicked stepmother."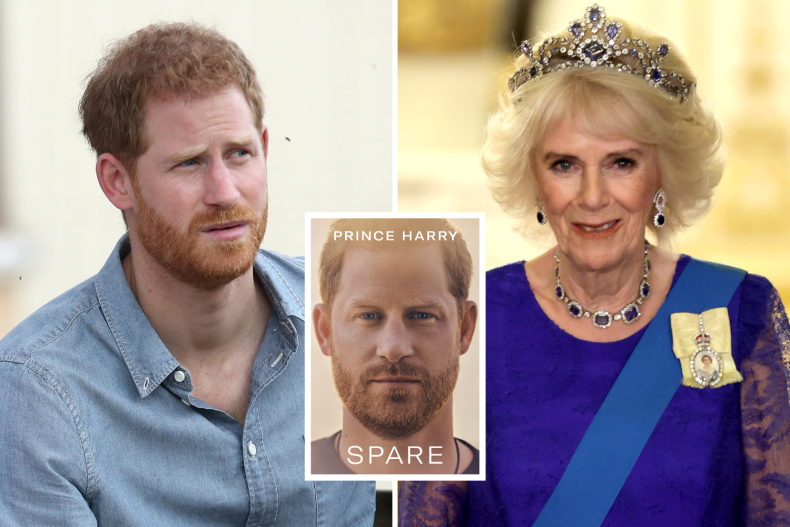 "Everyone has to understand that it's very hard for her," he said, per PA. "Look at the position she's coming into. Don't always feel sorry for me and William, feel sorry for her.
"It's all different. We are very grateful for her. She's made our father very happy."
In his post-working-royal, bombshell media collaborations, however, he has not been so easy on his mother's rival, who he told 60 Minutes' Anderson Cooper in January was: "the villain. She was the third person in their marriage. She needed to rehabilitate her image."
Here, Newsweek looks at five times Prince Harry has slammed Queen Camilla in public:
Urging Charles Not To Marry Camilla
In his book Spare, which became the fastest selling non-fiction book of all time upon it's release in January, Harry made the deeply personal revelation that he and Prince William had urged their father never to marry Camilla following Diana's death.
Though perhaps a natural feeling out of loyalty to their much-loved mother, this revelation undermined the long-held view presented to the public that the princes had given their father's union their blessing, something that helped Camilla's public image.
In Harry's Own Words:
"Willy and I promised Pa that we'd welcome Camilla into the family. The only thing we asked in return was that he not marry her.
"You don't need to remarry, we pleaded. A wedding would cause controversy. It would incite the press. It would make the whole country, the whole world, talk about Mummy, compare Mummy and Camilla, and nobody wanted that. Least of all Camilla."
Sacrificed on Camilla's PR Altar
One of the most damning allegations made by Harry against his stepmother in recent months in both his memoir Spare and interviews promoting it, was his belief that she had a hand in feeding the press negative stories to bolster her PR.
He told Anderson Cooper that this need to rehabilitate her image from Princess Diana's love-rival to future queen made her dangerous.
"With a family built on hierarchy, and with her, on the way to being Queen consort, there was gonna be people or bodies left in the street because of that," he said.
In Harry's Own Words:
"I had complex feelings about gaining a step-parent who, I believed, had recently sacrificed me on her personal PR altar. But I saw Pa's smile and it was hard to argue with that, and harder still to deny the cause: Camilla.
"I wanted so many things, but I was surprised to discover at their wedding that one of the things I wanted most, still, was for my father to be happy. In a funny way I even wanted Camilla to be happy. Maybe she'd be less dangerous if she was happy?"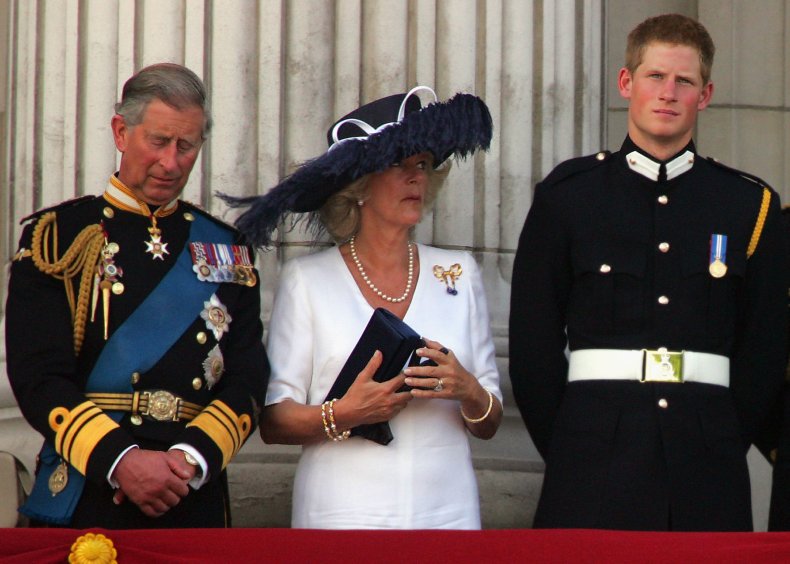 Stolen Bedroom
In another personal revelation from Spare, Harry reveals that once married, Camilla took over his former bedroom at Clarence House to turn it into her "dressing room," something he said he tried not to "care" about but ultimately did.
In Harry's Own Words:
"I'd also mentioned that I used to live here at Clarence House, from when I was nineteen until I was about twenty-eight. After I moved out, Camilla turned my bedroom into her dressing room. I tried not to care. But, especially the first time I saw it, I cared."
No Curtsy
It was when recounting Meghan Markle's first introduction to his father and stepmother that Harry revealed his discomfort at Camilla's role in his life.
As the wife of the Prince of Wales, as a princess and a senior member of the royal family, Camilla by convention would have received a curtsy from Meghan. To Harry, though he had coached Meghan through the process when meeting his grandmother the queen, this action was not deemed necessary for Camilla.
In Harry's Own Words:
"There, at last, on the landing above us, stood Pa. Beside him stood Camilla.
"Meg and I had rehearsed this moment several times. 'For Pa, curtsy. Say, Your
Royal Highness, or Sir. Maybe a kiss on each cheek if he leans in, otherwise a
handshake. For Camilla, no curtsy. Not necessary. Just a quick kiss or handshake.
"'No curtsy? You sure?'
"I didn't think it appropriate."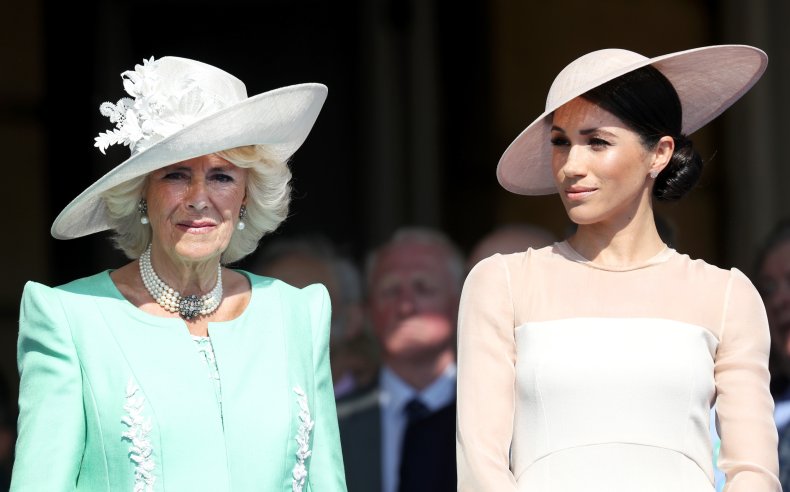 Wanted Harry and Meghan Gone
When Meghan became seriously involved with Harry in 2016 she faced an onslaught of media harassment and negative social media commentary.
According to the prince, in 2017 Meghan sought out guidance from Camilla, who herself had been a target for the media in the 1990s and 2000s.
Camilla's response to Meghan though, was not what the prince had hoped, even suggesting that the royal institution may have been hoping the couple would leave Britain all together.
In Harry's Own Words:
"Meg, meanwhile, reached out to Camilla, who tried to counsel her by saying
this was just what the press always did to newcomers, that it would all pass in
due time, that Camilla had been the bad guy once.
"The implication being what? Now it was Meg's turn? As if it were apples to
apples.
"Camilla also suggested to Meg that I become Governor General of Bermuda, which would solve all our problems by removing us from the red-hot center of
the maelstrom. Right, right, I thought, and one added bonus of that plan would be to get us out of the picture."
James Crawford-Smith is Newsweek's royal reporter based in London. You can find him on Twitter at @jrcrawfordsmith and read his stories on Newsweek's The Royals Facebook page.
Do you have a question about King Charles III, William and Kate, Meghan and Harry, or their family that you would like our experienced royal correspondents to answer? Email royals@newsweek.com. We'd love to hear from you.