'The Crown' Actor Tobias Menzies Pays Tribute to Prince Philip
Prince Philip, the husband of the British Queen Elizabeth II, has died aged 99. After news of his passing was confirmed by the royal family, tributes began to pour out from world leaders, politicians and people who had met the Duke of Edinburgh across his decades of service to the U.K.
Among those paying tribute to Philip was Tobias Menzies, the actor who played him on Netflix smash-hit The Crown for two seasons.
In a statement to Newsweek, Menzies wrote: "If I know anything about the Duke of Edinburgh I'm fairly sure he wouldn't want an actor who has portrayed him on television giving their opinion on his life, so I'll leave it to Shakespeare.
"O good old man! how well in thee appears
The constant service of the antique world..."
"Rest in Peace."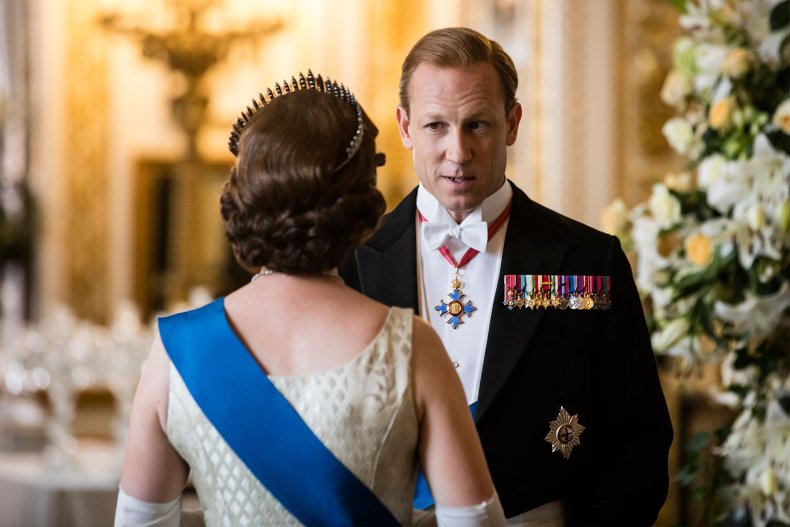 A statement from the makers of The Crown said: "Netflix, Left Bank Pictures, Sony Pictures Television and the production team on The Crown are deeply saddened to hear of the death of The Duke of Edinburgh.
"Our thoughts are with the Royal Family at this sad time."
Menzies previously said of Philip to Deadline in June 2020: "He's enjoyably a debunker. He pokes at unnecessary pomp and circumstance, he's funny."
Menzies was the second actor to play the royal in The Crown after Matt Smith. Smith told The Guardian in 2017: "Rightly, as a society, we've celebrated Elizabeth as a wonderful example of a powerful, stylish, brilliant woman. But in many ways, what an example of a roguish, brilliant man. Why aren't we as men allowed to celebrate that, fictionally or not? And I just found a lot to celebrate in Philip."
Jonathan Pryce, meanwhile, is set to be the next actor to portray the Duke of Edinburgh when The Crown returns for its penultimate Season 5. When this casting was announced, Pryce said in a statement, "The positive experience I had making The Two Popes has given me the confidence to tackle the daunting prospect of playing Prince Philip."
Leading the tributes to Philip was British Prime Minister Boris Johnson. In a speech made outside of his home, Johnson said: "Prince Philip earned the affection of generations here in the United Kingdom, across the Commonwealth and around the world.
"He was the longest serving consort in history, one of the last surviving people in this country to have served in the Second World War."
He later added, "Like the expert carriage driver he was he helped to steer the Royal Family and the monarchy so that it remains an institution indisputably vital to the balance and happiness of our national life."